When you're looking to invest in something, whether it be financially, time wise, or resource-related, one of the first things you ask yourselves is, "what is the return on investment (ROI)?" "What am I going to get out of this?"
First, and foremost, a Quality Assurance and Performance Improvement (QAPI) program is going to lead you to better quality of services, care and life for your residents. An effective QAPI program creates an environment that is a better place to work, a better place to live and a better place to visit.
However, it can be somewhat challenging to show an actual ROI of having a QAPI program in place, but possibly more importantly, you should take a look at all the "what ifs" if you do NOT have a program in place in the near future. Let's review a few things that can affect your profitability, among other things.
Skilled Nursing Facility Value-Based Purchasing Program (SNFVBP)
The Centers for Medicare and Medicaid Services (CMS) plans to roll out the Skilled Nursing Facility Value-Based Purchasing Program (SNFVBP) in 2019. CMS has said that the SNFVBP will pay participating nursing homes for services based on the quality of care, not just quantity of the services they provide in a given performance period.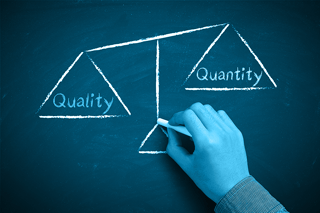 Hospital Readmissions Reductions Program (HRRP)
The Hospital Readmissions Reductions Program (HRRP) is a penalty program created by the Affordable Care Act (ACA) that penalizes healthcare providers by cutting up to three percent (3%) of Medicare inpatient payments for hospitals with excess readmissions for patients with acute myocardial infarctions (AMIs), heart failure, pneumonia, chronic obstructive pulmonary disease (COPD) and knee and hip arthroplasty. Because of this, hospitals are heavily evaluating which facilities to send patients to base on readmission rates.
Nursing Home Compare/Five-Star Quality Rating System
Nursing Home Compare is a website where individuals can search and compare Medicare and Medicaid-certified nursing homes and view the quality of care given to patients. To break it down, this is a public reporting of a nursing home's performance. The Five-Star Quality Rating System is included on this site. It not only attracts families to send their loved ones to you, but it also is a strong determinant if you receive any referrals from hospitals and other healthcare providers. Quality measures are a big component of the rating system and continue to have increasing influence. There were six new quality measures added in April. Your review on this site, along with how many stars you have, are critical to how many beds you are keeping filled in your facility.

In general, when everyday tasks are not done correctly, when you are not meeting certain standards and criteria, costs can all add up quickly. Implementing a QAPI program ensures that the correct processes and procedures are in place to eliminate these errors and maintain compliance.
Learn more about what poor quality may be costing you in our previous blog, "Is Poor Quality Costing You?"
These are just a few examples of how having a QAPI program in place can help your bottom line. But, the most important reason you must develop an effective QAPI program is quite simple—because you have to.
You've all heard it probably more than once from someone in charge, that infamous saying, "because I said so, that's why!" Well, the same holds true for the Affordable Care Act. Nursing homes will be required to have a QAPI program in place and begun implementing one year after the final regulation is issued.
The TIME is Now.
Has your organization began implementing a QAPI program? If you haven't, why not start today? Change is coming in the transition from fee-for-service to value-based care, and as you all know, quality improvement doesn't happen overnight. QAPI programs must address all systems of care and management; focus on clinical, quality of life and resident choice areas; use evidence to define and measure indicators of quality and set goals; and reflect a facility's unique resident make up and services. In other words, boilerplate initiatives won't work.
Contact us at engage@primaris.org if you would like help with implementing an effective QAPI program.