Anyone that works in a long-term care facility knows that, for residents, being transferred to the hospital is stressful and emotionally taxing. Many patients are scared to go to the hospital. Can you blame them? If they don't have a family member or someone they trust to be their advocate, patients worry that no one is truly looking out for their needs.
Back in 1999 the Institute of Medicine published a report that brought to light some very extreme consequences of America's fragmented healthcare system. One of the findings that jolted the industry (and policymakers) was that preventable medical errors caused by a lack of care coordination in hospitals were to blame for somewhere between 44,000 and 98,000 deaths each year.
A lot of time has passed since that IOM report was released. Since then, the healthcare industry has undergone many changes and new regulations have been put into place. Along the way, various studies have been conducted in an attempt to determine whether or not things are improving on the care coordination front.
Here are a few findings from subsequent research that were compiled by The Commonwealth Fund and the Department of Health and Human Services:
2001 - More than one out of five Americans reported they or a family member had experienced a medical error.
2002 - 35 percent of physicians and 42 percent of the public reported errors in their own or a family member's care.
2004 - 40 percent of people said care quality had declined in the previous five years, while 17 percent said quality had gotten better and 38 percent said it had stayed the same.
2010 – 15,000 Medicare patients every month were found to have suffered such serious harm in the hospital that it resulted in their death.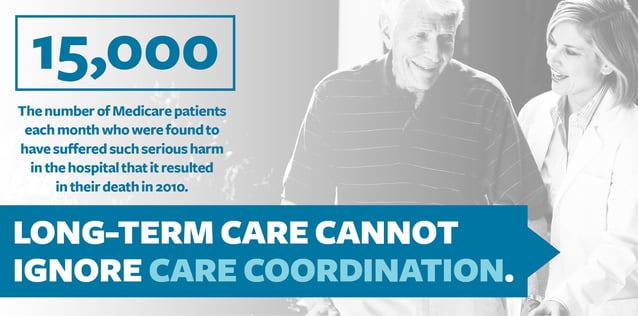 Even today, more than 15 years after the IOM report, there are still problems with disjointed healthcare causing harm to patients. So, what does all of this mean? For one thing, it means that care coordination must be a priority.
We know that when healthcare providers and organizations work cooperatively it improves patient outcomes. Of course, finding time and resources to put toward care coordination improvement isn't easy. But the motivation for long-term care to do so is convincing:
Resident quality of life – Unfortunately, about one-fifth of Medicare patients who are hospitalized are readmitted within 30 days of discharge. This cycle of back and forth between long-term and acute care negatively impacts the quality of life of nursing home residents.
Safety – When all involved healthcare providers, residents and their families do not communicate with each other, the opportunities for serious mishaps escalate. This is especially true when individuals are moved between several different care settings, like hospitals, nursing homes and home healthcare.
Reimbursement – Reimbursement and protocols for evidence based care are pushing nursing homes into more cooperative relationships. One example of this is the protocol for knee and hip replacement that CMS is currently working to institute. This program will eventually base payment to hospitals and long-term care on how well they work together.
For these reasons and others, long-term care simply can't ignore care coordination. Instead, long-term care facilities need to take steps to work more closely with residents, their families, primary care, acute care, home healthcare, and anyone else that comes into contact with residents.