Have you started thinking about writing a QAPI plan? Nursing homes across the country are at different stages of QAPI planning and program development. However, by November of this year, every certified nursing facility that receives federal funding will need to have a written QAPI plan in place. Therefore, if you haven't done so already, it is a good idea to begin considering what questions you have, what type of support you might need, and what resources are available that will enable you to be successful as you not only write your QAPI plan, but also transform your organization's culture into one that is completely centered around quality improvement.
If you have not started writing your QAPI plan, or you are at an early stage of your journey, here are some questions to think about that will help you determine what type of external support you may need as you proceed with QAPI program development:
Do you know what needs to be included in your QAPI plan? Do you have access to tools and resources that will help you frame your plan? Would you like coaching or guidance (beyond templates) to help walk you through the process of writing your plan?
How will you identify the small and large challenges that impact residents and your organization? Are you planning to conduct an in-depth quality assessment prior to writing your QAPI plan?
Do you have data (and analytics know-how) you can rely on for insights that will drive your QAPI program?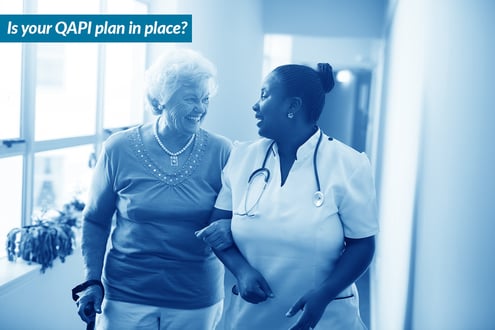 How do you plan to make QAPI an organization-wide effort? Do you have strategies in mind to ensure every member of your staff understands their role in quality improvement?
How will your organization make quality improvement ongoing? How will you deal with issues (like employee turnover) that threaten your organization's ability to consistently focus on quality?
What quality improvement or QAPI challenges have you already encountered? What additional challenges do you expect to face?
Do you know where to find resources and answers to your QAPI questions?
Have you considered how your organization would benefit from working with a quality consultant?
Taking time to think through some of these questions can help you identify areas where you might need support as you move forward with quality assurance and process improvement.
As we shared in a previous blog post about QAPI planning, every organization needs to focus on different quality management efforts based on its unique makeup and the needs of its residents. Since, QAPI programs need to be tailored to the specific programs and services a facility offers, as well as the various resident groups, QAPI programs look different from one nursing home to the next. Having a well-designed program is necessary for QAPI efforts to be effective. This is a good reminder for anyone searching for tools, resources and even a partner to help you build a QAPI program.