Have you reached the tipping point with trying to keep up and comply with what seems to be ever-changing or unclear quality improvement initiatives, especially the tandem of MACRA and MIPS?
While there's wide acceptance of the need to fulfill the lofty objective of the Triple Aim – better quality, better outcomes, and lower cost – the frustration with the new approaches is often palpable.
It's okay to admit your frustration. (You're safe. No visible show of hands here).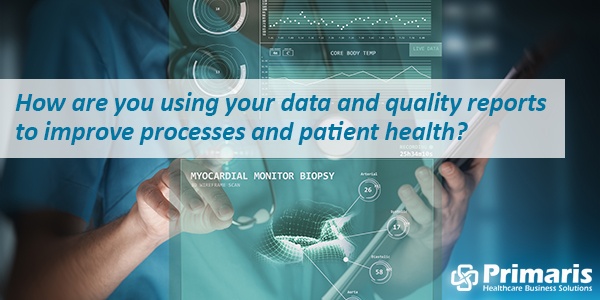 Now, some quick questions:
When it comes to data abstraction and quality reporting, are you juggling too many records and too little staff time? Struggling to keep up with core measures specifications and guidelines? Losing valuable abstraction expertise through attrition or medical leave? Trying to free up clinical staff for proactive quality improvement? Trying to improve performance on metrics used in quality reporting and value-based purchasing?
Most of us – perhaps all of us – already know the general answers to those questions.
Focus on the most important question.
Now, a deep breath. Let's refocus with a look at a question we only hinted at with that rapid-fire list. What's the point of data abstraction, quality reporting and selecting improvement activities? What is the most important question that often gets overlooked in the flurry of data and reporting activity?
Here it is.
Is your data actionable – and how are you using it to improve patient health?
Measuring quality is necessary for improving healthcare. Unfortunately, when providers are overly consumed with measuring and reporting quality metrics, it is difficult for them to actually apply the results and focus on actions that lead to real improvements.
Your dictionary will define "actionable" as "able to be done or acted on; having practical value." That goal might seem distant in the world of quality reporting, but that is the goal. And most of us will agree that physicians and other providers pursued a personal calling into the healthcare field to take care of patients. That passion now has often-overwhelming competition with the massive amount of data that must be retrieved, assimilated and applied in a meaningful way.
Actionable.
Consider the antonyms of the word: Impractical, unusable, unworkable, useless.
Three common quality reporting missteps.
A much-quoted study published in Health Affairs, conducted by a team at Weill Cornell Medical College along with researchers from the Medical Group Management Association, revealed that physician practices in the U.S. spend more than $15.4 billion annually on quality measure reporting. Individual physicians spend an average of 785 work hours on quality reporting each year. Four-fifths of practices say the demand on quality reporting has increased significantly in the past three years.
Practices that are unprepared and take on the task themselves often make three common missteps: Not reading the manuals and knowing the reporting guidelines; assigning tasks to professional staff members who do not have time to complete them, and falling behind – perhaps in both data abstraction and patient care – by trying the do-it-yourself approach.
Is it time to find a quality reporting partner?
If you think that you might be inadvertently making other reporting mistakes and adding to your own stress, please reach out to us for a free consultation to chat about how you can make quality reporting easier.
Still not sure about asking for outside help? Ask yourself: Do I want more time for data abstraction or more time for using the data I have to make a difference for my patients?
Primaris can help on both counts. We offer data abstraction and quality improvement services. Our trained abstractors retrieve data from patient charts and prepare it for reporting. We also offer abstraction training opportunities. Additionally, Primaris designs, implements, and evaluates quality improvement strategies.
Here are a few examples of ways we have helped clients in relation to abstraction and quality improvement:
1. Smarter Documentation: Primaris' abstraction work helped convince one hospital to adopt a standardized form for venous thromboembolism prophylaxis treatment that listed the approved reason for not ordering.
2. Process Redesign: Primaris' methodology helped one partner develop an immunization order that followed patients from unit to unit until the order was fulfilled prior to discharge.
3. Improved performance on metrics: Primaris abstractors were able to help a partner hospital report no outlying events while removing urinary catheters after surgeries over a 12-month period. It also allowed them to ensure they had proper documentation of reasons that a catheterization was continued.
Organizations that find they have exhausted their available time and resources mining data and submitting it for reporting should consider how they might be able to take advantage of external help. We're eager to hear any tips you have or comments about how practices can achieve quality reporting compliance while remaining focused on the ultimate question:
How are you using your data to improve patient health? We welcome your comments below.