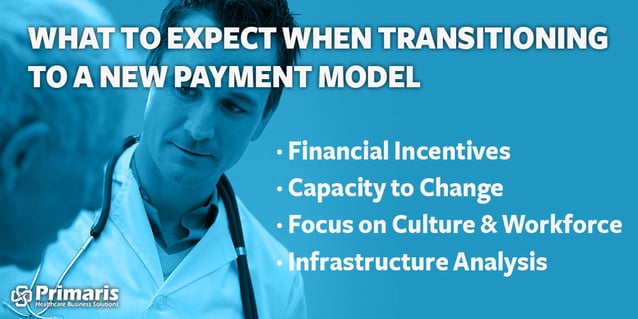 Medicare is knee-deep in a payment model overhaul that began with the introduction of MACRA in 2015. Because of the size of this reform and the impact it will eventually have on reimbursements, there are obvious concerns about program changes, how they will be implemented, and what it will take for healthcare providers to comply. A study by the Commonwealth Fund identified five of the top barriers to the successful sustainability and spread of new healthcare models. Those barriers are financial incentives, capacity to change, culture and workforce, infrastructure, and evidence. As providers plan for MACRA, it is helpful to examine the different factors that make adapting to a new healthcare model successful (or unsuccessful).
When you look at the challenges highlighted by the Commonwealth Fund's study, it is clear that some are obstacles physicians will face as they try to adapt to new MACRA guidelines. For example:
Financial Incentives
In the past, there has been very little financial incentive for doctors to provide care coordination and other support services. When there is no way to earn reimbursements for time spent on services that don't have billing codes attached to them, clinicians are forced to choose between getting paid and practicing the way they want to. Of course, Centers for Medicare and Medicaid Services (CMS) is pushing to change payments so they are more value-based, and that is chiseling away at the "financial incentives" barrier. However, the period of transition to value-based reimbursements is expected to be at least somewhat painful because of the learning curve and time it will take providers to figure out how to maintain profitability under a new payment program. Many healthcare providers should expect to see neutral or very small positive adjustments from the first reporting year under MACRA. Of course, if providers do not submit any data during the first reporting period, they will earn a negative payment adjustment.
Capacity to Change
Reporting quality data puts a large strain on small practices. Going forward, those practices will need to juggle reporting and additional quality improvement work. It will be a challenge for small practices to find resources and time to implement new workflows and take on quality initiatives, like advancing care coordination and population health management. CMS is dedicating resources to help small practices, but it is yet to be seen whether that will be enough to help providers that currently do not have the capacity to make changes.
Focus on Culture and Workforce
Adopting patient-centered strategies and shifting away from routines that were motivated by fee-for-service reimbursements requires an internal culture change. The more open a healthcare team is to new workflows, roles and responsibilities, the more likely they will be able to adapt to MACRA's Quality Payment Program (QPP).
Infrastructure Analysis
It is not surprising that, according to the Commonwealth Fund's study, inadequate electronic health records (EHR) systems and interoperability issues create problems for providers that are transitioning to a new payment system. Without the necessary technology and infrastructure, healthcare teams should expect struggles related to care coordination and integration.
There is no question that healthcare providers have a long road ahead of them as they work to adapt to changes brought on by MACRA. Even though CMS wants to make the QPP simple for participants, there are going to be some bumps along the way. Medical teams should hang on, and also consider teaming up with a consultant that can offer guidance and support through periods of uncertainty.