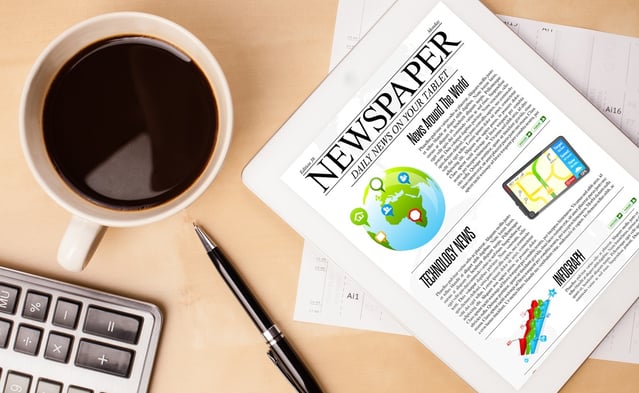 In case you missed these, Quality Today scoured the healthcare news landscape and blogosphere to present you with a weekly roundup of news and information.
Doctors propose new Medicare-direct contracting model.
A group of doctors on Thursday said they have the path forward to help the CMS launch a direct provider contracting (DPC) model. Full story.
Virgil Dickson, Washington bureau chief, Modern Healthcare
EHR vendors target small hospitals as market tightens.
EHR vendors are finding some success among smaller hospitals even as many of those hospitals are being bought up by larger systems and forced to integrate onto a single platform. Full story.
Evan Sweeney, senior editor, FierceHealthcare
Senior living centers find new benefits in adopting EHRs.
Senior Housing Companies, which offers assisted living services and healthcare to individuals living in retirement communities, was dependent upon manual paper processing to manage its 17 senior living communities in Iowa. A few years ago, when Joy Laudick joined the organization as its director of clinical management, she knew it was needed to transition to electronic systems. Read more.
Joseph Goedert, HealthData Management
---
Registry Abstraction: Tracking Down Missing Data
---
Analyze this: Health systems, health plans get to the core of big data.
Pamela Peele knows that people who subscribe to cooking magazines have a much higher risk of going to the emergency room. But how she knows that is a whole other story. Full story.
Susan Morse, senior editor, Healthcare Finance
High drug prices account for one-quarter of patient insurance costs.
The majority of a patient insurance costs go toward paying for prescription drugs, with high drug prices accounting for 23.2 cents of each dollar spent on an insurance premium, according to a recent analysis from America's Health Insurance Plans (AHIP) and research firm Milliman. Full story.
Sara Heath, editor, Patient Engagement HIT
Insurers need to aim higher in targeting individuals for Medicare coverage.
Health plans are losing millions in revenue because they're missing those Americans who are shopping for Medicare well after the age of 65, according a report from consultant Accenture. Read more.
Susan Morse, senior editor, Healthcare Finance
---
Quality Talk podcast: Aging Into Medicare? What You Need to Do Now
---
How to stop direct-to-consumer prescription drug ads.
I rarely watch television, but when I do, I am overwhelmed by the number of direct-to-consumer commercials about prescription drugs.
The ads saturate the airways. In a single hour, it is possible to see six different drugs promoted. Read the blog.
Milton Packer MD, for MedPage Today
Majority of pharma execs say Intermountain's drug venture not a threat.
While a majority of drug industry executives do not view Salt Lake City-based Intermountain Healthcare's newly formed generic drug company as a threat, most healthcare providers say they'd do business with the new venture, according to a report from Reaction Data. Read more.
Mackenzie Bean, Becker's Hospital Review
This is the biggest life event that Millennials don't see coming.
Dear millennials,
Sorry to be the bearer of bad news here, but you are about to get sucked into a hellhole unlike anything you've ever previously imagined. It will devastate you, leave you emotionally spent, make you physically ill and resentful at times. It could totally derail your career or force you to dip into your retirement savings ― and then one day it will abruptly end and leave you in a state of deep grief. Oh, and the government doesn't really give a damn about any of this, so you are pretty much on your own. Read more.
Ann Brenoff, senior reporter, HuffPost
How Amazon's digital health moves could affect providers.
Amazon this year has made a number of significant moves that are fueling speculation about what the online giant's ambitions might be in the healthcare sector—and what impact such a push by the company might have on traditional providers. Full story.
Linda Wilson, HealthData Management
4 new types of healthcare deals we're seeing.
Healthcare dealmaking involves more players with different goals and new business models than ever. It is a disservice to refer to healthcare M&A with the same vocabulary as in decades past. Tried and true language still serves a purpose, but doesn't express the aims and diversity of mergers and acquisitions in healthcare today. Story and link to report.
Molly Gamble, Becker's Hospital Review
---
Reviewing 2018 Q1 - 'Amazon Eats The World'

---
The rise of nurse practitioners amidst provider burnout, shortages.
Between increasing patient panels, evolving and often difficult-to-use technology, and the complications of federal quality reporting requirements, healthcare provider burnout is rampant. But as more providers suffer from burnout and even leave the profession, nurse practitioners have emerged to fill those care gaps. Article and study link.
Sara Heath, editor, Patient Engagement HIT
How Israel integrates data for 8 million patients.
Clalit Health Services (Tel Aviv, Israel) is the largest of Israel's four health service organizations, which administer health care services and funding for their members. Almost 20 years ago, Clalit Health Services leaders began thinking about how best to share clinical information among widely dispersed hospitals and clinics. Read more.
Nir Weiss, Allscripts Director Professional Services, in Becker's Hospital Review
ER spending rises with increasing prices, severity of visits.
Even though emergency department use has stayed the same, ED spending per member nearly doubled from 2009 to 2016 as the severity of ED visits and the prices associated with those visits increased, new data from the Health Care Cost Institute shows. Read more.
Shelby Livingston, Modern Healthcare
INTERACTIVE
From WebMD, our rapid-fire, must-read picks.
______
If you've got feedback or your own recommended reading and blog-following suggestions, please leave us a comment or email jjackson@primaris.org.