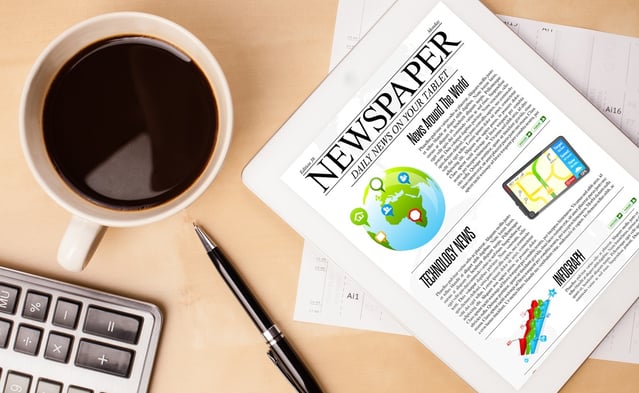 In case you missed these, Quality Today scoured the healthcare news landscape and blogosphere to present you with an end-of-the-week news and information reading list.
CMS overhauls meaningful use EHR program, removes redundancies.
Centers for Medicare and Medicaid Services Administrator Seema Verma on Tuesday announced changes to overhaul the meaningful use EHR incentive program, including equipping patients with access to their electronic health records on the day they leave the hospital. Full story.
Susan Morse, senior editor, Healthcare IT News
Docs urge MIPS reporting period reductions.
The American Medical Association and more than 40 physician specialty associations are calling for the federal government to reduce from one year to 90 days the reporting period for 2018 Merit-based Incentive Payment System. Full story.
John Commins, HealthLeaders Media
CMS proposes more than $1 billion in raises for post-acute care providers.
The CMS on Friday called for post-acute care providers to receive a $1 billion raise next year as part of its annual prospective pay rules for skilled nursing facilities, hospices, inpatient psychiatric facilities and inpatient rehab facilities. Full story.
Virgil Dickson, Washington bureau chief, Modern Healthcare
Read: Value-based care transforms patients into consumers.
A holistic view of the patient enables risk-based ACO success.
Giving providers a holistic view of the patient resulted in accountable care organization (ACO) success for a risk-based organization in southern Florida, which earned a place on the list of ACOs achieving the greatest shared savings in the Medicare Shared Savings Program (MSSP) in 2016. Read more.
Jacqueline Belliveau, editor, RevCycle Intelligence
Patients pave the way for interoperability.
The new interoperability is upon us. Read more.
Rachel Z. Arndt, Modern Healthcare
Americans are a lonely lot, and young people bear the heaviest burden.
Loneliness isn't just a fleeting feeling, leaving us sad for a few hours to a few days. Research in recent years suggests that for many people, loneliness is more like a chronic ache, affecting their daily lives and sense of well-being. Read more.
Rhitu Chatterjee, Science Desk reporter/editor, NPR
What I wish I knew as a young doctor.
The tendency to look back and impose self-criticism for the past is an all too common human tendency. A more robust strategy involves looking far ahead — not just dreaming, but making a detailed plan after careful analysis of goals, hopes, and reality. What follows are some thoughts and wishes applied through the filter of the retrospectoscope. Read more.
Mitchel Schwindt, MD, emergency physician, for MedPage Today's KevinMD.com
---
Healthcare Industry Q1 Review: Quality Talk Podcast
---
Study: Feds should consider shorter window for readmission penalties.
The Centers for Medicare & Medicaid Services dings hospitals with high 30-day readmission rates, withholding millions in payments as punishment. Full story.
Paige Minemyer, associate editor, FierceHealthcare
FDA on the hunt for its own EHR system.
The Food and Drug Administration is looking for a "large electronic medical record system" to conduct research about adverse drug reactions. Full story.
Rachel Z. Arndt, Modern Healthcare
A nurse is dying on your flight: What would you do?
On a flight back from a honeymoon in Hawaii, a 25-year-old nurse falls ill and dies. Is the airline to blame? The family thinks so and is suing. Video conversation.
MedPage Today staff
A Black Panther for diabetics.
In mid-February, thousands flocked to the opening of Black Panther, a highly anticipated film for a multitude of reasons. The most salient of these is its depiction of an African king as Marvel's and cinematic screen's first culturally-affirming black superhero. In fact, Black Panther's success is due to its emergence as a counter-narrative to painful and dysfunctional representations of black life. Read more.
Ariel Lawrence, for MedPage Today's KevinMD.com
Blog: Is the Alphabet Soup of MIPS and MACRA Giving You Indigestion?
Now you're speaking my language: VBC requires common understanding.
We all want to offer better value to our customers. Pharmaceutical companies, health plans, hospitals and health systems, and physicians want to provide better health outcomes for lower costs to patients…and to each other. But to each stakeholder, the definition of value can be quite different. Before pharmaceutical manufacturers consider a value-based contract, they could benefit from becoming fluent in the language of each stakeholder and understand how each potential partner defines value. Read more.
Joseph M. Coppola, Deloitte Consulting LLP
New C-suite position to watch: Chief experience officers.
As payers tie more reimbursement to patient satisfaction scores and demonstrated outcomes, and as patients are more informed about the choices they can make, health systems are increasingly developing new ways to improve performance. Some of these methods include the creation of new executive roles aimed at ensuring patients and caregivers have the tools they need for success. Full story.
Managed Healthcare Executive
85 percent of patients concerned about costs, quality.
Consumers have become more concerned about healthcare costs and rising patient financial responsibility than they are about paying for other services in their lives, according to a recent survey from patient advocacy group Consumers for Quality Care (CQC). Read more.
Sara Heath, Patient Engagement HIT
INTERACTIVE
From WebMD, our rapid-fire, must-read picks.
______
If you've got feedback or your own recommended reading and blog-following suggestions, please leave us a comment or email jjackson@primaris.org.