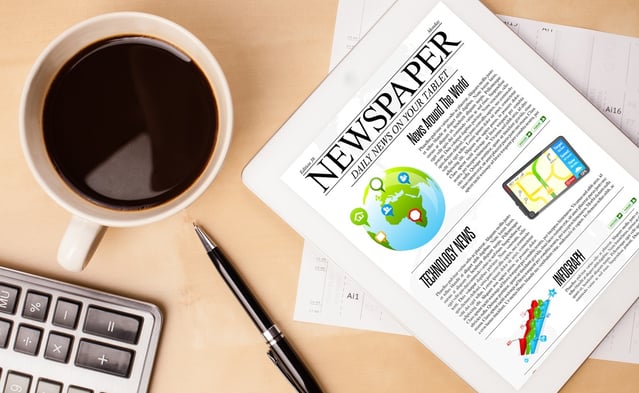 In case you missed these, Quality Today scoured the healthcare news landscape and blogosphere to present you with a weekly roundup of news and information.
Doctors urge Congress to eliminate MACRA opt-out policy.
AMGA board members asked congressional lawmakers Tuesday to overturn or scale back CMS exemptions that let thousands of doctors opt out of MACRA. Full story.
Virgil Dickson, Washington bureau chief, Modern Healthcare
Medicine leads the professions in suicide. What can we do about it?
Earlier this month, one of us visited a prominent U.S. medical school to give a lecture on the topic of burnout and how physicians can find more fulfillment in the practice of medicine. Sadly, that very day, a fourth-year medical student there took her own life. Read more.
Richard Gunderman, MD, PhD, and Peter Gunderman, MD
CMS late with data for new bundled-pay program; providers have little time.
Hospitals and physician groups that want to participate in the CMS' new Medicare bundled-payment demonstration are sweating because the agency is behind schedule in giving providers the claims data they need to decide which care bundles to select. Full story.
Harris Meyer, Modern Healthcare
Dear hospital administrators: Please value your amazing nurses.
In my travels up and down the East Coast, I have been fortunate enough to work with some fantastic nurses. From what I hear, there was much more of an authoritarian relationship between doctors and nurses a few decades ago — preceding the time I entered the medical profession. Read the blog post.
Suneel Dhand, MD, KevinMD.com
QPP Year 1 participation exceeds 90 percent.
Over 90 percent of eligible clinicians participated in the Merit-Based Incentive Payment System (MIPS) during the first year of the Quality Payment Program (QPP), according to a recent announcement from CMS Administrator Seema Verma. Read more.
Kate Monica, EHR Intelligence
Research: It's time to teach baby boomers about patient portals.
These days, Americans can manage many facets of their lives through the internet. But a new poll suggests many older adults still aren't using online systems to communicate with doctors and other healthcare providers, despite the widespread availability of such systems. Full story.
Jeff Lagasse, associated editor, Healthcare Finance
Reigniting the physicians arms race, insurers are buying practices.
In the turf war between hospitals and health insurers over physician practices, hospitals are winning by a long shot. But they'd be ill advised to get too comfortable. Full story.
Shelby Livingston, Modern Healthcare
Navigating social nuances with patients and colleagues.
A gentleman I vaguely recognized approached me at the reception following a recent family funeral. He was the domestic partner of a relative, and though I knew we'd met before, I couldn't remember much about him. When he asked if he could speak with me privately I said yes, thinking he had an expression of sympathy or a memory to share. Story and list.
Sue Jacques for Physicians Practice
Azar promotes value-based payment for skilled nursing facilities.
The government's new proposed value-based payment system for skilled nursing facilities, the patient driven payment model, represents a significant shift in how SNFs will be paid, Health and Human Services Secretary Alex Azar said Tuesday at the 2018 American Health Care Association and the National Center for Assisted Living Congressional Briefing. Full story.
Susan Morse, senior editor, Healthcare Finance
Why some employers are turning to progressive health benefits.
It's a practice that has not received much attention, but some employers have moved to "progressive," or wage-related, health benefits in recent years. That's where their lower wage employees pay a smaller share of insurance premiums, deductibles or health account contributions than higher-wage employees do. Read more.
Drew Altman, Kaiser Family Foundation, Axios
Going to the doctor in a group means better health for some patients.
Walter Gardner knew his life was at risk: Nearly 100 pounds overweight, he had developed Type 2 diabetes and needed several prescriptions. Traditional medical appointments had little effect on the 55-year-old's health. Then he was offered a way to spend more time with his doctor. Gardner seized the opportunity. Full story.
Suzanne Allard Levingston, The Washington Post
Mergers, acquisitions play role in achieving scale, competition.
Mergers and acquisitions in healthcare have been accumulating at a mighty clip over the past several years, and a big part of the reason is scale. Consolidation helps healthcare organizations increase the scale of their business and retain, or even increase, their market share. Full story.
Jeff Lagasse, associate editor, Healthcare Finance
WebMD
INTERACTIVE
From WebMD, our rapid-fire, must-read picks.
______
If you've got feedback or your own recommended reading and blog-following suggestions, please leave us a comment or email jjackson@primaris.org.