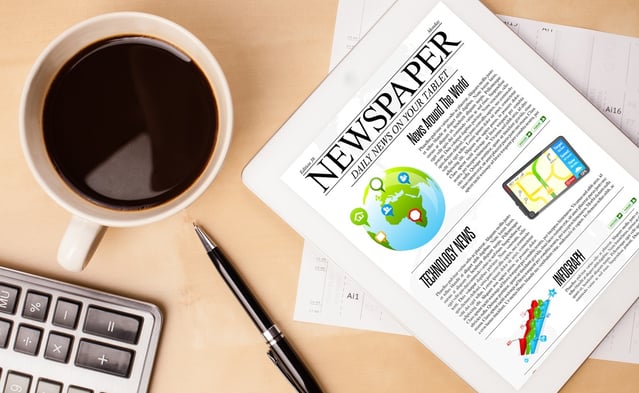 In case you missed these, Quality Today scoured the healthcare news landscape and blogosphere to present you with an end-of-the-week news and information reading list. This edition of "Weekly Roundup" is chock-full of solid reporting from #HIMSS18 in Las Vegas.
Health chief warns hospital execs about costs: 'Change is coming.'
President Trump's new health secretary issued a warning Monday to a room of hospital executives about soaring health care costs: change is coming, whether you like it or not. Full story.
Jessie Hellmann, The Hill
Verma: Meaningful Use overhaul is in the works.
CMS Administrator Seema Verma said her agency is planning on overhauling its meaningful-use requirements, after years of provider complaints that the program was too burdensome and hard to implement. Full story.
Virgil Dickson, Washington bureau chief, Modern Healthcare
EHRs get most blame for epidemic of physician burnout.
The problem of physician burnout is affecting about 50 percent of practicing doctors, and electronic health records are squarely to blame, according to Michael Hodgkins, MD, CMIO at the American Medical Association. Read more.
Greg Slabodkin, HealthData Management
CMS announces patient-centered data sharing initiative.
LAS VEGAS - CMS Administrator Seema Verma has announced a new initiative to ensure that patients remain at the center of the healthcare system as providers and payers continue to transition to value-based care. Read more.
Jennifer Bresnick, editor, HealthIT Analytics
Survey: 93 percent of hospital patients can view EHR online.
Nearly all hospital patients can view information from their electronic health record online, according to new data released by the American Hospital Association. Full story.
Greg Slabodkin, HealthData Management
EHR adoption, interoperability bring Google back to healthcare.
LAS VEGAS—Widespread EHR adoption attracted the likes of Google to return to healthcare and help the industry in its adoption of new and emerging technologies such as artificial intelligence and machine learning. Read more.
Kyle Murphy, PhD, EHR Intelligence
Anthem, AMA streamline prior authorization process.
The American Medical Association and Anthem today announced they will collaborate on solutions to streamline the prior authorization process to reduce the administrative burden and minimize delays and disruptions in care. Read more.
Susan Morse, senior editor, Healthcare Finance
Podcast: Listen as AMA President discusses prior auth burden.
Realizing AI: What's holding technology back?
Modern Healthcare's in-depth special report explores the role of AI in healthcare and its slow growth in the industry, including how artificial intelligence can improve medical diagnosis, deliver a competitive edge with data, impact healthcare supply chains, and play a role in addressing population health. Read more.
Rachel Z. Arndt and Steven Ross Johnson, Modern Healthcare
CMS to fund $30 million in grants for new quality measures.
The CMS has unveiled $30 million in grant funding to develop new quality measures for the Merit-based Incentive Payment System. Read more.
Virgil Dickson, Washington bureau chief, Modern Healthcare
Cigna to buy Express Scripts in $67 billion deal.
Health insurer Cigna has agreed to buy pharmacy benefits manager Express Scripts in a deal worth approximately $67 billion of cash, stock and debt. Full story.
Modern Healthcare
Need a medical provider? Pick the right provider, get cash back.
Laurie Cook went shopping recently for a mammogram near her home in New Hampshire. Using an online tool provided through her insurer, she plugged in her ZIP code. Up popped facilities in her network, each with an incentive amount she would be paid if she chose it. Full story.
Julie Appleby, senior correspondent, Kaiser Health News
NEJM survey spotlights payer-provider alignment barriers.
A lack of alignment between payers and providers continues to hamper the U.S. healthcare system as it strives to deliver higher-value care, according to a new survey. Read more.
Matt Kuhrt, FierceHealthcare
Healthcare is moving from episodic to 'life-based care.'
LAS VEGAS – Improvements in data management will soon mean healthcare providers can engage patients outside of standard care more than ever before, Judy Murphy, chief nursing officer at IBM, said Monday at HIMSS 2018 in Las Vegas. Full story.
Dave Muoio, Healthcare IT News
UnitedHealth tightens reins on E.D. reimbursement.
The nation's largest health insurer UnitedHealth Group is following rival Anthem's footsteps with a new payment policy aimed at reducing its emergency department claims costs. Read more.
Shelby Livingston, Modern Healthcare
NQF promotes use of equity as performance measure to reduce disparities.
Efforts to improve the overall quality of healthcare have done little to reduce disparities in access to care. But the National Quality Forum has developed a plan to target equity more explicitly in performance-based payment systems. Full story.
Matt Kuhrt, Modern Healthcare

INTERACTIVE
From WebMD, our rapid-fire, must-read picks.
______
If you've got feedback or your own recommended reading and blog-following suggestions, please leave us a comment or email jjackson@primaris.org.