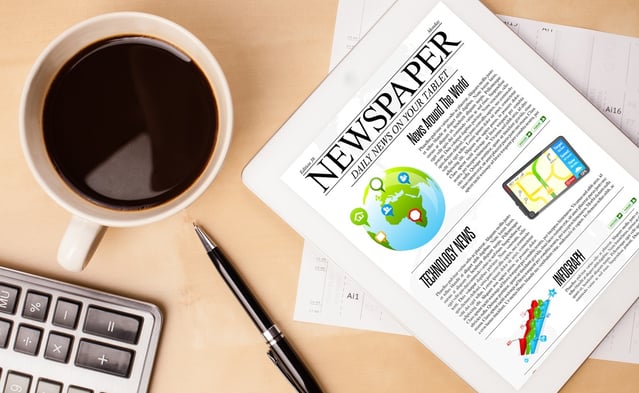 In case you missed these, Quality Today scoured the healthcare news landscape and blogosphere to present you with an end-of-the-week news and information reading list.
Falling U.S. life expectancy is an 'indictment of the American health care system.'
The economy may be growing and the stock market booming, but Americans are dying younger — living shorter lives than previous generations and dying earlier than their counterparts around the world. Full story.
Commonwealth Fund President David Blumenthal, M.D., for STAT News
Primary care docs file class-action lawsuit against eClinicalWorks.
EHR vendor eClinicalWorks has been hit with a second class-action lawsuit in as many months, this one from a Mississippi primary care clinic and a California physician that claim the company failed to live up to promises that its software complied with Meaningful Use certification criteria. Read more.
Evan Sweeney, senior editor, FierceHealthcare
10 things for healthcare executives to note as they head into 2018.
Disruption got real. Hospital-insurer negotiations heated up. Activist shareholders shook up legacy hospital operators. Healthcare and the government failed to effectively communicate. These and six other trends that shaped the year in healthcare — and the lessons executives can take from them into 2018. Full story.
Molly Gamble, editor-in-chief, Becker's Hospital Review
Road to value-based payment bumpy in 2017.
The shift to value-based payment stalled in 2017 largely because of decisions made by new CMS leadership and distractions caused by efforts to repeal the Affordable Care Act, health quality experts say. Full story.
Maria Castellucci, Modern Healthcare
Perverse incentives: Do you see what I see?
I am severely near-sighted and have worn glasses for most of my entire life. With the onset of presbyopia, the sharpness of images disappeared regardless of distance. Add ongoing issues with retinal membranes, and I can barely see. I could benefit from retinal surgery, but have put it off. Read more.
Milton Packer, MD, for MedPage Today
Medicare penalized 751 facilities for hospital-acquired conditions in 2017.
Delivering quality care has become even more essential for hospitals and health systems since Medicare started issuing penalties for high rates of hospital-acquired conditions -- things like falls, ulcers and infections that could well have been avoided. The statistics from the past year underscore this importance: In 2017, according to HealthITAnalytics, Medicare penalized 751 hospitals and health systems for that very reason with a 1 percent reduction in reimbursementrates in the coming year. Full story.
Jeff Lagasse, associate editor, Healthcare Finance
Meeting the challenge of healthcare consumerism with big data analytics.
As the remarkable, eventful year of 2017 lumbers to its cold and snowy close, healthcare organizations may feel as if they are starting 2018 on an unstable footing. Read more.
Jennifer Bresnick, director of editorial, HealthIT Analytics
A nurse's reaction to MACRA haters.
Like it or not, the Medicare Access and CHIP Reauthorization Act (MACRA) legislation will affect virtually all health care providers practicing in the U.S. Full story.
Carrie J. Whitaker, R.N., for KevinMD.com
Will gathering vast troves of information really lead to better health?
The Mayo Clinic is building its future around high-tech approaches to research known as "precision medicine." This involves gathering huge amounts of information from genetic tests, medical records and other data sources to ferret out unexpected ideas to advance health. But one longtime scientist at the Mayo Clinic isn't playing along. Full story.
Richard Harris, NPR science correspondent
Meet CMS' new 5-star overall hospitals.
When CMS updated the methodology used in its Overall Hospital Quality Star Rating program in December after a five-month delay, the number of hospitals that received the highest possible overall rating increased from 83 in December 2016 to 337. Full story.
Brian Zimmerman, Becker's Hospital Review
ACO, bundle payment alignment key to success for both models.
CMS should align accountable care organizations (ACOs) and bundled payments by creating a blended accountability structure that allows organizations to participate in both alternative payment models without financial conflicts, industry experts recently suggested. Full story.
Jacqueline Belliveau, RevyCycle Intelligience
How the social determinants of health impact population wellness.
The social determinants of health, including economic status and demographic factors, significantly drive the impact of chronic diseases and other clinical conditions, according to a Moody's Analytics report prepared for the Blue Cross Blue Shield Association (BCBSA). Full story.
Jessica Kent, HealthIT Analytics
INTERACTIVE
From WebMD, our rapid-fire must-read picks.
_______________________
If you've got feedback or your own recommended reading and blog-following suggestions, please leave us a comment or email jjackson@primaris.org.