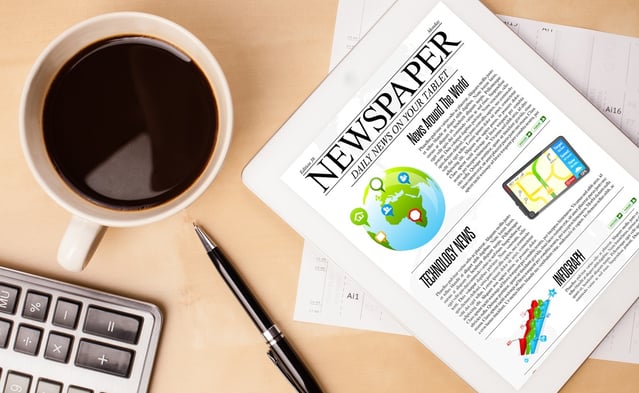 In case you missed these, Quality Today scoured the healthcare news landscape and blogosphere to present you with an end-of-the-week news and information reading list.
From ACA to cyberattacks, 2018 will be challenging for CEOs.
CEOs who play it safe will be putting themselves and their companies at risk in 2018. It will be a year of dynamic change—from keeping up with new technologies to holding on to their best and brightest. Full story.
Karen Talley, editor, FierceCEO
CMS unveils updated hospital star ratings formula.
The CMS announced Thursday it has added updated star ratings to its Hospital Compare site using a new methodology after a five-month delay. Read more.
Maria Castellucci, Modern Healthcare
Healthcare industry groups raise alarm over mandate repeal, Medicaid cuts.
The House of Representatives has officially given final approval to the Republicans' tax overall, but healthcare organizations continue to raise concerns about provisions that could hurt patients and health insurance plan members. Read more.
Paige Minemyer, associate editor, FierceHealthcare
3 ways tech innovation can fight physician burnout.
According to published reports, over 50 percent of doctors are burned out. The reason? They are overwhelmed by payment and quality rules as well as poor information technology. Full story.
Mark Kelley, MD, for MedPage Today's KevinMD.com
Physician pay increased in 2017 as demand grew.
Physician compensation across the country grew 5.1 percent in 2017 as increased demand put pressure on labor markets, according to a new study from Doximity, a social network for physicians and advanced practice clinicians. Full story.
Jeff Lagasse, associate editor, Healthcare Finance
New accreditation approach could curtail growth of micro-hospitals.
One of the industry's fastest-emerging trends—micro-hospitals—could take a hit thanks to new CMS guidance that has hospital accreditors tweaking their policies regarding what counts as a hospital. Read more.
Vigil Dickson, Washington bureau chief, Modern Healthcare
Penn State, Highmark to spend $1 billion on pop health.
Penn State Health and Highmark Health have announced a population health management partnership designed to deliver quality, value-based care to patients across central Pennsylvania. Full story.
Jessica Kent, HealthIT Analytics
Top 10 concerns of chief nursing officers.
High turnover in the C-suite, disengaged staff and nurse recruitment and retention are among the top concerns facing chief nursing officers in 2018. Read more.
Ilene MacDonald, executive editor, FierceHealthcare
A key lesson from the 1918 flu pandemic? 'Tell the truth.'
The death toll from the 1918 flu pandemic surpassed all the military deaths in the two world wars. Story and audio.
New Orleans Public Radio
Finance execs bullish on health IT investment in 2018.
Healthcare finance executives have lofty expectations for the health IT sector over the next two years, according to a new survey. Full story.
Evan Sweeney, senior editor, FierceHealthcare
AHA's Pollack says mergers ultimately benefit patients.
American Hospital Association President and CEO Richard Pollack wrote in a Dec. 17 op-ed the merger frenzy across the healthcare industry stems from the desire to create an overarching care system that is "more responsive to [consumers'] needs." Read more.
Alyssa Rege, Becker's Hospital Review
Patient experience data may be flawed.
There are major measurement issues in patient experience data collected from emergency departments nationwide, including high variability and limited construct validity, according to an analysis published by researchers at George Washington University and U.S. Acute Care Solutions. Read more.
Jeff Lagasse, associate editor, Healthcare Finance
Epic's slimmed-down EHR Sonnet ready for March release.
Epic Systems just revealed that its new EHR, dubbed Sonnet, will be available in March 2018 and its new implementation tool Utility is already being used. Full story.
Bernie Monegain, Healthcare IT News
PEW: EHR usability issues may still affect patient safety.
Electronic health records are quickly becoming the standard way clinicians track and retrieve patient information, but EHR usability can put patient safety in jeopardy, according to a report from the Pew Charitable Trusts. EHRs are a critical part of patient care. Read more.
Jessica Kent, HealthIT Analytics
INTERACTIVE
_______________________
If you've got feedback or your own recommended reading and blog-following suggestions, please leave us a comment or email jjackson@primaris.org.