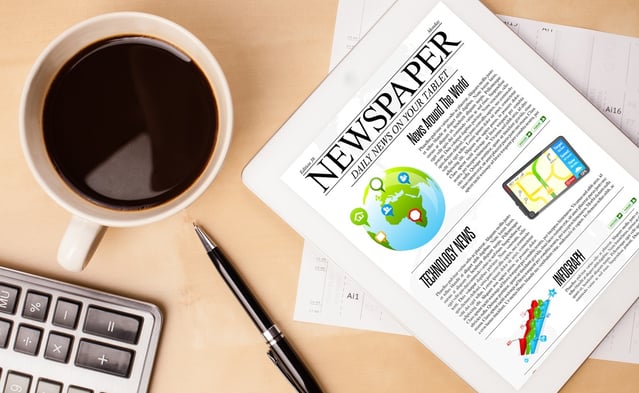 In case you missed these, Quality Today scoured the healthcare news landscape and blogosphere to present you with a weekly roundup of news and information.
How a reduction in hospital deaths helped Amazon and Buffett pick Gawande.
News that Amazon, Warren Buffett and JPMorgan Chase & Co. have picked noted surgeon, speaker and writer Dr. Atul Gawande to run their healthcare venture has the business community wondering what his solutions will be to fix healthcare. Full story.
Bruce Japsen, Forbes
9 lesser known things about Dr. Atul Gawande.
Even before he was chosen to helm the healthcare venture for Amazon, JPMorgan Chase and Berkshire Hathaway, the medical field knew the name Atul Gawande, MD. Learn more.
Emily Rappleye, Becker's Hospital Review
Alternative Payment Models: 5 myths.
With debate on "repeal and replace" in the rearview mirror, new leadership at the Department of Health and Human Services (HHS), and the threat of rising health care spending undermining economic growth, policy makers are contemplating new models and incentives to speed providers toward value-based care and alternative payment models (APMs). Full story.
Blair Childs, Premier Inc. senior vice president of public affairs, for Health Affairs
Does value-based pay need to slow down?
The transition to value-based care is chugging ahead, but many providers are struggling to take on the risk required for these models to succeed. Read more.
Rachael Zimlich, RN, Managed Healthcare Executive
Pressure mounts on genetic testing firms to outline privacy policies.
Pressure is growing on direct-to-consumer genealogy and genetic testing companies to be more transparent about their privacy policies, after the arrest of the notorious Golden State Killer using publicly available data from one of the websites. Full story.
Megan Thielking, STAT
The EHR strikes back.
The last few years have been challenging for the electronic health record (EHR). While the Health Information Technology for Economic and Clinical Health (HITECH) Act succeeded in transitioning the US healthcare system mostly away from paper¹, the resulting electronic systems created a number of new problems². They include diverting attention from patient care, adding to clinician time burdens, and causing outright burnout. Although the underlying problems of quality, safety, and cost of healthcare motivating the use of EHRs still exist, the large-scale adoption of EHRs has yet to solve them in any meaningful way. Full blog post.
William Hersch, MD, professor and chair, OHSU, for HiTech Answers
Healthcare mergers, increased access to boost medical costs 6 percent.
PwC's Health Research Institute (HRI) predicts medical costs for employers to grow 6 percent in 2019 as healthcare mergers and more convenient care access options drive up healthcare costs and utilization. Read more.
Jacqueline LaPointe, editor, RevCycle Intelligence
New breed of Medicaid innovators take on social determinants of health.
Providers, payers and other companies are increasingly finding ways to bring down the cost of care by addressing the social determinants of health, particularly for the Medicaid population. Full story.
Susan Morse, senior editor, Healthcare Finance
Valued-based care reduces costs by 5.6%, improves care quality.
Value-based care strategies are starting to achieve the goals of the Triple Aim, payers reported in a new ORC International study commissioned by Change Healthcare. Full story and study link.
Jacqueline LaPointe, editor, RevCycle Intelligence
'Gaming Disorder' now listed in WHO disease manual.
Compulsive video gaming is now classified as a mental health condition, the World Health Organization says. Read more.
HealthDay
Fed up with rising costs, big U.S. firms dig into healthcare.
SAN JOSE, Calif. (Reuters) - At its Silicon Valley headquarters, network gear maker Cisco Systems Inc is going to unusual lengths to take control of the relentless increase in its U.S. healthcare costs. Full story, with video.
Caroline Humer, Reuters
What hospitals in financial distress should do now to avoid closing down?
Hospitals continue to face significant financial pressures thanks to market changes, healthcare reform and competition -- and that means finance and operations executives need to act proactively in analyzing whether their institutions are in distress and, if so, form strategies to improve conditions that turn around their performance. Full story.
Beth Jones Sanborn, managing editor, Healthcare Finance
AMA calls on regulators to block CVS-Aetna merger.
The American Medical Association has come out against the planned merger between CVS Health and Aetna, warning that the deal could hurt patients by reducing competition. Full story and related links.
Paige Minemyer, editor, FierceHealthcare
Google pursues AI, voice recognition for EHR workflows.
Google is beefing up an early-stage research project called Medical Digital Assist as it explores ways to use artificial intelligence to improve visits to the doctor's office. Full story and videos.
Jillian D'Onfro and Christina Farr, CNBC
Anti-aging researcher faces the loss of his inspiration: his father.
Leonid Peshkin calmly strokes his father's thin, white hair. He gently exercises the old man's arms to acivate his muscles and get the blood flowing. He speaks, voice raised to reach him through the fog of age, poor hearing, and illness. "Papa," he asks in their native Russian, "are you in pain?" Recommended reading.
Karen Weintraub, STAT
INTERACTIVE
From WebMD, our rapid-fire, must-read picks.
______
If you've got feedback or your own recommended reading and blog-following suggestions, please leave us a comment or email jjackson@primaris.org.