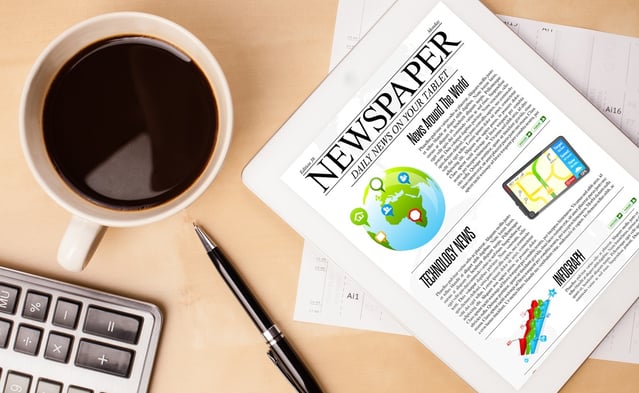 In case you missed these, Quality Today scoured the healthcare news landscape and blogosphere to present you with an end-of-the-week news and information reading list.
Facebook scandal could drive greater protections for consumer health data.
Fueled by Facebook's failure to safeguard the data of users of its social media platform, lawmakers in Congress are looking to protect the online privacy of Americans through wide-ranging legislation that could have significant effects on the handling of health information. Full story.
Greg Slabodkin, HealthData Management
How third parties harvest health data from providers, payers, and pharmacies.
As the healthcare industry continues to struggle with interoperability, there's one realm in which patient data move remarkably freely: the secondary market. Read more.
Rachel Z. Arndt, Modern Healthcare
Security attacks are rising in sophistication and effectiveness.
An annual cross-industry survey by Verizon shows that the sophistication of cyberattacks from outside the walls of institutions continues to rise, and the results can be particularly devastating to healthcare organizations. Full story.
Joseph Goedert, HealthData Management
Film shines light on deadly errors in medicine.
Can a film help shift the conversation on reducing deadly errors in medicine? Full story.
Ian Ingram, deputy managing editor, MedPage Today
Healthcare mergers post a patient safety risk, study finds.
The healthcare industry's appetite for mergers has yet to be sated and they could pose safety risks to patients, according to Harvard researchers in a new study. Full story.
Paige Minemyer, associate editor, FierceHealthcare
---
Quality Talk – Episode 17: Healthcare Megamergers
---
The disappearing doctor: Mega-mergers and the business of medical care.
Is the doctor in?
In this new medical age of urgent care centers and retail clinics, that's not a simple question. Nor does it have a simple answer, as primary care doctors become increasingly scarce. Full story.
Reed Abelson and Julie Creswell, The New York Times
Survey says: This is what patients value most.
While patients value clinical quality of care, an analysis of seven million published physician reviews by Healthgrades and the Medical Group Management Association (MGMA) shows that more than half of reviews cite nonclinical factors, such as a physician's compassion, personality, and bedside manner. Full story.
Advisory Board
More patients are recording doctor visits.
Like it or not, more and more patients are asking for permission to record office and clinic visits on their smart phones. Read more.
Mark Crane, BA, Medscape
A new vision for population health management.
Healthcare leaders need to expand their vision of what it means to pursue population health management to raise quality, lower costs, and improve the overall health of their patients. Read the editorial.
Merrill Goozner, editor emeritus, Modern Healthcare
Related - The Year of the Patient: Population Health, the Ultimate Focus

The 'Silver Tsunami': Aging populations challenge global healthcare.
Demographic change is a defining issue of our time. As the worldwide population ages, the healthcare systems of every country, including the United States, will face significant challenges to meet the needs of an aging population. Full story.
William A. Haseltine, contributor, Forbes
AMA partners with Google on interoperability challenge.
The American Medical Association (AMA) has partnered with Google to launch a contest that challenges the startup community to come up with a solution that allows patients and clinicians to share patient-generated data. Read more.
Evan Sweeney, senior editor, FierceHealthcare
---
The growing need for tech and EHR integration
---
These McDonald's practices should be avoided in health care.
Few people can argue that health care is a business these days. Medical services are attached a price tag and patients are now customers. However, intrinsic to health care is a very high ethical code that doesn't exist in other sectors. For example, if a patient shows up in the ER, they cannot be denied service, whether they are wearing shoes or not. While McDonald's and other top companies are driven for profits, there are lessons the health care industry should avoid taking from them. Read more.
Linda Girgis, MD, KevinMD.com
Groceries, too: Medicare Advantage plans cleared to go beyond medical coverage.
Air conditioners for people with asthma, healthy groceries, rides to medical appointments and home-delivered meals may be among the new benefits added to Medicare Advantage coverage when new federal rules take effect next year. Full story.
Susan Jaffe/Kaiser Health News at FierceHealthcare
INTERACTIVE
From WebMD, our rapid-fire, must-read picks.
______
If you've got feedback or your own recommended reading and blog-following suggestions, please leave us a comment or email jjackson@primaris.org.