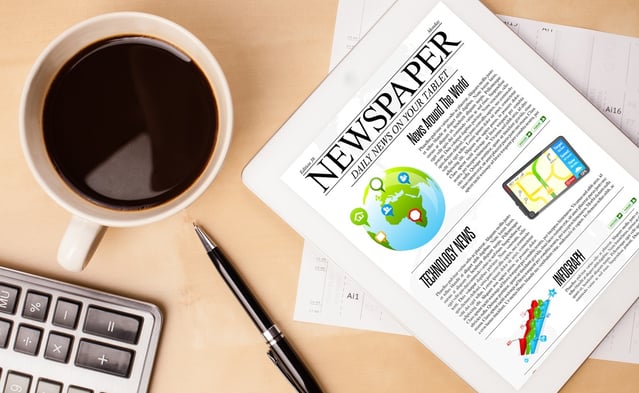 In case you missed these, Quality Today scoured the healthcare news landscape and blogosphere to present you with an end-of-the-week news and information reading list.
Wasting away: Health systems advance the battle against low-value care.
When leaders at Johns Hopkins Health System set out to eliminate wasteful clinical practices across the organization, they started with blood transfusions. Full story.
Maria Castellucci, Modern Healthcare
Amazon's latest move into healthcare: Medicaid.
Amazon expanded into the Medicaid market by announcing that it will offer beneficiaries a Prime membership of $5.99 a month, a discount of 54 percent. And while that revelation last week may not have raised quite as many eyebrows as the company's blockbuster partnership with Berkshire Hathaway and JPMorgan Chase it holds the potential to have a major impact sooner. Read more.
Susan Morse, senior editor, Healthcare Finance
Now slowdown in consolidation: Hospitals acquire 5,000 independent practices.
There's been no slowdown in the trend toward physician employment, as new data shows that hospitals acquired 5,000 independent physician practices in a 12-month period. Full story.
Joanne Finnegan, editor, FiercePracticeManagement
High U.S. health care spending: It's still about the prices.
A study of why the United States spends so much more on health care than in other high-income countries concludes that higher prices — particularly for doctors and pharmaceuticals — and higher administration expenses are predominantly to blame. U.S. policy must focus on reducing these costs in order to close its spending gap with other countries. Read the report.
The Commonwealth Fund
Nurse shortage: Healthcare organizations take on challenge.
Sign-on bonuses are a nice perk, but not necessarily enough to recruit nurse these days. So healthcare organizations are trying new ways to attract and retain nurses, not only offering to pay their tuition but also reimbursing college tuition for their children. Full story.
Ilene MacDonald, executive editor, FierceHealthcare
Hospital M&A complicates fundraising.
The modest seven-person development and marketing team at Burke Rehabilitation Hospital has been feverishly raising money for a new facility dedicated to supporting the friends and family members of patients recuperating from major events like severe strokes or spinal cord injuries. Read more.
Tara Bannow, Modern Healthcare
Video: Doctor's widow on anti-suicide campaign.
In this video, Zubin Damania, MD -- known to many in healthcare through his "ZDoggMD" online videos -- explores the issue of physician suicide with Janae Sharp, a woman whose experience with it was all too personal. Sharp, a mother of three and healthcare writer/consultant, has turned her family tragedy into a crusade to ensure that those quietly suffering get help -- including the loved ones left behind. A must watch.
MedPage Today staff
---
Dr. Pamela Wible: Physician suicide - Quality Talk Podcast
---
Diagnostic errors, opioid safety top ECRI's top 10 patient priorities.
Healthcare facilities looking to prioritize their patient safety efforts should start by focusing on diagnostic errors and opioid safety, according to the ECRI Institute. Full story.
Matt Kuhrt, FierceHealthcare
Next up for EHRs: Vendors adding AI into the workflow.
Artificial intelligence and machine learning permeated HIMSS18 such that the dynamic duo was just about everywhere in Las Vegas last week. Full story.
Tom Sullivan, editor-in-chief, Healthcare IT News
Large high-volume hospitals save in CJR bundled payments model.
Larger hospitals with greater knee and hip replacement volumes were more likely to realize cost savings under Medicare's mandatory lower joint replacement bundled payments model, a new analysis from Penn Medicine showed. Full story.
Jacqueline Belliveau, RevCycle Intelliegence
AHIP names Eyles as new president and CEO.
America's Health Insurance Plans has named Matt Eyles its new president. He'll replace Marilyn Tavenner, who will retire in June. Read more.
Paige Minemyer, associate editor, FierceHealthcare
Patients overpay for Rx 23 percent of the time, analysis shows.
As a health economist, Karen Van Nuys had heard that it's sometimes cheaper to pay cash at the pharmacy counter than to put down your insurance card and pay a copay. Full story.
Sydney Lupkin, data correspondent, Kaiser Health News
NASA's telemedicine docs keep ISS astronauts healthy.
There's no doctor onboard the International Space Station. Because of the costs associated with shipping anything up to space, there's a carefully chosen selection of medical supplies and devices. For everything else, the six international astronauts that live and work on the station rely on NASA's own brand of telemedicine. Full story.
Jonah Comstock, MobiHealthNews
Understanding the Quality Payment Program's Advanced APM track.
From bundled payments to accountable care organizations, alternative payment models (APMs) are not new to healthcare providers. But the final MACRA implementation rule created a new subset of Advanced APMs, which could bring providers more revenue under the Quality Payment Program. Read the feature story.
Jacqueline Belliveau, editor, RevCycle Intelligence
INTERACTIVE
From WebMD, our rapid-fire, must-read picks.
______
If you've got feedback or your own recommended reading and blog-following suggestions, please leave us a comment or email jjackson@primaris.org.