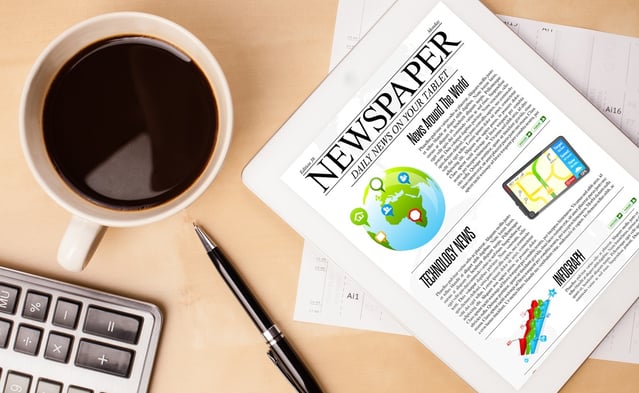 In case you missed these, Quality Today scoured the healthcare news landscape and blogosphere to present you with an end-of-the-week news and information reading list.
Verma renews commitment to value-based models.
Centers for Medicare and Medicaid Services Administrator Seema Verma renewed her commitment Monday to reshaping the U.S. healthcare delivery system into one that values quality over quantity. Full story.
Steven Porter, Health Leaders Media
Chronic care management program showing signs of improving care, cost.
A CMS experiment that compensates doctors to improve care for the sickest Medicare beneficiaries is showing signs of both saving money and improving quality. Read more.
Virgil Dickson, Washington bureau chief, Modern Healthcare
Smartphone Syndrome: A Millennial mental health crisis.
Millennials were born during a period of rapid technological transformation. Most millennials have never known life without a cellular telephone or without having access to the internet. Read more.
Thomas G. Kimball, PhD, for The Doctor Weights at KevinMD.com
Where health insurers are investing in tech upgrades.
Health insurers, according to a new report, are well aware that they're behind the technology curve—and they're making significant investments to fix that. Full story.
Leslie Small, senior editor, FierceHealthcare
Amazon quietly launches OTC product line: 7 things to know.
Amazon quietly launched Basic Care, an exclusive line of 60 over-the-counter healthcare products, in August — a move that could place more pressure on pharmacy retail chains, reports CNBC. 7 things to know.
Alia Paavola, Becker's Hospital Review
64 percent of patients avoid care due to high healthcare costs.
Patients are delaying medical care or forgoing treatment altogether because of increasingly high patient healthcare costs, according to a recent survey conducted by 20|20 Research in partnership with CarePayment. Read more.
Sara Heath, Patient Engagement HIT
Physicians decry consequences of consolidation.
Consolidation throughout the healthcare industry is increasing costs and driving more care through hospitals, the Physicians Advocacy Institute warned in a letter to Congress. Full story.
Alex Kacik, Modern Healthcare
Apply now, decide later: Unsure about bundled payments model?
The Centers for Medicare and Medicaid Services is reporting high interest in the new Bundled Payments for Care Improvement Advanced model that appears to be moving forward despite a request by the American Hospital Association to delay implementation citing a lack of operational detail, especially over target pricing. Full story.
Susan Morse, senior editor, Healthcare Finance
Are 'vaccine skeptics' responsible for flu deaths?
For months, speculation swirled around this year's flu season, and the apparent lack of efficacy of the vaccine in Australia earlier in the year, but did all that skepticism contribute to flu deaths in the U.S.? Full story.
Molly Walker, MedPage Today
Serenity now! Learn to have patience with patients.
Saint Augustine called patience the companion of wisdom, but did he ever treat an argumentative rosacea patient who wants to bring her drooling Chihuahua into the exam room for comfort? Or did he ever juggle a full-time career with the physical and emotional needs of a spouse and children? Or balance both a medical practice and a household budget? Read more.
Darin Painter, MedPage Today
Do TV medical dramas skew patient perceptions of quality care?
Medical dramas on television are obscuring patient perceptions of quality care and expectations of a positive hospital experience, creating what some researchers are calling the "Grey's Anatomy" effect, according to a new report published in BMJ Trauma Surgery & Acute Care. Full story.
Sara Health, Patient EngagementHIT
Docs to HHS: Level the playing field for independent practices.
In the face of increased hospital consolidation, HHS should better support independent practices and develop policies that allow solo providers to compete with hospitals and health systems, the Physicians Advocacy Institute (PAI) recently argued. Read more.
Jacqueline Belliveau, editor, RevCycle Intelligence
Racial disparities are dividing us in death, too.
Camille's dark glasses disguised a black eye she suffered falling from bed, cowering to take cover. Someone fired shots near her bungalow's back window again, a routine rhythm of her slice of Chicago that she has heard for years now. Full story.
Randi Belisomo, DBE, president and co-founder of Life Matters Media, for KevinMD.com
ONC and CMS week to understand clinician tech burden.
Clinicians complain about logging into electronic health records dozens of times a day. They complain about clunky navigation and undue documentation requirements that keep them from engaging with patients. They and others will air their grievances this week during a meeting hosted by the CMS and the Office of the National Coordinator for Health Information Technology. Full story.
Rachel Z. Arndt, Modern Healthcare
INTERACTIVE
From WebMD, our rapid-fire, must-read picks.
______
If you've got feedback or your own recommended reading and blog-following suggestions, please leave us a comment or email jjackson@primaris.org.