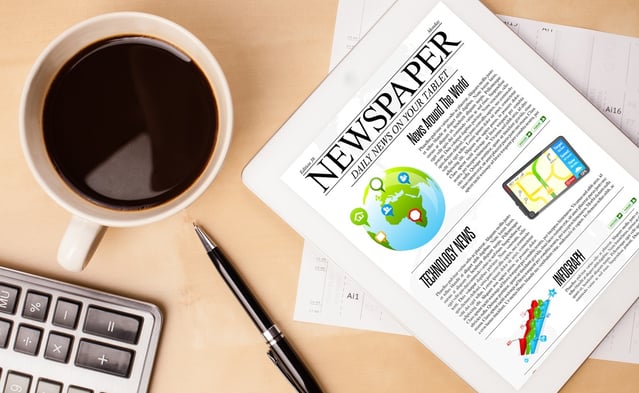 In case you missed these, Quality Today scoured the healthcare news landscape and blogosphere to present you with an end-of-the-week news and information reading list.
Budget deal could boost credit for safety-net hospitals.
Congress' decision to delay Medicaid disproportionate-share hospital payment cuts has the double benefit of sprucing up the credit quality of safety-net hospitals and local governments, Moody's Investors Service said Monday. Full story.
Tara Bannow, Modern Healthcare
2019 budget blueprint: 15 healthcare takeaways.
President Donald Trump on Monday released his $4.4 trillion budget for fiscal 2019 with an addendum to partially account for the two-year bipartisan budget deal reached in Congress last week. Read more.
Emily Rappleye, managing editor, Becker's Hospital Review
Report: Use, not price, drives state health costs.
In healthcare, costs of individual services and products make less of a difference in state-level spending than the overall use of those products and services, a new report indicated. Full story.
Shannon Firth, Washington correspondent, MedPage Today
Flu shot only 36 percent effective, making bad year worse.
The flu vaccine is doing a poor job protecting older Americans and others against the bug that's causing most illnesses. Read more.
The Associated Press in Modern Healthcare
With new players looming, healthcare needs big data to support scale.
The healthcare industry is no stranger to changes. Its history is one of evolution, progression, discovery, and invention. Challenges are a constant, but so too have been solutions. From antibiotics and keyhole surgery to artificial hearts and 3D imaging studies, innovation is a given for providers across all disciplines. Full story.
Jennifer Bresnick, editor, HealthIT Analytics
Follow the money: Inpatient surgery moving from hospitals to ambulatory centers.
Inpatient procedures, such as hip replacements and other surgeries, are in the midst of a migration. They're moving out of big hospitals, in fact, and into the ambulatory facilities -- freestanding clinics included. Full story.
Jeff Lagasse, associate editor, Healthcare Finance
4 physician compensation factors to watch.
Physician compensation was already complex before the healthcare industry began its protracted shift from volume to value. A recent survey produced by Integrated Healthcare Strategies, a division of Gallagher Benefit Services, looks at how healthcare organizations are updating their physician pay practices to reflect an evolving reimbursement climate. Read more.
Debra Schute, HealthLeaders Media
Kentucky rushes to remake Medicaid as other states prepare to follow.
LOUISVILLE, Ky. — With approval from the Trump administration fresh in hand, Kentucky is rushing to roll out its first-in-the-nation plan to require many Medicaid recipients to work, volunteer or train for a job — even as critics mount a legal challenge to stop it on the grounds that it violates the basic tenets of the program. Full story.
Abby Goodnough, New York Times
AHA asks CMS to delay application deadline for new bundled payment model.
The American Hospital Association urged the CMS this week to provide more details on its newest voluntary bundled-payment model and to delay the deadline to apply so hospital leaders have more time to consider participating. Full story.
Maria Castellucci, Modern Healthcare
The training of Dr. Robot: Data wave hits medical care.
Algorithms and other technologies are moving from research labs to hospitals and clinics to predict and combat disease. Read more.
John McQuaid, Kaiser Health News
CVS Health to bulk up big data analytics ahead of Aetna deal.
Solid growth in the fourth quarter of 2017 and a massive income tax break are allowing CVS Health to invest in more big data analytics technologies ahead of its proposed acquisition of Aetna, the company said in its latest earnings report. Full story.
Jennifer Bresnick, editor, HealthIT Analytics
Who gets unneeded antibiotics most often?
Some patients are more likely than others to get antibiotics they don't need, new research shows. Full story.
Robert Preidt, HealthDay Reporter for WebMD
Minority physician groups to form alliance.
Several minority physician groups announced plans to form an alliance to make their voices more clearly heard in Washington and elsewhere. Read more.
Joyce Frieden, news editor, MedPage Today
Azar eyes relaxing restrictions on doc-owned hospitals.
Two weeks into his new post, HHS Secretary Alex Azar on Wednesday took another step in the Trump administration's move toward relaxing the Affordable Care Act's moratorium on new physician-owned hospitals. Read more.
Susannah Luthi, Modern Healthcare
INTERACTIVE
From WebMD, our rapid-fire, must-read picks.
______
If you've got feedback or your own recommended reading and blog-following suggestions, please leave us a comment or email jjackson@primaris.org.