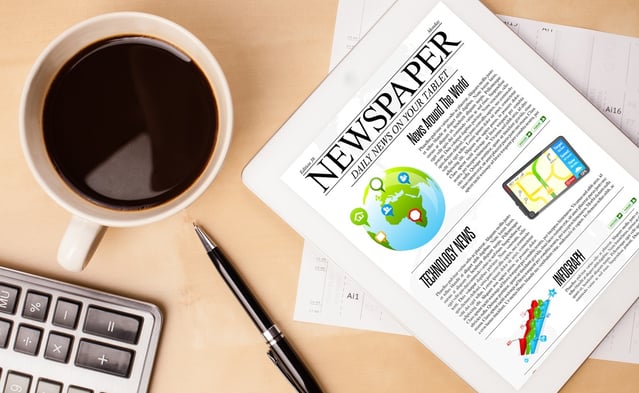 In case you missed these, Quality Today scoured the healthcare news landscape and blogosphere to present you with an end-of-the-week news and information reading list.
CMS appeals Missouri ruling on Medicaid DSH payments.
The Centers for Medicare and Medicaid Services has appealed a court ruling preventing CMS from enforcing in Missouri a final rule that takes into consideration private insurance or Medicare reimbursement in calculating the payment limit for disproportionate share hospitals, according to the American Hospital Association. Read more.
Susan Morse, senior editor, Healthcare Finance
Fixing hidden sources of burnout can elevate our practice.
Physician burnout is widely considered a pernicious epidemic that puts physician and patient health at risk. Frustratingly, it's also often assumed that inescapable facts of physician life are to blame: increasing documentation demands; EHRs; and a physician culture that prizes self-reliance and endurance over self-care. Read more.
Laurie Morgan, Physicians Practice
Investors poured $2.5B into digital health last quarter.
Digital health companies raised $2.5 billion in VC funding in the first quarter of 2018, according to a new report from Mercom Capital Group. Mercom says the quarter, with 187 deals, is only the second since 2010 to top $2 billion. Read more.
Jonah Comstock, MobiHealthNews
---
QUALITY TALK PODCAST: The Alphabet Soup of Healthcare
---
MGMA poll: Widespread satisfaction with medical practice culture.
A new stat poll by the Medical Group Management Association shows widespread satisfaction in medical practice workplace culture, but for those that said their workplace leaves something to be desired, experts said that culture can inhibit change and ultimately success. Full story.
Beth Jones Sanborn, managing editor, Healthcare Finance
Interview: We can't spend all our money on health care.
A provider with market power has the ability to extract a lot of revenue from their client base. If you're a mission-driven organization, like Partners is, you're then going to spend that money on mission, but the issue for the consumer is that might not be the use of the money that they most prefer. Read and listen.
NEJM Catalyst
AP investigates: #MeToo slow to hit medical industry.
Following the publication of The New York Times' investigation into Harvey Weinstein, top Hollywood executives, prominent journalists and politicians have been forced out of or resigned from their positions in the wake of allegations of sexual misconduct. However, the medical industry has been more reticent to act on similar accusations made against physicians or other medical professionals, according to an Associated Press investigation. Full story.
Alyssa Rege, Becker's Hospital Review
AMA unveils alternative payment model for treating opioid use disorder.
The American Society of Addiction Medicine and the American Medical Association announced a new alternative payment model and are seeking physicians and insurers interested in joining a pilot test for the treatment of opioid use disorder. Full story.
Susan Morse, senior editor, Healthcare Finance
7 challenges physicians face getting access to patient data.
Many physicians often do not have access to information available from pharmacy benefit management firms and health insurers, two entities that are supposed to be close partners with providers. See the list.
Joseph Goedert, HealthData Management
How to ensure bundled payments coexist with ACOs.
Bundled payments and accountable care organizations have emerged as favored alternative payment models within Medicare. Full story.
Matt Kuhrt, FierceHealthcare
---
QUALITY TODAY BLOG: Data Helps Achieve Core Measure Success
---
Health IT takes aim at the 10 leading causes of death.
The 10 leading causes of death, according to the most recent figures from the Centers for Disease Control and Prevention, included cancer, respiratory disease and stroke. However, new health data initiatives promise to provide early interventions and better care, which could significantly reduce the impact of these killers. Read more.
Fred Bazzoli, Health Data Management
Average physician compensation sees modest growth in 2018.
Physician compensations increased slightly over the past year, with the average annual income increasing from $294,000 in 2017 to $299,000 in 2018, according to most recent Medscape Physician Compensation Report. Full story.
Jacqueline Belliveau, editor, RevCycle Intelligence
Amazon scraps plans to enter hospital supply chain.
Amazon has decided to scrap plans to sell medical devices and pharmaceuticals to hospitals, and experts say that's at least, in part, because hospitals are very set in their ways when it comes to supply chain management. Read more.
Paige Minemyer, associate editor, FierceHealthcare
6 health data privacy takeaways from Zuckerberg's testimony.
Facebook CEO Mark Zuckerberg spent two days on the hot seat getting grilled by members of Congress regarding the social media company's use of consumer data. In separate Senate and House hearings last week, Zuckerberg was both apologetic and defiant in response to questions and allegations from lawmakers about Facebook's abuse of personal information collected by the online platform. Read more.
Greg Slabodkin, HealthData Management
Genetic testing: Do you really want to know?
Federal regulators are slowly opening a lid on direct-to-consumer genetic testing, allowing people to learn for themselves whether their DNA carries strands that may make them more likely to get some life-threatening diseases. Read more.
Matt Smith, WebMD Health News
Humana dives into value-based care for maternity health.
Humana is moving further into the value-based payment market with an announcement that it is contracting with physician practices for a bundled-payment model for maternity care. Full story.
Mike Stankiewicz, editor, FierceHealthcare
WebMD
INTERACTIVE
From WebMD, our rapid-fire, must-read picks.
______
If you've got feedback or your own recommended reading and blog-following suggestions, please leave us a comment or email jjackson@primaris.org.