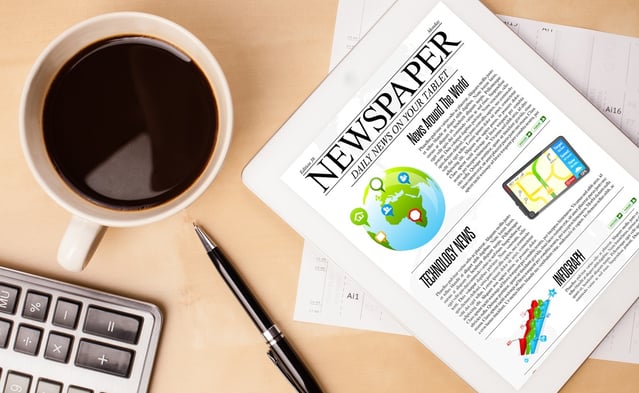 In case you missed these, Quality Today scoured the healthcare news landscape and blogosphere to present you with a weekly roundup of news and information.
Trying to put a value on the doctor-patient relationship.
In October 2014, my father was startled to receive a letter announcing the retirement, in a month's time, of our family physician. Both he and his doctor were in their late 60s by then, and their relationship went back about 30 years, to the early 1980s, after my father followed his father and paternal grandparents, all from the Midwest, to Southwest Florida. Feature story.
Kim Tingley, The New York Times Magazine
Physician compensation rises 10 percent in 5 years, doc shortage linked.
Primary care physicians' compensation rose by more than 10 percent over the past five years, according to a new report from the Medical Group Management Association. This increase, which is nearly double that of specialty physicians' compensation over the same period, was cited as further evidence of the worsening primary care physician shortage in the American healthcare system. Read more.
Jeff Lagasse, associate editor, Healthcare Finance
Another casualty of pricey healthcare: Credit scores.
After a devastating horse-riding accident in January 2017 landed him in the hospital for about 30 days, requiring trauma care and hospital-based therapy, Jeff Woodard considered himself lucky. Read more.
Shefali Luthra, Kaiser Health News
Patients who skip medications cost healthcare $300 billion annually.
Almost half of those with health conditions said that they skip their medication sometimes, despite knowing its benefits, while more than a quarter are unsure what to do if they experience side-effects, according to a new report from medical communications agency Couch. Read more.
Jeff Lagasse, associate editor, Healthcare Finance
---
Quality Talk Podcast - Medical Waste Contributes to High Costs
---
Bad news, good news: 2018 scorecard on state health system performance.
Hawaii, Massachusetts, Minnesota, Vermont, and Utah are the top-ranked states according to the Commonwealth Fund's 2018 Scorecard on State Health System Performance, which assesses all 50 states and the District of Columbia on more than 40 measures of access to health care, quality of care, efficiency in care delivery, health outcomes, and income-based health care disparities. See the report.
The Commonwealth Fund
Who gets the best care in America? Prisoners.
One of the more frequent questions I get from people curious about jail medicine is "Who pays for this? And how do you yourself get paid?" Well, correctional medicine certainly has a different payment and reimbursement system than we use for the rest of American medicine. In fact, inmates have a medical system that has more in common with Canada's single-payer model than the U.S.! But I get ahead of myself … Full story.
Jeffrey E. Keller, MD, MedPage Today
Azar to resurrect Medicare Part B price bidding program.
As part of President Trump's drug pricing initiative, the Department of Health and Human Services is planning on bringing back a Bush-era Part B bidding program. Full story.
Mike Stankiewicz, editor, FierceHealthcare
Amazon reportedly plans Alexa-focused 'health and wellness' team.
After Amazon inked a deal with JP Morgan and Berkshire Hathaway to focus on employee health in January, it was clear the tech giant would be investigating the healthcare arena. However, it could be that consumers will also see Amazon's entrance into health, as leaked documents obtained by CNBC suggest the company is building a "health & wellness" team within its Alexa voice assistant division. Read more.
Laura Lovett, mobihealthnews
---
Quality Talk Podcast - Q1 Roundup: 'Amazon Eats the World'
---
Exploring the promises of artificial intelligence in healthcare.
Few data science concepts have brought as much excitement and anticipation to healthcare as artificial intelligence and machine learning. Story and video.
Jennifer Bresnick, editor, HealthIT Analytics
Genetic testing market sizzles with 10 new tests daily.
Since the mapping of the human genome 15 years ago, the number of genetic tests has accelerated rapidly, with 75,000 tests now on the market and about 10 new tests marketed every day, found a study in Health Affairs. Nearly 14,000 tests have come on the market since March 2014, researchers wrote in a study in Health Affairs. Read more.
Christopher Cheney, HealthLeaders Media
Hospital created amputation team in response to Texas city's construction boom.
Development in the Dallas suburb of Plano, Texas, has been fast increasing in recent years—and with it, emergency preparedness officials began to notice—the use of construction cranes and pieces of heavy machinery. Full story.
Paige Minemyer, associate editor, FierceHealthcare
---
Quality Today blog: Time to Stop Overloading Nurses With Data Abstraction
---
Verma: CMS will 'use every lever' for promoting interoperability, data access.
The Centers for Medicare and Medicaid Services (CMS) is doubling down on its commitment to health data interoperability and ensuring that patients have comprehensive access to their own health data, said CMS Administrator Seema Verma in an interview with HealthITAnalytics.com. Full story.
Jennifer Bresnick, editor, HealthIT Analytics
Google uses deep learning, EHR big data to predict mortality.
A deep learning approach that incorporates big data from electronic health records (EHRs) was able to predict inpatient mortality, unexpected readmissions, and long length of stay more accurately than traditional predictive models, according to a study conducted by researchers at Google. Read more.
Jessica Kent, editor, HealthIT Analytics
INTERACTIVE
From WebMD, our rapid-fire, must-read picks.
______
If you've got feedback or your own recommended reading and blog-following suggestions, please leave us a comment or email jjackson@primaris.org.