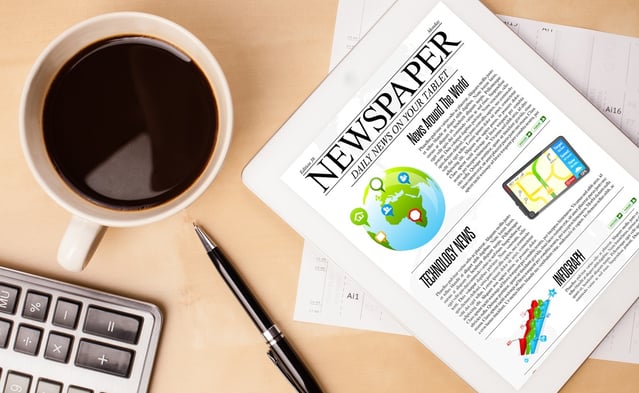 In case you missed these, Quality Today scoured the healthcare news landscape and blogosphere to present you with an end-of-the-week news and information reading list.
CMS overhauls meaningful use EHR program.
Centers for Medicare and Medicaid Services Administrator Seema Verma on Tuesday announced changes to overhaul the meaningful use EHR incentive program, including equipping patients with access to their electronic health records on the day they leave the hospital. Full story.
Susan Morse, senior editor, Healthcare Finance
Verma: 'Just the beginning' of healthcare price transparency.
Requiring hospitals to post a list of their standard charges online is just the beginning of the push for increased healthcare price transparency by CMS, explained the federal agency's Administrator Seema Verma. Full story.
Jacqueline Belliveau, editor, RevCycle Intelligence
Kaufman Hall: Hospital M&A up 11 percent from Q1 2017.
Thirty hospital and health system mergers and acquisitions transactions were announced during the first quarter of 2018, up 11-plus percent from one year prior, according to an analysis by Kaufman Hall, & Associates released April 26. Read more.
Alyssa Rege, Becker's Hospital Review
Will vertical integration kill the primary care practice?
Once the federales blocked the health insurance company mega-mergers, it was only a matter of time before alternative approaches to rearranging the three-dimensional chessboard of the healthcare-industrial complex would emerge. The approach du jour is the vertical merger. Read the blog post.
David Harlow, HealthBlawg
---
Quality Talk podcast - Will megamergers improve cost of health care?
---
ProMedica scoops up nursing home provider.
Not-for-profit health system ProMedica is taking a giant step outside of the traditional hospital space with its plan to acquire bankrupt nursing home provider HCR ManorCare for about $1.4 billion through a complex proposed deal. Full story.
Tara Bannow, Modern Healthcare
Humana kicks value-based care up a notch.
Humana has launched a national, value-based care hospital incentive program that provides compensation based on quality improvement and performance. Full story.
Susan Morse, senior editor, Healthcare Finance
Online patient reviews a good predictor of hospital quality.
If patients need to figure out which hospital or medical practice in their area is of the highest quality, they wouldn't do too badly by looking online ... at review sites like Yelp, several speakers said here Thursday. Full story.
Joyce Frieden, news editor, MedPage Today
Interoperability at top of CMS, White House agenda.
Interoperability is a top priority for the Centers for Medicare and Medicaid Services and the White House as well, according to Kate Goodrich, MD, chief medical officer and director of the CMS Center for Clinical Standards and Quality. Read more.
Greg Slabodkin, HealthData Management
Hospitals cry foul and sue Anthem over new policies.
County courtrooms are no strangers to contract disputes between local hospitals and insurers. Lately, though, they've had some big cases dropped in their laps as hospitals owned by HCA Healthcare, Sentara Healthcare and Piedmont Healthcare take health insurance giant Anthem to court over its new policies that restrict outpatient imaging and emergency department reimbursement. Full story.
Tara Bannow, Modern Healthcare
My jail is safer than your ER.
How safe is correctional medicine?
People naturally assume that working in a jail or prison is dangerous. "Aren't you nervous about working there?" they ask me. What people have seen of jails on TV looks pretty rough! After all, that's where they put the violent criminals, right? The problem is, it just isn't so! Read more.
Jeffrey E. Keller, MD, for MedPage Today
Show great care, don't talk about it: Leading by example.
"Leading by examples" is the rarely discussed little brother of "leading by example." With our diverse employee and patient populations, leading by examples is a necessity. I seek to explain the difference and how a physician might incorporate Leading by Examples to great effect. Full story.
Lucien W. Roberts, Physicians Practice
Rising obesity in the United States is a public health crisis.
The continuing news about health care mergers and acquisitions, Affordable Care Act–related legislation and regulation, and a tough flu season can obscure critical developments in public health. Read the report.
David Blumenthal, M.D., and Shanoor Serrvai, The Commonwealth Fund
---
Quality Talk podcast - Medical error: The high cost to lives and health care
---
Hospitals, device makers still struggle to rid medical scopes of infectious bacteria.
In an ominous sign for patient safety, 71% of reusable medical scopes deemed ready for use on patients tested positive for bacteria at three major U.S. hospitals, according to a new study. Full story.
Chad Terhune, Kaiser Health News
How blockchain will transform the healthcare industry.
While blockchain technology was initially developed to support the exchange of bitcoin and cryptocurrencies, its decentralized, distributed ledger of digital events also offers many appealing possibilities to the healthcare industry. A recent report by Deloitte notes that blockchain has significant potential to improve data interoperability, security and privacy. Read the post.
Cara Sloman, executive vice president, Nadel Phelan Inc.
Can measuring 'patient uncertainty' reduce readmissions?
Plainly put, readmissions cost hospitals money. Read the story.
Jeff Lagasse, associate editor, Healthcare Finance
CMS releases Medicare Advantage data for first time.
The CMS has followed through on its promise to release Medicare Advantage data to researchers in an effort to help them better understand care trends for seniors. Full story.
Virgil Dickson, Washington bureau chief, Modern Healthcare
INTERACTIVE
From WebMD, our rapid-fire, must-read picks.
______
If you've got feedback or your own recommended reading and blog-following suggestions, please leave us a comment or email jjackson@primaris.org.