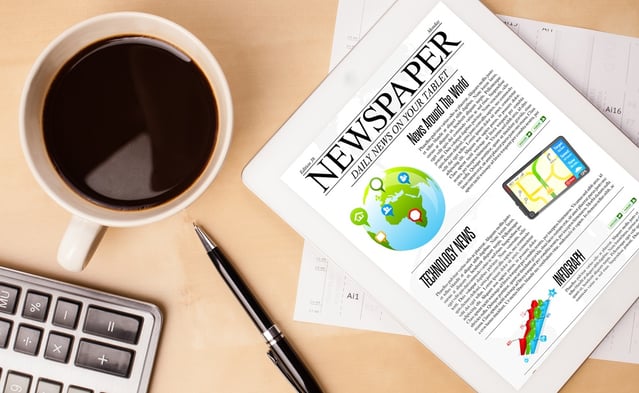 In case you missed these, Quality Today scoured the healthcare news landscape and blogosphere to present you with an end-of-the-week news and information reading list.
From clinics to CHIP, budget deal affects health care.
WASHINGTON — The budget deal in Congress is billed as a measure to grant stability to a government funding process that has lurched from crisis to crisis — but it is also stuffed with provisions that will broadly affect the nation's health care system, like repealing an advisory board to curb Medicare spending and funding community health centers. Full story.
Robert Pear, New York Times
Congress' new spending bill includes provision to slow down MIPS.
Congress is seeking to slow federal efforts to hold providers accountable for saving Medicare money under the Merit-based Incentive Payment System. Read more.
Virgil Dickson, Washington bureau chief, Modern Healthcare
Senate budget agreement includes telehealth expansion, MU reform.
A two-year bipartisan budget deal announced by Senate leaders on Wednesday includes provisions to expand telehealth coverage and scale back Meaningful Use regulations. Read more.
Evan Sweeney, senior editor, FierceHealthcare
War on obesity: Chile slays Tony the Tiger.
SANTIAGO, Chile — They killed Tony the Tiger. They did away with Cheetos' Chester Cheetah. They banned Kinder Surprise, the chocolate eggs with a hidden toy. Read more.
Andrew Jacobs, New York Times
6 things to know about CMS' new bundled payment model.
CMS has set in motion a voluntary episode bundled payment model, Bundled Payments for Care Improvement Advanced (BPCI Advanced), that will test a new iteration of bundled payments for 32 clinical episodes and aim to align incentives among participating providers for reducing expenditures and improving quality of care for Medicare beneficiaries. Full story.
Managed Healthcare Executive
Majority of employer-insured Americans are satisfied with their plan.
A new survey released by America's Health Insurance Plans shows that 71 percent of workers are satisfied with their current employer-provider health coverage. Read more.
Susan Morse, senior editor, Healthcare Finance
It's time to debunk the myth that doctors' dollars come easily.
A few months ago, I hired a contractor for a home improvement project. He didn't know that I was a physician at the time, and we came to a mutually agreeable price.
Fast forward a few weeks, when we realized that we needed an extra, seemingly small, addition to our project. By this point, we'd gotten to talking, and he'd learned that my husband and I were both physicians. Read more.
Nisha Mehta, MD, for KevinMD.com
Verma's promise to rural providers: You come first.
CMS Administrator Seema Verma on Tuesday promised rural health industry stakeholders that their needs are being heard, saying any new policy idea proposed to the agency must demonstrably impact rural healthcare. Full story.
Susannah Luthi, reporter, Modern Healthcare
Data-driven diffusion of innovations: successes and challenges.
Electronic health information has had only a limited impact on how health care is delivered, a Health Affairs study of three different delivery models finds, despite experts' hopes that such data would improve quality of care and reduce costs. More about this study.
Commonwealth Fund
Prescription drug rate growth slows, but prices still rising.
Providers should anticipate a 7.35 percent increase in prescription drug rates between July 2018 and June 2019, researchers from Vizient projected in a new study. Read more.
Jacqueline Belliveau, editor, RevCycle Intelligence
Disrupted: American healthcare has reached its tipping point.
American healthcare has reached a tipping point. Look no further for proof than the insiders and outsiders who are linking up to disrupt the long-stagnant, cost-ridden industry that's eating up nearly a fifth of the nation's gross domestic product. Full story.
Alex Kacik and Shelby Livingston, Modern Healthcare
'Digiceuticals' could soon carve out bigger role in healthcare.
Despite some caution from venture capitalists, digital apps could take on a more formal role in treating disease. Full story.
Evan Sweeney, senior editor, FierceHealthcare
Health, insurance stocks tumbled, but not as far as others.
Stocks of investor-owned health systems and health insurance carriers took a significant hit Monday, swept down by the broader tailspin that hit the Dow Jones industrial average and the S&P 500, both of which fell by more than 4%. Read more.
Tara Bannow, reporter, Modern Healthcare
Antibiotic stewardship program is challenge for long-term care providers.
PruittHealth, a long-term care provider based in Norcross, Georgia, has been hard at work over the last 18 months to comply with the CMS' newest requirement to have an antibiotic stewardship program. Full story.
Maria Castellucci, Modern Healthcare
INTERACTIVE
From WebMD, our rapid-fire, must-read picks.
______
If you've got feedback or your own recommended reading and blog-following suggestions, please leave us a comment or email jjackson@primaris.org.