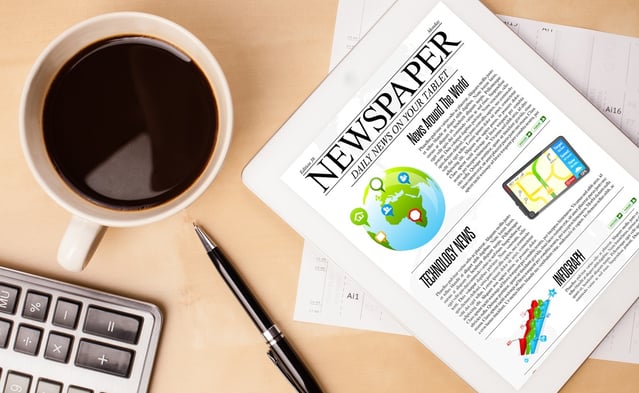 In case you missed these, Quality Today scoured the healthcare news landscape and blogosphere to present you with an end-of-the-week news and information reading list.
Apple ads medical records to its Health app.
Apple plans to integrate patient health records into its Health app in an attempt to make it easier for consumers to review their medical data from multiple providers, the company announced Wednesday. Read more.
Julie Spitzer, Becker's Hospital Review
Risk-averse MSSP ACOs missed $966M by not assuming downside risk.
Accountable care organizations (ACOs) in the non-risk bearing track of the Medicare Shared Savings Program (MSSP) could have boosted their bottom lines by an additional $966 million in net payments in 2016 if they had assumed downside risk in the new MSSP track, a new Avalere analysis revealed. Full story.
Jaqueline Belliveau, RevCycle Intelligence
CMS' focus on 'meaningful measures' faces hurdles.
A CMS effort to turn the corner on achieving widespread use of outcomes-based quality measures is getting mixed reviews from providers and payers. Full story.
Maria Castellucci, Modern Healthcare
Survival rates improve, but the 'weekend effect' persists for cardiac arrest.
Survival rates for patients who have a heart attack in the hospital have improved overall, but the odds are a bit better for patients who go into cardiac arrest on a weekday. Full story.
Paige Minemyer, associate editor, FierceHealthcare
Few doctors see Medicare pay bumps for care quality.
Few doctors will benefit this year from a Medicare pay-for-performance program that promised more money if they hit key quality metrics in patient care. Read more.
Virgil Dickson, Washington bureau chief, Modern Healthcare
Providers can tap texting tools to ramp up medication adherence, reduce costs.
Drug adherence isn't just important for the person taking the medicine. It's also critical for the financial well-being of the healthcare system generally, with some estimates placing the cost of nonadherence as high as $300 billion annually. Full story.
Jeff Lagasse, associate editor, Healthcare Finance
EHRs: 15 top healthcare IT trends for 2018.
Various experts in healthcare IT expect the pressure will grow on healthcare information technology to achieve measureable benefits over the next 12 months. We queried several key knowledge experts in the field and compiled this list of technologies and trends that are likely to impact provider organizations over the coming years. Read more.
Fred Bazzoli, editor in chief, HealthData Management
Hospital Impact: The case for moving to a team care model.
It's clear that team-based care is the way of the future.
According to research from the American Medical Association, patients want coordinated healthcare that is delivered by a physician-led team. Physicians, in turn, are responsible for finding a safe and effective way of doing so. Read more.
Joseph Cacchione, M.D., president of Ascension Medical Group, for FierceHealthcare
PCPs lack time, tools to address social determinants of health.
Family physicians recognize the important role that the social determinants of health play in managing population, but lack the time, tools, and resources to have meaningful conversations with their patients, according to a recent survey from the American Academy of Family Physicians (AAFP). Full story.
Jennifer Bresnick, director of editorial, HealthIT Analytics
HHS renews opioid public health emergency status.
The Trump administration has renewed the declaration that officially categorized the opioid epidemic as a public health emergency shortly before it was set to expire. Full story.
Paige Minemyer, associate editor, FierceHealthcare
Best practices, template improve EHR documentation quality.
While the use of electronic health records by providers is nearly universal, it has resulted in major challenges in managing EHR documentation by doctors, who are more likely to include inaccurate, inconsistent and excessive information in progress notes on patients. Full story.
Greg Slabodkin, HealthData Management
ONC: Artificial intelligence has potential to reshape healthcare.
Artificial intelligence is playing an increasingly important role in healthcare analytics and will continue to dramatically influence the development of clinical decision support and business intelligence, says a new report by JASON, commissioned by the ONC. Full story.
Jennifer Bresnick, director of editorial, HealthIT Analytics
INTERACTIVE
From WebMD, our rapid-fire, must-read picks.
______
If you've got feedback or your own recommended reading and blog-following suggestions, please leave us a comment or email jjackson@primaris.org.