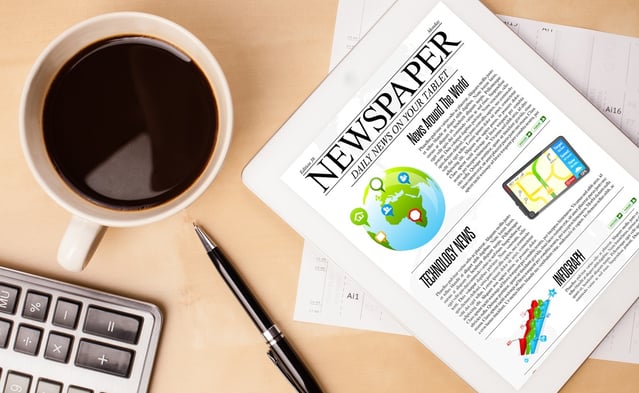 In case you missed these, Quality Today scoured the healthcare news landscape and blogosphere to present you with an end-of-the-week news and information reading list.
CDC chief's resignation comes as agency faces funding cuts.
Dr. Brenda Fitzgerald's resignation as head of the Centers for Disease Control and Prevention comes at a precarious time for the agency. It's trying to address a flu epidemic while bracing for possible deep cuts to its funding. Read more.
Steven Ross Johnson, Modern Healthcare
Health investors roll out unwelcome mat for Amazon's arrival.
As press releases go, it was vague and brief — six paragraphs, 394 words in all. In general terms, it described the beginnings of an effort by three big U.S. companies to team up to improve their employees' healthcare services and save money. Full story.
Lewis Krauskopf, Reuters
Should insurers be worried about Amazon's entry into healthcare?
When Amazon, Berkshire Hathaway and JPMorgan announced Tuesday that they're embarking on a new healthcare venture, the shares of the nation's largest health insurers promptly plummeted. Full story.
Leslie Small, senior editor, FierceHealthcare
The 'hungry tapeworm' in the American economy.
On Jan. 30, three leading companies – Amazon, Berkshire Hathaway, and JPMorgan Chase & Co. – announced they will join forces to form a new entity to improve their employees' health care, with a goal to increase satisfaction while reducing costs. This news rocked Wall Street, driving down stock prices of insurance companies, pharmacy benefit managers, and drug distributors. The story was front page news on every major national paper. Full story.
Bob Hughes, CEO, Missouri Foundation for Health
New Medicare ID cards come to mid-Atlantic states first.
The CMS has revealed which states will be the first in the nation to receive new Medicare identification cards that don't contain social security numbers. Read more.
Vigil Dickson, Washington bureau chief, Modern Healthcare
Medicare Advantage plans will get rate hike for 2019.
The CMS Thursday proposed to bump up baseline Medicare Advantage payment rates for 2019 by 1.84% on average, up from the 0.45% plans received last year. Read more.
Virgil Dickson, Washington bureau chief, Modern Healthcare
Good data, better value-based care can boost population health.
With just 5 percent of patients accounting for nearly one-half of the nation's healthcare spending, hospitals and health systems have a significant opportunity to address a large proportion of their costs by improving the health of a relatively small number of individuals. Full story.
Jacqueline Belliveau, editor, RevCycle Intelligence
University of Missouri Health Care focuses on MEE for patient satisfaction.
The University of Missouri's neurophysiology lab employed a new approach to improving patient satisfaction that focused on improving communication—and ended up improving employee satisfaction along the way. Read more.
Paige Minemyer, associate editor, FierceHealthcare
The skills that make or break a chief quality officer.
Is there anything chief quality officers aren't asked to do? Read more.
Dave M. Williams, executive director, IHI, in FierceHealthcare
State-by-state breakdown of 83 rural hospital closures.
Of the 26 states that have seen at least one rural hospital close since 2010, those with the most closures are located in the South, according to research from the North Carolina Rural Health Research Program. Read more.
Ayla Ellison, managing editor, Becker's Hospital Review
Health system mergers in the U.S. at record high.
Hospital and health system mergers set a record in 2017, with a new report saying networks of care providers bulked up to offer a broader range of services and prepare for new contracts that ask health systems to take financial risk. Full story.
Christopher Snowbeck, Star Tribune
INTERACTIVE
From WebMD, our rapid-fire, must-read picks.
______
If you've got feedback or your own recommended reading and blog-following suggestions, please leave us a comment or email jjackson@primaris.org.