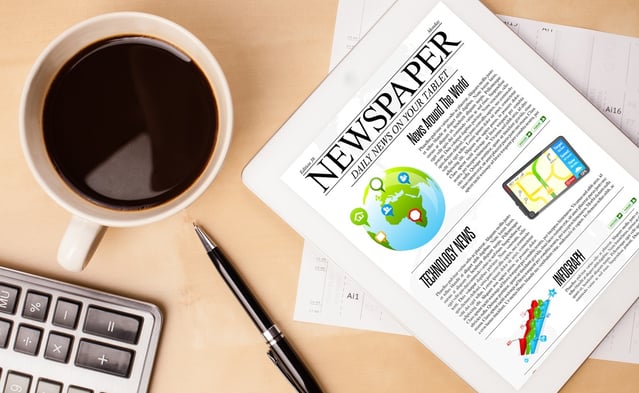 In case you missed these, Quality Today scoured the healthcare news landscape and blogosphere to present you with an end-of-the-week news and information reading list.
Reports: Walmart looks to acquire insurer Humana.
Walmart is in preliminary talks to buy insurer Humana, the Wall Street Journal reported on Thursday. Developing story.
Modern Healthcare
Kaiser Permanente ranked No. 1 healthcare employer in 2018.
Kaiser Permanente is the best healthcare organization to work for, according to an analysis of employer reviews compiled by the job search engine Indeed. Read more.
Matt Kuhrt, FierceHealthcare
10 best, worst states for physicians.
South Dakota is the best state for physicians, according to an analysis by WalletHub. See the list.
Ayla Ellison, managing editor, Becker's Hospital Review
3 reasons to let go of fee-for-service payment models.
Physicians have defended status quo in healthcare based on the fear of straddling both fee-for-service and value-based payment models. But executives at Virginia Mason Health Care System say the foundation for that position has eroded significantly. Read more.
Matt Kuhrt, FierceHealthcare
---
Quality Talk Podcast - Megamergers: Good for Healthcare, Patients?
---
5 ways Amazon could disrupt healthcare.
Just about everyone paying attention in healthcare is wondering exactly what Amazon has up its sleeve. After inking an alliance with JP Morgan Chase and Berkshire Hathaway in late January, then expanding into the Medicaid market to take on retail rival Walmart, the Seattle giant appears to be amassing a number of puzzle pieces. Read more.
Bernie Monegain, editor, Healthcare IT News
7 'high-value' elements ACOs should look for in new provider partnerships.
Accountable care organizations can bolster efforts to drive value by seeking out partnerships with providers across the continuum of care, according to a new study that aims to establish a framework ACOs can use when evaluating potential partners. Full story.
Paige Minemyer, associate editor, FierceHealthcare
Under-vaccination is a major problem facing the Autism community.
Study found that children with autism spectrum disorder were less likely to be fully vaccinated for vaccines recommended between ages 4 and 6 years. The younger siblings were also less likely to be fully vaccinated. Read more.
JAMA Pediatrics
Five worrisome trends in healthcare.
NATIONAL HARBOR, Md. -- A reckoning is coming to American healthcare, said Chester Burrell, outgoing CEO of the CareFirst BlueCross BlueShield health plan, here at the annual meeting of the National Hispanic Medical Association. Full story.
Joyce Frieden, news editor, MedPage Today
---
Quality Talk Podcast - The Staggering Cost of Medical Waste
---
No one is free from harm: Modern Healthcare reports.
Many people have harrowing stories to tell about their encounters with the U.S. healthcare system, involving issues of quality, safety or cost. That's particularly true for physicians and other healthcare insiders, who can spot problems that a layman might miss. Full story.
Stories by Harris Meyer, Modern Healthcare
Apple's pact with 13 health care systems may disrupt the industry.
An announcement on January 24 didn't get the large amount of attention it deserved: Apple and 13 prominent health systems, including prestigious centers like Johns Hopkins and the University of Pennsylvania, disclosed an agreement that would allow Apple to download onto its various devices the electronic health data of those systems' patients — with patients' permission, of course. Read more.
David Blumenthal, M.D. and Aneesh Chopra, The Commonwealth Fund
Family physicians are underdogs among medical specialties.
I only pay attention to college basketball during the first week of the NCAA tournament. Like many March Madness fans, I love rooting for underdogs. Read more.
---
Quality Today blog - Core Measures and Sepsis Challenges
---
In withdrawal: Treating the babies of Illinois' opioid crisis.
Zabian Halliburton was born across the southern Illinois border on New Year's Day, arriving into the world at 8 pounds, 6 ounces and 21 inches.
By his second night, he was in withdrawal from the cocktail of meth and heroin his mother used while pregnant, as well as the methadone treatment she relied on to try to get clean. He spent the first week of his life weaning off drugs. Full report and series.
Kristen Schorsch, Crain's Chicago Business
Kaiser CEO on mental health: 'Nobody wants to talk about it.'
In response to increased conversations around teen suicide and mental health, Bernard J. Tyson, chairman and CEO of Oakland, Calif.-based Kaiser Permanente, argues a significant portion of America's mental health problems is due to the fact that no one talks about these issues. Full story.
Megan Knowles, Becker's Hospital Review
Without a single solution, hospitals take different paths to interoperability.
The Meaningful Use program, alternative payment models, artificial intelligence and technical and policy shifts have spurred innovative approaches to data exchange. However, hospitals are finding that there is more than one way to achieve interoperability, and some are experimenting with several different pathways at once. Read more.
Marla Durben Hirsch, editor, FierceHealthcare
INTERACTIVE
From WebMD, our rapid-fire, must-read picks.
______
If you've got feedback or your own recommended reading and blog-following suggestions, please leave us a comment or email jjackson@primaris.org.