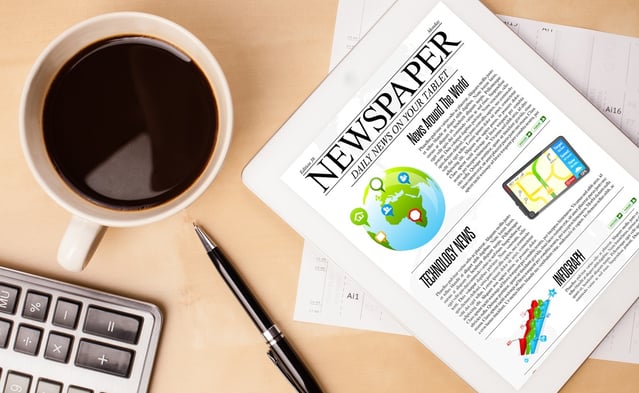 In case you missed these, Quality Today scoured the healthcare news landscape and blogosphere to present you with an end-of-the-week news and information reading list.
US News ranks 'Best Medical Schools 2019.'
Boston-based Harvard Medical School took the top spot among U.S. News & World Report's "Best Medical Schools" for research for 2019. Read more.
Alyssa Rege, Becker's Hospital Review
Ridesharing is popular healthcare option, but fraud and abuse risk abounds.
Many hospitals and providers have decided to offer transportation services to patients seeking non-emergency transport to receive various care services. Largely, this strategy makes sense: Each year, millions of Americans miss medical appointments due to transportation issues, representing a lost revenue opportunity for providers and potential health risks for customers. Full story.
Jeff Lagasse, associate editor, Healthcare Finance
Listening to low-income patients: Mental health stigma is a barrier to care.
Sonia Martin* was living away from home and working two jobs to pay for college when she crashed emotionally. "I had a breakdown. . . . I needed to just have that moment. I needed that break away from life," she says. Full story.
Shanoor Seervai and Corinne Lewis, The Commonwealth Fund
AHRQ is in trouble – and why you should care.
For the past 30 years, a little-known U.S. health agency has supported and produced volumes of groundbreaking research on how to make healthcare safer, less wasteful, and more effective. Dubbed "the little federal agency that could," the Agency for Healthcare Research and Quality (AHRQ) has accomplished this feat with a small fraction of the budgets of its higher-profile cousins, the CDC and National Institutes of Health (NIH). Read more.
Kenneth Lin, MD, MedPage Today
New AHIP chief talks priorities, short-term health plans, megamergers.
The insurance industry's dominant lobbying group America's Health Insurance Plans last week named Matt Eyles as its next president and CEO, taking over from Marilyn Tavenner on June 1. Eyles, who is currently AHIP's chief operating officer, previously held roles at D.C.-based consultancy Avalere Health, Coventry Health Care (now part of Aetna), and drugmaker Eli Lilly and Co. Modern Healthcare insurance reporter Shelby Livingston caught up with Eyles to talk about his priorities for the trade group, the federal government's move to expand short-term plans, and the recent wave of proposed megamergers between insurers and nontraditional partners. Read more.
Shelby Livingston, Modern Healthcare
---
Will Megamergers Improve Cost, Quality of Healthcare?
---
Hackensack Meridian aims to partner with Carrier to expand behavioral health.
Hackensack Meridian Health, one of the more prominent healthcare systems in New Jersey, is looking to expand its behavioral health offerings and get into the substance abuse rehabilitation care business. Read more.
Ron Shinkman and Ilene MacDonald, FierceHealthcare
These 8 influential women are reshaping health IT.
Each year, FierceHealthcare recognizes influential women leading the health IT industry based on reader nominations along with our own editors' picks. Full story.
Evan Sweeney, senior editor, FierceHealthcare
Teen suicide spiked by 70 percent in span of 10 years. What's happening?
J.C. Ruf, 16, was a Cincinnati-area pitcher who died by suicide in the laundry room of his house. Tayler Schmid, 17, was an avid pilot and hiker who chose the family garage in upstate New York. Josh Anderson, 17, of Vienna, Va., was a football player who killed himself the day before a school disciplinary hearing.
The young men were as different as the areas of the country where they lived. But they shared one thing in common: A despair so deep they thought suicide was the only way out. Full story.
Jayne O'Donnell and Anne Saker, USA Today Network
Azar demands price transparency, but how will he achieve it?
HHS Secretary Alex Azar has thrown down a passionate—and personal—challenge to healthcare providers and drugmakers, demanding they tell patients what a service or product will cost before they receive it. Read more.
Harris Meyer, senior reporter, Modern Healthcare
Docs in AMA survey soundly pan prior authorizations.
Few things frustrate docs more than prior authorization -- the onerous task of convincing a health insurance company that an ordered test or medication is really necessary. Now a new survey sponsored by the AMA reveals just how much of a toll prior auth is taking on doctors, and the results should be a wake-up call for the insurance industry, as F. Perry Wilson, MD, explains in this 150-Second Analysis. Story and video
Perry Wilson MD, MSCE, for MedPage Today
---
AMA President Discusses Prior Authorizations - Quality Talk Podcast
---
New bad debt accounting standards likely to remake community benefit reporting.
It's the end of bad debt as we know it.
A new accounting standard dramatically narrows what hospitals can report as bad debt, or payments they anticipated but never received. The majority of what used to qualify as bad debt won't be reported as such under new U.S. generally accepted accounting principles, which most health systems started using Jan. 1. Read more.
Tara Bannow, Modern Healthcare
The other opioid crisis: Hospitals are running out of powerful painkillers.
Even as opioids flood American communities and fuel widespread addiction, hospitals are facing a dangerous shortage of the powerful painkillers needed by patients in acute pain, according to doctors, pharmacists and a coalition of health groups. Full story.
Pauline Bartolone, Kaiser Health News
Europe's GDPR privacy law is coming: Here's what US providers need to know.
The European Union General Data Protection Regulation will go into effect on May 25, and healthcare organizations who treat patients from any of the 28 EU nations will need to familiarize themselves with the law to ensure compliance. Full story.
Jessica Davis, associate editor, Healthcare Finance
INTERACTIVE
From WebMD, our rapid-fire, must-read picks.
______
If you've got feedback or your own recommended reading and blog-following suggestions, please leave us a comment or email jjackson@primaris.org.