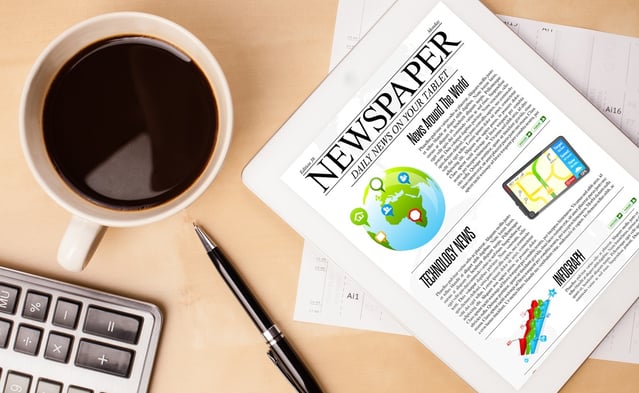 In case you missed these, Quality Today scoured the healthcare news landscape and blogosphere to present you with an end-of-the-week news and information reading list.
Study finds high readmission rates among sepsis survivors.
A brush with sepsis may increase a patient's odds of being readmitted to the hospital, according to a new study. Full story.
Paige Minemyer, associate editor, FierceHealthcare
Why value-based care must include shared decision-making.
Shared decision-making, or the practice of an informed patient participating in treatment decisions alongside her clinicians, may seem like a natural patient engagement strategy. After all, shared decision-making integrates the patient into the healthcare process and gives the patient more claim in her wellness journey. Full story.
Sara Heath, Patient Engagement HIT
Slow and steady still the motto for value-based reimbursement.
The healthcare industry has boarded the train to value-based reimbursement. But recent roadblocks have provider organizations pumping the brakes with the shift away from fee-for-service, explained industry experts Doral Jacobsen, MBA, FACMPE, MGMA Consultant, and Michael Abrams, Co-Founder and Managing Partner at Numerof & Associates. Full story.
Jacqueline Belliveau, editor, RevCycle Intelligence
MSSP ACOs save more by spending less on inpatient, post-acute care.
Medicare Shared Savings Program (MSSP) accountable care organizations (ACOs) have shifted their spending to physician services and away from inpatient and skilled nursing facility care, according to a recent study in the American Journal of Accountable Care. Full story.
Jacqueline Belliveau, editor, RevCycle Intelligence
CMS looks to study MIPS burdens on clinicians.
The CMS is inviting clinicians to sign up for study to help it determine how burdensome it is to report under the Merit-based Incentive Payment System (MIPS) created by MACRA. Read more.
Virgil Dickson, Washington bureau chief, Modern Healthcare
CVS, Aetna say merger won't be anticompetitive; some skeptical.
General counsel for CVS and Aetna vowed at a congressional hearing Tuesday that the companies' merger plans would not lead to increased costs or to restrictions on service offerings—but experts aren't so sure. Full more.
Paige Minemyer, associate editor, FierceHealthcare
CMS advances voluntary bundled payment model despite AHA objection.
CMS is moving forward with a voluntary bundled payment program called the Bundled Payments for Care Improvement Advanced Model amid the American Hospital Association's request for a month delay. Read more.
Morgan Haefner, Becker's Hospital CFO Report
Apple plans medical clinics for employees.
Apple follows Amazon, which recently teamed with J.P. Morgan and Berkshire Hathaway to announce a plan to revamp health care for their employees. Full story.
Christina Farr, reporter, CNBC.com
Algorithms predict need for social determinants of health services.
Algorithms developed by Indiana University-Purdue University Indianapolis and the Regenstrief Institute have been shown to accurately predict the need for social determinants of health (SDOH) service referrals among patients at a safety-net hospital by leveraging clinical and community-level data. Full story.
Greg Slabodkin, HealthData Management
Patient safety: 6 common problems ripe for disruption.
Hospitals are pursuing patient safety improvement opportunities for a number of reasons, and while the well-being of patients is obviously one of them, there's also a financial motivation: Adverse patient safety events will contribute to a $383.7 billion cost burden in the U.S. and Western Europe over the next four years, according to a new Frost and Sullivan study. Read more.
Jeff Lagasse, associate editor, Healthcare Finance
20 states file lawsuit against feds calling ACA unconstitutional.
Twenty states have brought a lawsuit against the federal government challenging the constitutionality of the Affordable Care Act, now that the individual mandate has been abolished. Full story.
Susan Morse, senior editor, Healthcare Finance
MO court bans CMS from altering DSH reimbursement rules.
A District Court in Missouri prohibited CMS from enforcing a 2017 final rule and two Frequently Asked Questions (FAQs) from 2010 that would alter the formula for calculating hospital-specific limits for Medicaid reimbursement under the Disproportionate Share Hospital (DSH) program. Full story.
Jacqueline Belliveau, editor, RevCycle Intelligence
Teladoc looks to deepen partnerships with large insurers.
Teladoc reported a significant boost in revenue, membership and visits in 2017, riding a devastating flu season that the company says has driven patients to virtual care. Read more.
Evan Sweeney, senior editor, FierceHealthcare
Drug that kills flu in one day approved in Japan.
Japan's Health Ministry has approved a new drug that reportedly can kill influenza types A and B in as little as 1 day among some patients. Read more.
Megan Brooks, WebMD
INTERACTIVE
From WebMD, our rapid-fire, must-read picks.
______
If you've got feedback or your own recommended reading and blog-following suggestions, please leave us a comment or email jjackson@primaris.org.