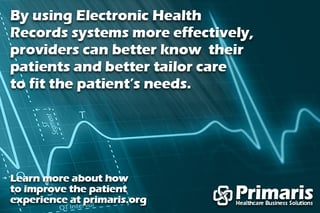 Today, a majority of hospitals and physician offices have Electronic Health Records (EHRs) systems in place for tracking medical and demographic information. One question that many people have is whether having this technology hurts or helps the patient experience.
There are arguments that high-tech healthcare is cold and impersonal – not exactly the qualities that come to mind when you think of a positive patient experience. But technology does not have to be a distraction that comes between patients and providers. In fact, when used well, EHRs can enhance interactions with patients, increase efficiency, improve outcomes and create a better patient experience. The key to achieving these things is learning to effectively maximize use of EHRs and follow best practices.
Besides storing patient medical history info, EHRs can be used to remember personal details about patients. For example, that fact that a patient lives alone, has transportation issues, or has been through a traumatic experience, can typically be recorded within the notes section of most EHRs. When healthcare professions know these things ahead of time it is advantageous to both providers and patients. That's because the more providers know about patients, the better they can tailor care to fit patient needs.
For many practices and hospitals the road to EHR adoption was long, and sometimes difficult. A lot of times, EHR systems were put into place and once a minimum level of use was achieved, providers were satisfied. But taking advantage of more advanced EHR system capabilities, and available features like the "notes" mentioned above, is what enables physicians and hospitals to orchestrate meaningful and personal healthcare experiences.
So what about the argument that if a physician walks into an exam room, is fixated on the computer and entering data into the EHR system, patients will feel ignored and that their doctor is not giving them the proper attention? Well, the same argument could be made about a physician walking into an exam room with his nose stuck in a medical chart. However, physicians have proven that they can easily examine and engage with patients during exams while recording info in paper charts. So there's no reason they can't do the same using electronic medical records.
Are some doctors better at putting down the paper file or stepping away from the computer screen and interacting with patients than others? Absolutely. But that has more to do with a physician's style of care delivery than the format of patient records. The point is, if healthcare providers follow best practices for showing patients attention, asking questions, engaging them, patients will be more satisfied. And combining these best practices with personalization and efficiency benefits EHR systems offer means that healthcare teams can provide patients with better care experiences.
Simply having an EHR system in place is not enough. Healthcare organizations that are not using their EHR systems to full capacity need to consider making improvements that will allow them to do more for their patients. The effort it takes to do this will be worthwhile. After all, improving the patient experience can lead to big payoffs in an industry that has seen a rise in consumerism.