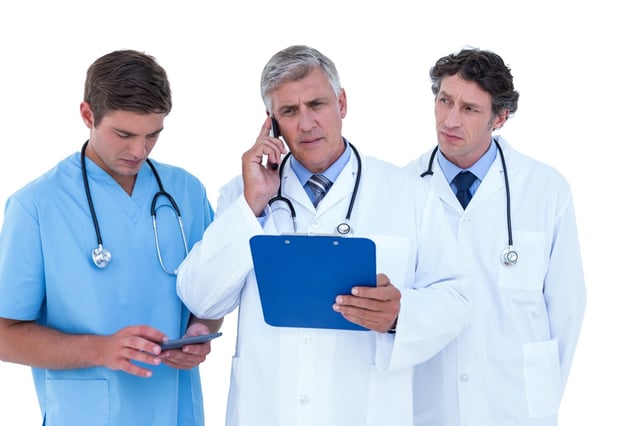 As healthcare not only joins but now begins to lead the Digital Age of Data, physicians, health systems, and hospital staffs have discovered they are not immune to one of the most visible, unintended consequences of information technology. The World Wide Web was supposed to expand our horizons – by essentially shrinking the world around us – and draw us closer together.
But you know what happened. Many of us would suggest that the opposite has happened. The world might have shrunk, so to speak, but instead of bringing us together, our digital connections, in many cases, have created more distance between us. We see it played out at our favorite restaurant, where families are seated around a table or in a booth, each person taking a quick glance away from their Smartphones only long enough to peek at the menu. Texting, web surfing, or individual phone conversations keep each person at the table occupied with something other than connecting with the people they are seated with.
Oceans of data and digital distractions.
The digital distraction that crashed into health care in the form of electronic health records (EHRs), regulations for measuring quality metrics, a plethora of other IT needs, and an ensuing ocean of data, challenges even the best physician, nurse, administrator, and other healthcare professional to remain personable, present and "in the moment" with patients or other staff.
That new reality is perhaps the greatest threat to the face-to-face, stethoscope-to-chest doctor-patient relationship. While physicians, nurses, and hospitals must pay attention to the quality metrics, it's also crucial to pay attention to the brand, patient reviews, and quality scores that will attract or retain patients. And now that many value-based reimbursements require hospitals to demonstrate the quality of their patient care, patient satisfaction plays a role in reimbursements.
A recent article in Healthcare Finance noted that as healthcare becomes increasingly beholden to consumerism, Yelp ratings now matter, as hospitals seek to retain their respective market shares. The HIMSS Learning Center is offering "patient engagement virtual briefings" related to increasing patient engagement, building relationships with patients, and addressing patients' four biggest complaints.
Task force framework for patient focus.
Technology is supposed to enhance and improve patient care. How to engage patients with new technology without losing the "human touch" of medicine is indeed a daunting challenge. The Health Care Transformation Task Force has developed a new framework that systems can use to ensure consumers priorities remain front-and-center during all phases of the transformation to a value-based care system. The framework was outlined again this week in a FierceHealthcare paper, From boardroom to the exam room, tips for involving consumers in healthcare.
The framework is organized around six broad principles to support person-centered, value-based payment programs:
Include patients/consumers as partners in decision-making at all levels of care.
Deliver person-centered care.
Design alternative payment models (APMs) that benefit consumers.
Drive continuous quality improvement.
Accelerate use of person-centered health information technology.
Promote health equity for all.
That's a noble, tall order.
Connecting and reconnecting.
Another report bemoaned the time that goes into dealing with redundant paperwork and reports is just too much. Nurses spend almost one-third of their day just transcribing or imputing data. Doctors happen spend nearly half of their time on EHRs. That is time spent away from patients. The need is urgent but the amount of time available is short for patients and physicians to physically connect. The HCTTF framework is a good place to begin reconnecting or strengthening connections.
Next in the "Year of the Patient Series:" From the patient to the population. Pop health is the ultimate focus of value-based care. The top IT official at the Office of National Coordinator for Health (ONC) says to get the most value out of all the data we're collecting – not just for the sake of collecting it – the vast troves of information must lead to direct, achievable results to improve health care for all.
Primaris is ready to help make those connections by offering an array of data abstraction and practice transformation services that can increase that face-to-face, stethoscope-to-chest time between patients and their nurses and doctors.