You clicked the link, so here you are.
We just want to let you know that we have hundreds of blogs out there and some might be a bit — or a lot — outdated. The healthcare landscape is changing that rapidly, right? But just in case this is exactly what you were looking for, here it is. You're also welcome to click here for more current resources.
---
No matter where you are in the continuum of care, there is one overarching goal: care coordination.
This is the idea that all providers treating a patient should be communicating and sharing information to ensure that everyone is acting as a team to meet patient needs.
Care episodes often involve numerous settings and multiple highly-specialized professionals, with little or no communication between them."[1]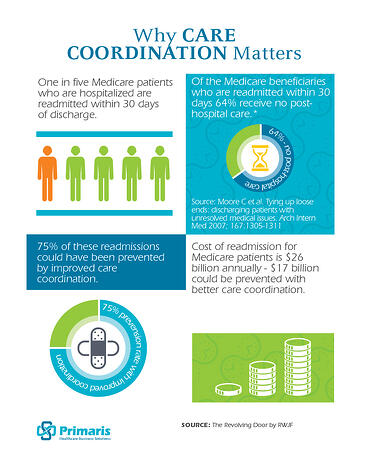 As a result of poor coordination of care, one in five Medicare patients is readmitted within 30 days of discharge from the hospital.
Seventy-five percent of these readmissions could have been prevented by improved coordination of care. These readmissions cost us $26 billion annually.
When everyone is working as a team to make sure they are collaborating on a patient's needs, quality of care goes up while costs go down. You can start with Five Steps to Improve Communication between Hospitals and Physician offices.
Well-managed transitions of care include:
Recognizing individual and family goals and needs and putting them at the center of care planning.
Maintaining strong clinical and organizational support for effectively coordinating care.
Ensuring care continuity across medical and non-medical services and from acute to long-term settings.
The real question is not what to do, but how to do it. Many health care providers don't realize how much more efficient they can be until they have a well-managed care coordination program in place. And once they do, they often wonder how they ever did without.