Population health and whole person health are a top priority in healthcare. One way you can stay on top of both is with an Annual Wellness Visit (AWV).
All Medicare Part B patients are eligible for this visit once a year. It was first offered in January 2011, as part of the Patient Protection and Affordable Care Act. The focus of the AWV is to help prevent disease and disability and to care for the patient as a whole person. It is not the same as an annual physical and does not include routine lab work. It goes well beyond either of those and assists in creating a roadmap for the patient's care for the next year. The visit starts with a Health Risk Assessment and includes:
certain screenings, shots, and referrals for other care, if needed,
height, weight, and blood pressure measurements,
a calculation of patient's body mass index,
a simple vision test,
a review of their potential risk for depression their your level of safety,
an offer to talk with them about creating advanced directives, and
a written plan letting them know which screenings, shots, and other preventive services they need.
You can learn more here.
The AWV provides positive outcomes for both providers and their patients. Let's think about it from both sides.
It's a win for providers.
Taking care of your patients, and your community, should be at the core of why you do what you do. The AWV gives you the chance to take it to another level. It's an opportunity to sit down with your patient and focus on their long-term health outside of their acute visit, to look at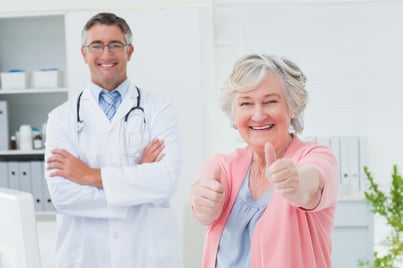 the big picture.
Here's an example: You saw Ms. Fitzgerald last wee
k when she thought she had the flu, but did you have an opportunity to discuss goals for managing her diabetes? Her mother is a breast cancer survivor, were you able to talk to her in depth about the importance of routine mammograms and make that referral?
There are many other benefits for your organization for providing AWVs. Quality of care is improved by focusing on prevention and detecting small symptoms early. You learn things about your patient that might have otherwise gone undetected. Patient attribution increases, and you get
credit for the acuity of your patient panel as Medicare's rating accuracy increases.
And did we mention there's a financial incentive? Conducting AWVs creates a healthy revenue stream of an average of $110 per AWV. You provide year-round whole care for your patient, and make money doing so. Sounds like a no-brainer.
It's a win for patients.
How many patients do you think wish they could talk to their physician about their overall goals for their health? How many patients have something happening other than why they are at a visit, but hesitate to bring it up? How many times do they have something minor that think is nothing, but could lead to something much more serious down the road?
Patients trust that you take care of them when they are sick, but now they can develop a whole other level of trust with you. The AWV allows you to help them maintain their health year-round and focus on important areas to prevent future health risks.
Patients understand you are busy, so are they. So they only make time for a physician if they are sick and when they do see you, it's a focused visit. However, the AWV provides a time for both parties to take a step back and create a comprehensive game plan for the next year.
Patients score big on this one. This is an opportunity to ask questions and talk about all of your conditions and medications in detail. Through this process new potential problems may be discovered and now there is time to proactively manage them before they become a problem.
The AWV is a way to treat much more than just illness or condition. It promotes patients, along with their physicians guidance, to create goals that are tailored to them, that will keep them healthy and independent.
And did we mention this is free of charge? There is no charge for patients for their AWV. It is provided by Medicare Part B to keep individuals healthy and focus on overall prevention. Can we say slam dunk?
So start eudcating your patients about the AWV and getting those appointments set, then you'll all be on the winning team.
Are you feeling a bit apprehensive wondering where you find the time and resources to implement AWVs into your busy practice? Primaris has a team of experts that can help you optimize your workflow and integrate AWVS into your daily schedule. Contact us today to learn more.