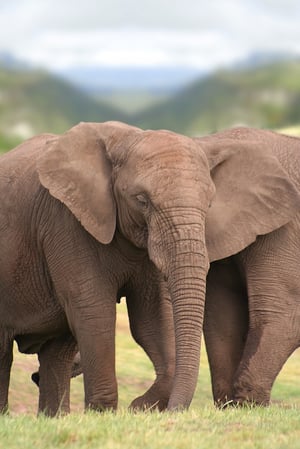 Are you familiar with the question, "How do you eat an elephant?"
Answer: "One bite at a time."
A recent article in Entrepreneur magazine, "7 Secrets to Employee Happiness," brought that question to mind, especially when thinking about healthcare organizations and health system staffs that are being asked to provide better patient care and at less cost. But in order to quantify the quality of that care – in order to receive optimal reimbursements – health systems and clinicians have to tread deep oceans of data and navigate a whirlwind of regulation changes. (Are you drowning in data? Download our ebook.)
Healthcare data certainly brings to mind an elephant. Or a herd of the lumbering beasts.
And somehow in the hustle and bustle of quality reporting, patient care, and shifting from fee-for-service to value-based care, health system executives and clinicians must find ways to help staff members maintain high levels of passion and positivity. That's a tall, tall order.
Sort of like eating an elephant?
Thankfully, the article in Entrepreneur offers some steps to overcome that challenge. Be sure to see the article for more details about each step, which relies as much on leadership setting the pace as they do on employees following. We're including the brief explainer for the final step.
Passion
Positivity
Feedback
Perks
Collaboration
Sense of ownership
Goals
Goals: Companies with clearly defined goals allow each employee to connect what they do to the objectives of the company, giving them a sense of accomplishment and purpose. Having a clear direction and understanding of what needs to be accomplished by each employee and collaboratively as a team, sets employees up for success.
Vision, Mission, and Values.
That last one resonates throughout the Primaris organization and our nationwide footprint. Our Vision, Mission, and Values echo the "7 Secrets" presented by Entrepreneur. (See our employees explain our Vision, Mission, and Values.)
Vision: Effective healthcare solutions to enrich quality of life.
Mission: We deliver solutions that empower providers and patients to improve healthcare quality, costs, outcomes, and patient experiences.
Values: TIME is valued at Primaris. Teamwork. Innovation. Motivation. Excellence.
The role of leadership is crucial, because if the C-suite or executive team is unhappy, that attitude likely will translate into unhappy staff. Healthcare leaders face an increasingly complex landscape with their staff on the front lines. The morale boost (eating the elephant?) begins at the top – a better, more successful approach than expecting a bottom-up culture shift.