The healthcare industry's migration to value-based care thrust care coordination into the spotlight, and consequently, it has occupied a position on healthcare's list of trending topics for several years now. Care coordination has bee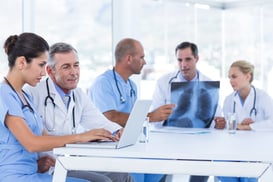 n labeled an essential component of value-based healthcare – not only because it elevates the quality of care patients receive, but also because it is starting to be linked more to reimbursements. If you are planning to participate in the Merit-based Incentive Payment System (MIPS) in 2017, a portion (15%) of your MIPS composite performance score will come from Improvement Activities (IA). The MIPS IA category is divided into different subcategories – one of which is care coordination.
MIPS participants can choose the activities they want to report from the IA subcategories based on what activities align best with their practice. There are 14 activities listed in the care coordination category. Most MIPS participants need to demonstrate that they have completed four improvement activities for a period of 90 days, however, in some instances only two improvement activities are required. The 14 care coordination activities include:

Providing specialist reports back to the referring clinician or group to close the referral loop
Implementation of improvements that contribute to more timely communication of test results
Implementation of at least one additional activity from the Quality Innovation Network-Quality Improvement Organization as a result of technical assistance for improving care coordination
Participation in the CMS Transforming Clinical Practice Initiative
Partnership in Patients Hospital Improvement Innovation Networks
Participation in a Qualified Clinical Data Registry to promote standard practices, tools and process in practice for improvement in care coordination
Implementation of regular care coordination training
Implementation of practices/processes that document care coordination activities
Implementation of practices/processes to develop regularly updated individual care plans for at-risk patients
Care transition documentation practice improvements
Care transition standard operational improvements
Care coordination agreements that promote improvements in patient tracking across settings
Practice improvements for bilateral exchange of patient information
Practice improvements that engage community resources to support patient health goals
A more detailed description of the activities is available here on the Quality Payment Program's (QPP) website.
Read our previous blog, "Improving Efficiency is Vital During MIPS' First Year", for suggestions on how you can improve efficiency as you prepare for MIPS.
If you look closely at these 14 activities, you will notice that communication and documentation are two common themes. This makes sense, after all, since care coordination is dependent upon healthcare professionals collaborating and sharing information with one another. With that in mind, here are five simple ways to establish clear agreements and relationships with other providers:
Set expectations and develop guidelines on how information sharing will happen.

Establish a standard communication protocol between primary care physicians, hospitals, and specialists that will keep all parties informed of any clinical developments.

Equip primary care physicians with direct numbers to specialists for urgent cases that need to be discussed.

Establish which medical information is necessary to share with long-term care and home care providers.

Put care coordination agreements and processes into writing.
Whether you know for certain that care coordination will factor into your reimbursements for 2017, or you just want to prepare for the future, boosting care coordination efforts makes sense.