The new executive director of the Primaris Foundation, Scott Miniea, took over that role when former executive director Carol Beahan retired at the end of January 2019. Carol had been with the Foundation and the CLAIM program for 30 years. Scott has been with the foundation since 2017, working closely with Carol.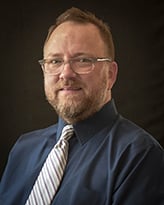 Scott holds a master's degree from the University of Missouri and has more than 30 years' experience in the nonprofit/education sector. He holds the Certified Fund Raising Executive (CFRE) credential. He is also a Certified Application Counselor.
Quality Talk Episode 67
1:56 – Meet Scott Miniea and an introduction to the Primaris Foundation – The trusted resource for helping individuals and communities maximize their access to healthcare and benefits.
7:17 – The Foundation is the umbrella organization for CLAIM – the State Health Insurance Program for Missouri - and Insurance Counseling Services (ICS), which works with the Cover Missouri Coalition to help Missourians enroll in and use health insurance marketplace plans under the Affordable Care Act.
"It's all about partnerships," Scott says. "We work collaboratively with other entities to help provide the best experience to consumers who are looking for better health outcomes … Essentially, we connect the dots. We do a lot of referrals to other agencies."
Network of liaisons, partners, and volunteers.


15:10 – A bulk of that work – providing free, unbiased Medicare enrollment counseling – is done through a network of CLAIM regional liaisons. The liaisons rely heavily on CLAIM's 300-some volunteers and community partners. "The way we are structured, it's all built on leveraging volunteers," Scott adds. The vast majority who are helping consumers are volunteers – some in-kind volunteers, others are traditional volunteers, and some are AmeriCorps members.

24:00 – Scott is aiming to build his own legacy of empowering individuals to make their own decisions about healthcare. Admittedly, following Carol Beahan's 30-year stint in the executive director post presents "quite a big pair of small shoes to step into," he says.
"My approach is not about change for the sake of change," he says, noting that he spent about 18 months alongside Carol, learning her position and connecting with partners. "Part of my challenge is to build on that without stumbling as I learn. What I'm here to do right now is to listen and learn."

---
QUALITY TALK is a podcast dedicated to advancing a better understanding of healthcare. The podcast completes Primaris's trifecta of quality: Quality Today is our blog; Quality Time is our newspaper; and now there's Quality Talk. Quality is at the core of who were are and what we do.
---
35:21 – Scott elaborates on the Foundation, challenges, and more about partnerships.
r38:06 – A new feature for the Foundation and CLAIM is the designation as a Benefits Enrollment Center (BEC). "It's a really interesting sort of add-on to what the CLAIM program does." The BEC connects Medicare beneficiaries in nine Missouri counties with other assistance programs that affect the social determinants of health.
READ: New grant focuses on providing assistance to at-risk populations.
"It's housing. It's access to food," he says. "There's a constellation of different supports that people need to be healthy." The BEC project targets the nine-county area over a 21-month period to offer a much more person-centered approach, "not just help for Medicare expenses, but also for other assistance."
45:02 - Access to care in rural areas is especially important and challenging.
Do you need health insurance?
45:25 – "Busy" describes the Foundation's year-round work.
"It very much is," Scott agrees. "If you think about it, life changes happen all year." Having a baby, losing a job, even being released from incarceration: "There are certain triggering events that allow you to enroll" for Medicare and ACA health plans.
49:22 – More about the volunteers and the training they receive. "They do it because they want to help people. It's really a very rewarding business to be in." Scott adds, "We definitely have need for volunteers across the state," and he refers to AmeriCorps members as "volunteers on steroids."
"It would be really hard to do what we do without them."
52:20 – More about Scott's background, his "altered French" last name, and a look back at his stint in marketing, "back when Facebook was new."
"I enjoy a challenge and learning new things … My career trajectory looks like a really twisted up arrow."
That's all for now from Quality Talk. Be sure to stay connected with us on Twitter – our handle is @Quality_Talk – and by emailing the host at jjackson@primaris.org with your comments and suggestions for future guests. You can find the show notes for this episode under the "Podcast" tab on our website, www.primaris.org, where you can also become a podcast and show notes subscriber.
You can also stream Quality Talk on SoundCloud or listen in on iTunes.
Remember: Primaris is your partner in healthcare quality.
---
LEARN MORE
Newsroom: Miniea is new Primaris Foundation executive director.
For more about Carol Beahan's retirement and tenure with the Primaris Foundation, listen to Episode 59 of the Quality Talk podcast.