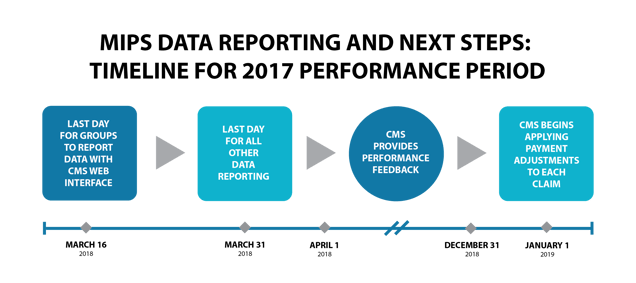 Just when we finally figured out the alphabet soup of PQRS, MU, and GPRO, MIPS came along and gave us a new gamut of acronyms, where the aforementioned nuggets of value-based care still live, though renamed. And now that MIPS is in its second year, there are changes to understand for 2018 – Year 2 of the Quality Payment Program (QPP) – as well as some retroactive changes to 2017.
Episode 25 of Quality Talk – our Silver Anniversary! – is a conversation with Primaris Director Tim Perkins. The biggest MIPS news is for Accountable Care Organizations(ACOs) and more practices that will be exempt from MIPS reporting, thanks to an increase in the threshold to be MIPS-eligible.
Let's recap: PQRS (Physician Quality Reporting System) and MU (Meaningful Use) are still components that are nestled in MIPS, the Merit-based Incentive Payment System. And we know that MIPS is part of the Medicare Access and CHIP Reauthorization Act of 2015 (MACRA) and the QPP.
Quality Talk host Jodie Jackson Jr. calls the letter jumble "this great alphabet soupwe've all come to know and love so well."
Perkins handles consulting for Primaris, with both MIPS projects and quality data abstractions. He's located just a short drive from Boston.
"I have suffered and died with the Red Sox since my infancy."
3:40 – Recapping the MACRA, QPP, and MIPS picture. Failure to demonstrate quality performance will result in lost or missed revenue. There's also an upside – an incentive – for bonus revenue.
"Value-based care is coming. That train's leaving the station." So MIPS isn't going away.
Parker: "The devil, of course, is in the details."
6:00 – What you must and can do right now, with MIPS reporting deadline on March 16 for practices reporting quality performance via the CMS Web Interface (the "son of GPRO"), with other deadlines approaching.
"You have to comply. It's just like taxes."
Advancing Care Information, one of the four legs of MIPS, "is really nothing more than son of meaningful use,'" Parker says. "But with more teeth" to move providers to the digital age via electronic health record (EHR) systems.
The first year of MIPS, 2017, was a learning year.
9:30 – What coming for Year 2: must report 12 full months of data rather than just 90 days.
"You can hear the screws tightening on the vice." But one detour from the plan was holding off on Disproportionate Share payments to rural and inner city hospitals. On the other hand, the physicians' fee schedule increase was trimmed from .5 to .25 percent for Medicare reimbursement.
Also coming for the 2018 reporting year: Cost will be scored. It was zero in 2017, and will be 10 percent initially. (Joining Quality, ACI, and Improvement Activities as the four legs of MIPS.
"A lot of these adjustments are acknowledgement of reality."
19:18 – We talk about a previous episode, our interview with AMA President Dr. David Barbe, about how long some providers will be exempt from quality reporting via MIPS. "He says he tells practices all across the country, 'You can run but you can't hide.'"
21:01 - MACRA "repackaged and put MU" and other programs back into the QPP. Parker: "It's a continuation of what's already started. It's not brand new. It's been coming." He calls MIPS "Value-based care 2.0." PQRS was 1.0.
23:55 – A range of revenue increases are possible, "The difference between making money or losing money."
Perkins was the voice behind the idea to refer to Primaris as "your Sherpa" for climbing Mount MIPS.
26:41 – "It's a journey. And you've got to pay attention to it. It means money in your pocket or out of your pocket. That train's leaving. Get on it."
Marketing Director Rachel Verslues wraps it up: "If you've got questions about the alphabet soup of MIPS and the QPP, we have the answers. Remember, Primaris is your partner in healthcare quality."