"I've always had an interest in leveraging technology to make a difference ... "I really saw an opportunity to use tech to improve the quality of care being delivered."

- Lauren Patrick, president and founder, Healthmonix

---
Guests for Quality Talk episode 48 are Healthmonix founder/president Lauren Patrick and Primaris CEO Richard A. Royer. The two companies announced a partnership in June, joining forces "to help healthcare providers meet and exceed new regulations that tie the quality of patient care to the payment for that care." Read the news release.
On to Episode 48.
:59 – Primaris Marketing Director Rachel Verslues, who gets big kudos from Royer later in the episode, introduces the episode with a "spoiler alert," talking about how the Healthmonix and Primaris marketing teams were checking out each other's marketing material. That led to the marketing teams talking and led to an introduction of CEOs. "And now we're partners," Verslues says.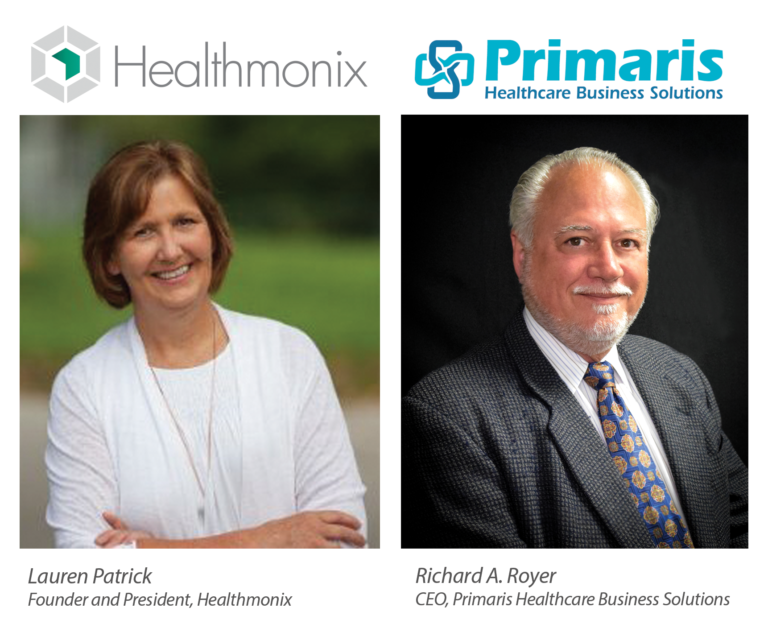 3:17 – More about Lauren Patrick and Healthmonix. "We really specialize in developing value-based care solutions" that include measurement tracking and more, she says. "We've integrated with a lot of EHRs to bring data together."
Host Jodie Jackson Jr.: Are we starting to see improvement as we transition from fee-for-service to value-based care?"
Patrick: "It's really been fits and starts. We see small movements, we see progress. There's a lot of barriers we have to break down," including interoperability and data blocking. "We've seen some successes, but we have a long way to go."
Royer described how Primaris helped implement about 1,400 electronic health record (EHR) systems in Missouri several years ago and the interoperability issue was a challenge then. "Here we are 10 years later, still struggling with the same thing."
Competitors become partners.
6:54 – Royer cites "The Primaris Story," the topic of an ebook and the subject for the very first episode of Quality Talk one year ago. Quality Talk Episode No. 1.
"We've been in the healthcare quality management business for 35 years plus," working for the feds in Medicare/Medicaid as a quality improvement organization. Eventually, Primaris began getting requests from large health systems to help with improvement and quality reporting. That led to the company's commercial entity in 2014.
THE PRIMARIS STORY - Get the ebook here
Healthmonix and Primaris were previously competitors, but are now coming together to boost each other's strengths.
Royer: "There are a lot of collaborative things going on" and this partnership is one example. There is opportunity for the companies to be integral parts of the value-based care journey because health systems want to take care of patients, not worry about accumulating and reporting on data.
"We're not a software company, but we know in the age of tech we need a software partner," Royer adds. Healthmonix helps provide greater value to Primaris clients.
12:12 – What does Healthmonix do with data? "We work to understand the measures that are involved in MIPS," Patrick says. Over 250 measures are used in 2018 to report the quality component of the Merit-based Incentive Payment System (MIPS). "We really have to understand those measures and understand how those measures are calculated," then assemble the data "in a way that can be reported and hopefully used for improvement."
---
"The real holy grail is we want to use that data to help the client improve."

- Primaris CEO Richard A. Royer
---
Royer: "There's just a whole laundry list of things you have to do to be profitable in the MIPS environment." That includes a Security Risk Assessment. Primaris provides more of a hands-on, consulting service. "We help the clients develop a strategic approach to manage this process." Primaris will refer MIPS clients to Healthmonix for the software and dashboards.
"Health systems have to evolve a little bit to understand we can take an enormous burden off them," he said. "A lot of them are trying to figure it out themselves." But with the Healthmonmix software tools and Primaris' experience with hands-on assistance, "it's a perfect partnership that can help them in a major way."
Deer in the headlights.
15:40 – Host: Value-based care, MIPS, and more of the payment model changes have created "a universal deer in the headlights look."
Patrick: "It's deer in the headlights not only because of MIPS, but because they're really getting pushed to move into more sophisticated value-based care models" and risk-based models.
Royer: "MIPS is only a transitional strategy. CMS wants to be out of it in 5 years," but in the meantime is "herding" providers towards risk-based models. "MIPS is a way to do that."
17:33 – How this partnership got going: As the marketing departments were connecting with each other and figuring out what each company did – Primaris is more hands-on and consulting, Healthmonix is software development and tech – the CEOs were introduced.
Royer noted that Healthmonix marketing chief Christina Zink and Primaris marketing director Rachel Verslues deserve credit. "It was the two marketing folks that did this."
Patrick: "We were thrilled, because we know we can't handle a lot of the things Primaris does." Providers are busy with their day-to-day care delivery functions and the Primaris/Healthmonix partnership is an "absolutely wonderful … one-stop solution for these customers."
20:17 – Healthmonix has proprietary trademarked software MIPSPRO and ACOPRO, which provide useful dashboards for providers and ACOs to monitor quality improvement. Patrick says, "We'd like it to be more than just a reporting tool … Providers can go in there and drill down to see where problems are" and use the tools on an ongoing basis. "We don't want it to be just an end-of-the-year reporting tool."
Royer added that Primaris has the same goal for its core measures, CMS Web Interface, and registries data abstraction and reporting services. "The real holy grail is we want to use that data to help the client improve."
Quality reporting 'season' never ends.
23:07 – What's new for MIPS in 2018? This year there's a 5 percent up or down revenue boost or penalty, with a potential 10 percent bonus. And the threshold for qualifying as MIPS-eligible was lowered, meaning practices and clinicians with less than $90,000 in Medicare reimbursement are excluded. Patrick adds, "But they've made it a little harder to get the incentives." CMS also is now counting the "cost" component in the overall MIPS score. "The impact of that on your score will continue to increase" from 10 percent this year to 30 percent in three years.
And coming for 2019: CMS will not allow 2014 certified electronic health record technology.
26:31 – Primaris also provides data abstraction service for CMS Web Interface reporting, but it's not a function that some providers prepare for ahead of time. "By the time some of them finally come to the party, we hear, 'oh, by the way, we've got a six month backlog'" of data, Royer says. "We run into this dynamic all the time."
CMS Web Interface: The time to prepare is NOW. Download our ebook.
Healthmonix's autumn newsletter announced the Value-Based Care Institute and the ultimate MIPS Readiness Checklist. From the newsletter:
"The Value-Based Care Institute (VBCI) is a library of online courses aimed at guiding healthcare organizations through the transition to value-based care. Learners enroll and complete courses at their own pace either on their computer or on the VBCI mobile application. We are currently running a short-form interest survey if you would like to volunteer your input about topics to provide."

Also from Healthmonix: the ultimate MIPS Readiness Checklist.

The stakes have been raised for the second year of the Merit-based Incentive Payment System (MIPS). With more demanding reporting requirements and more revenue on the line, having a proactive strategy for compliance is increasingly important.

This comprehensive checklist covers every step you need to take to report MIPS in 2018, broken down into sections for Pre-Reporting, Reporting, and Post-Reporting. Use just one section, or all together, to guide your practice toward MIPS success.
Quality Talk takeaways from episode 48.
Royer: "I would like the people who are listening to this to understand there is really good help out there for you in this journey. You do not have to be that deer staring at the truck coming at him." The Healthmonix/Primaris partnership "can advance your success in the value-based world."
Patrick: "Don't bury your head in the sand and hope it goes away. Over the course of the last two years I think that's been a hope of many. That's not going to happen. Take some care to either find a partner or look inside organization to make a plan for the new payment environment."
---
Additional resources: