Dr. Suneel Dhand's voice seems to have its own smile, which is evident as he notes the irony of America's fascination with the United Kingdom's royal family. Oh, and he also has first-hand perspective on the differences between health and medicine in the U.S. – where he practices medicine – and the U.K. and Australia, where he has also practiced.
As a prolific blogger, author, communicator, physician, world traveler, and fitness advocate, Dr. Dhand has a knack for making his point in succinct, clear ways. And his easy style is nicely illustrated in his approach to analyzing our country's fascination with the royal family, "Without getting into a debate about whether inherited monarchies have any place in the 21st century …"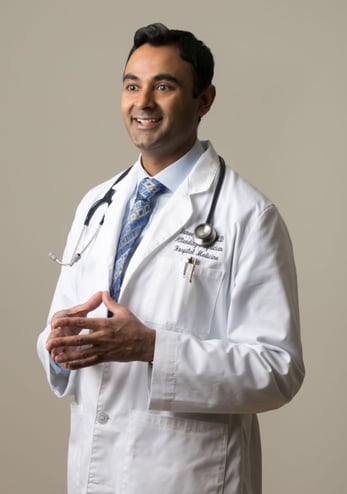 "Considering our two nations' histories, and the bad blood that existed between them in the 18th and 19th centuries, it's amazing how we've come full circle to be the best of friends again," Dr. Dhand wrote in a May 17 blog post, "3 good things American fascination with the Royal Wedding tells us about ourselves." Dr. Dhand, who was born in London and grew up near Windsor, where he was visiting the day American actress Meghan Markle married Prince Harry May 19 at Windsor Castle.
Listen to Dr. Dhand talk about that experience; his observations of healthcare information technology here and abroad; the importance of and need for additional primary care in the U.S.; tips for physician communication with patients; and, among other topics, his irritation with the term "providers" as a "dehumanizing" title for physicians.
Getting to Know Dr. Suneel Dhand.
Dr. Dhand also has a YouTube channel where he offers short snippets of communication advice for physicians. He's also co-founder of DocsDox, a service that helps doctors find great moonlighting and per diem opportunities, and founder of DocSpeak COMMUNICATE, offering keynotes and presentations about improving communication.
Dr. Dhand is board-certified in internal medicine. He went to medical school at Cardiff University and then moved across the pond, completing his internal medicine residency in Baltimore. He currently divides his time between Cape Cod and New York, and does a mixture of inpatient and outpatient work. Dr. Dhand's full bio.
Now on the Quality Talk Podcast.
1:20 – "Growing up in the Windsor area, we caught frequent glimpse of the royal family," he says. Dr. Dhand joined friends for the after-wedding "carnival-like festivity … It was quite an experience."
We'll talk more later (at the 15:54 mark) about the royal wedding.
3:27 – Dr. Dhand introduces himself and talks about time spent with Australia's Royal Flying Doctor Service trauma unit. "I got to see Australian healthcare very closely." He now practices on the East Coast, mainly in Massachusetts, and has a hand in "other creative ventures." But clinical work remains "my main passion," he says.
7:05 – DocsDox was birthed from frustration of trying to find per diem and moonlighting opportunities. The online platform was started 18 months ago. "We're kind of like a matching service, in a way."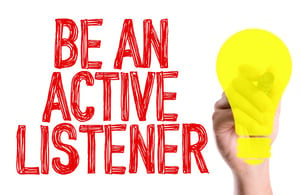 8:25 – The one step physicians can take right now to be better communicators? Use "active listening."
"We're very rushed … medicine is very unpredictable." Physicians, on average, interrupt patients within 20 seconds. "It really sets a bad tone right from the beginning." He urges every physician to commit to active listening, which involves showing signs of listening by using non-verbal body language when a patient is speaking.
Dr. Dhand's writing: High Percentage Wellness Steps (10:20), advocating for preventive medicine and promoting healthier eating habits. Also the "historic mash-up" novel, "Thomas Jefferson: Lessons from a Secret Buddha," is a wellness-themed book based on Thomas Jefferson's lifestyle.
About that wedding …
So what about that royal wedding that has us all so captivated?
15:54 – "In all likelihood, this is going to be the last big royal wedding for a generation." The "3 good things" blog post lists pageantry, our love of fairy tales, and the classiness of the royal family.
"As human beings, we all basically love fairy tales … it's something that appeals to many people," he says. "And dare I use the word 'escapism?' I don't see any harm in that." And while the U.S. has its own time-honored traditions, we don't have any that "stretch through centuries of evolution."
"The royal wedding day was a classic example of that," with the big show, horses, parades, and more. "It's something the U.K. does very well." Dr. Dhand added, "I can certainly sympathize with the idea in 2018 that someone can be born into being head of state (which) seems a little bit backwards. But you have to remember the royal family … has absolutely no political power." The royals "act as a force of national unity."
The patient comes first. Period.
23:22 – Dr. Dhand has written a personal "common sense manifesto" for frontline healthcare and for healthcare IT. "The patient comes first" is the first item listed on his 10-point health care manifesto and the last item listed on his 10-point health IT manifesto.
"The patient has to come first. If we lose that, we are lost ourselves."
24:50 – A major reason that healthcare IT and electronic health records are cumbersome is that the technology "had to roll out very quickly" due to government mandates, and "didn't have time to evolve." Now physicians are "spending over two thirds of their day staring over screens." One of the biggest patient complaints Dr. Dhand hears is that "the doctor doesn't look them in the eye anymore."
"When people are in the hospital, when they are unwell, they have to have that human engagement. We are human beings. We are emotional creatures." In healthcare, "it matters even more."
29:35 - Comparing the U.S. quality care effort to the UK and Australia. IT over there has evolved and become widespread, and without the same level of regulation as the U.S., which is sold here primarily as a billing and coding tool. In the UK, Australia, and Canada, "IT is built to work more efficiently for physicians ... It doesn't slow doctors down." There's not the same level of frustration in the UK with HIT as there is in the U.S.
"Healthcare IT is not even an issue we deal with over there," whereas in the U.S., it is about to "drive us to the brink of insanity."
What we're getting right in our country.
31:37 – "The quality of care is pretty high here." When Dr. Dhand was first on call as a resident, one of his first experiences made his jaw drop. A patient was being admitted from the ER. All the lab work and imaging was already done. "That would be unthinkable in the UK." Acute care is better in the U.S. Also, there's a patient-centeredness here that is unique.
Related blog: The single biggest thing we can do in healthcare
"We really value the patient experience. I would say we're miles ahead of other countries." And healthcare choices about in the U.S. unlike the UK and other socialized systems. "You can obviously make the argument that we've gone too far the other way … That, ironically, would probably be a barrier to having socialized medicine here."
35:48 – The U.S. would do well to mimic the UK's primary care system. Dr. Dhand's first step for immediately improving U.S. healthcare would be to "drastically expand primary care."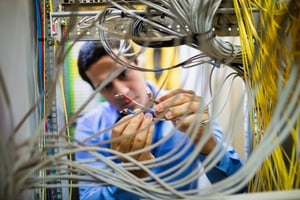 I'm a physician, not a 'provider.'
"It takes a lot to irritate me," and the use of the word "provider" to describe physicians is a major irritation, he says. (36:53) "To me, it symbolizes the corporatization of healthcare over the last 10 to 15 years. It is a term that I find dehumanizing … demeaning a very noble profession." When Dr. Dhand hears "provider," he thinks of "cable TV or an electrician."
"None of us went to medical school to become providers. We went to become doctors. … A name is everything," he says. "If you are changing the name – and I believe a lot of this is deliberate – I really believe physicians should push back …" He's okay with the term "clinicians" for describing a group of healthcare professionals. Dr. Dhand also cringes at referring to patients as "customers."
"I've yet to meet a patient who likes the word 'provider' either."
Related blog: Why the battle against being called a provider is probably lost.
45:35 – What should listeners take away from this episode? "Healthcare is at a tumultuous time at the moment. It's changing very fast," he says. "We have a complex and somewhat broken system, and too often, the patient gets lost in that. So whatever you're doing, always keep the patient at the center, think about their experience. And by doing that, you can rarely go wrong."