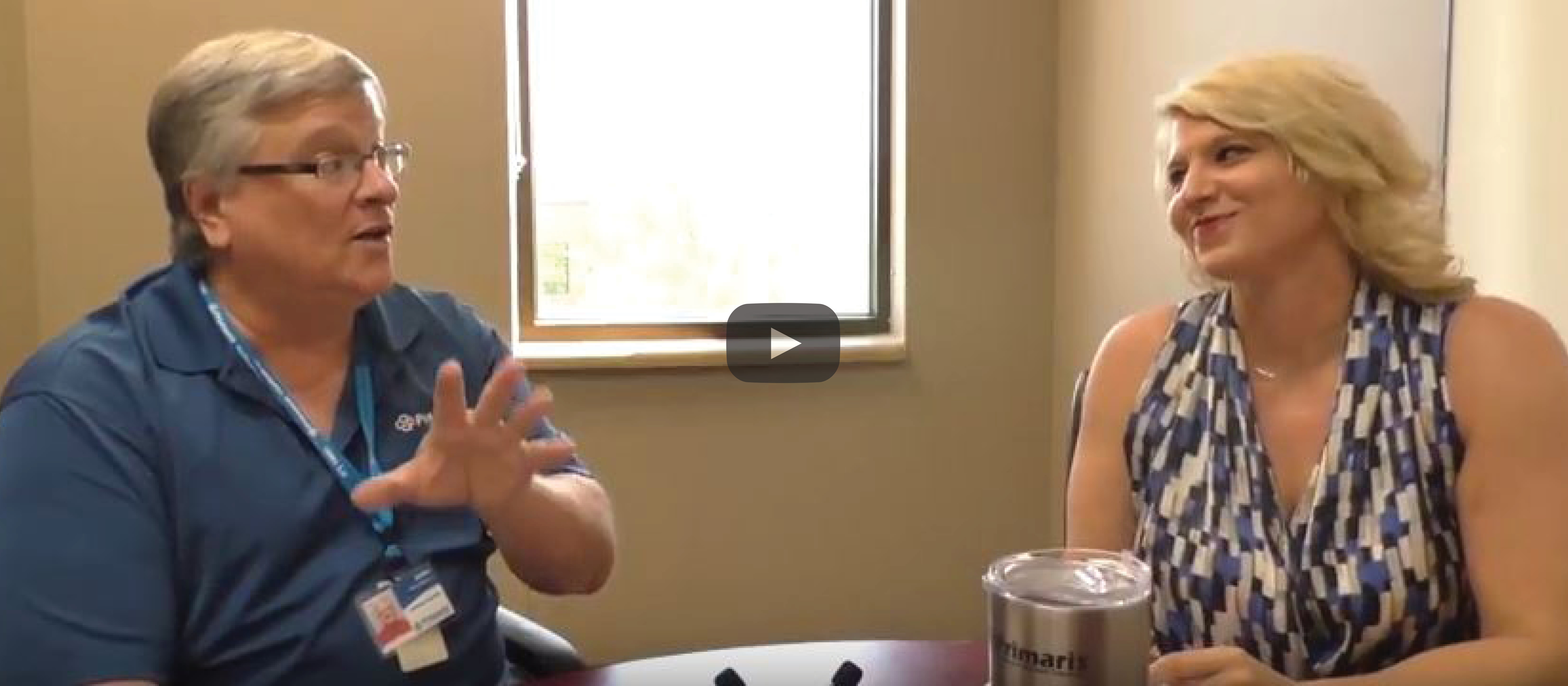 Here's a different, first-time twist for Quality Talk. Host Jodie Jackson Jr. chats with Primaris Marketing Director Rachel Verslues in a video-recorded episode. Rachel has introduced the first 32 episodes, but Jodie jumps in to introduce No. 33.
"You're already acting like a celebrity," the boss says. Jodie quickly notes at 1:13 that Rachel uses her favorite word, "plethora," to summarize the varied topics and subjects that Quality Talk has covered. Before getting into the gist of Episode 33, the team introduces a baseball-themed marketing campaign, "Is Your Lineup Ready for Quality Reporting Season?," that was recently launched. Jodie suggests the two of them sing "Take Me Out to the Ballgame," to which Rachel replies, "I would like our listeners to keep listening."
Another first: there's an (unseen) audience of marketing team members Adam Voight and Amanda Teel.
3:11 – Breaking down the essence of quality reporting and data abstraction, the work that Primaris offers with a range of consulting services for hospital, clinic, and ACO clients.
"It's like we're sitting in the cubicle next to them," which is an impressive feat, considering Primaris has roots in the Midwest but a nationwide footprint in 27 states. "That's lots of cubicles."
Rachel: We become an active member of our customer's team. "Our partnership culture is a differentiator for us."
How it all began.
Primaris got started more than 30 years ago as a quality improvement organization and peer review organization for Missouri, then began working with The Joint Commission and Centers for Medicare and Medicaid Services on initiatives around core measures and registries.
6:06 - review the ebook, The Primaris Story, which establishes the company as a pioneer in the shift from fee-for-service to value-based care. "We really do have the years of experience to back that up." (Learn more, Episode 1, Quality Talk.)
When hospitals began to be overwhelmed by the need to abstract and report data, they discovered the option and benefit of outsourcing that work to Primaris.
7:32 - What is data abstraction, why do some hospitals outsource that work, and what if a client wants some help or temporary help, but not a full-fledged partnership?
Rachel: "We truly customize every partnership we have to each system and what their needs are … Sometimes we just go in there and train their staff."
(Note: Be sure to listen for the new word, "megisters," as the boss gets tongue-tied. At 8:17.)
Why outsource?
Lack of trained, available staff to handle data and chart abstraction, while keeping patient care as the No. 1 priority, is challenging. One partner Critical Access Hospital in northern Minnesota has a nurse/quality director who wears multiple hats. Rachel: "Unfortunately, that is what we see time and time again."
The marketing campaign, "Are You Drowning in Data?," was a direct result of trade show, on-site communication with cath lab nurses who also did double-duty as data abstractors.
14:33 – Primaris is recognizing 2018 as "The Year of the Patient."
The "alphabet soup" of quality reporting requirements can be confusing. That's another benefit of partnering with Primaris. "We know the nuts and bolts of MACRA and MIPS and the QPP."
15:05 - summing up this episode with our latest, catchy tag line: "Let Primaris take care of your data so you can take care of your patients." (See our Vision, Mission, Values video.)
Connect with us on Twitter at @primaris_health and @TalkingQuality, and contact us with questions and comments at engage@primaris.org.
"Remember: Primaris is your partner in healthcare quality."
(Sorry, folks, still no song. Be sure to let Rachel know you want to hear her sing.)