Episode 21, "Chatting with AMA President Dr. David Barbe," was recorded Friday, Feb. 2, following Dr. Barbe's presentation at the Missouri Million Hearts Conference in Columbia, Mo. It was a great opportunity because the venue – the Hampton Inn & Suites, University – was just a few minutes away from our home office. Plus, Primaris CEO Richard A. Royer was also a speaker for the 2nd annual conference.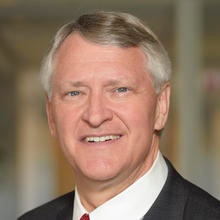 Ep 21 also features a new experience. "Quality Talk" episodes typically are introduced by Primaris Marketing Director Rachel Verslues, then hosted by Marketing Specialist Jodie Jackson Jr. Marketing Specialist Adam Voight does the final magic as sound engineer/technician. For this episode, Rachel and Jodie provided a joint introduction.
Rachel tells us about Million Hearts (2:50) and Mr. Royer's speech on the landscape of healthcare in Missouri and the financial implications for cardiovascular disease (CVD). CVD is the No. 1 cause of death in the United States and in Missouri.
4:14 – The "Quality Talk" audience has expanded, so we're also now expanding the focus and topics for the podcast. Jodie says "Quality Talk" gives Primaris "a unique opportunity to offer a voice to others" in the healthcare industry, particularly the topics that Primaris has been part of for more than 30 years: the shift from fee-for-service to value-based care, quality improvement initiatives, and more.
5:10 – In the introduction, Jodie asks us to listen to Dr. Barbe's pointed answer about how the hundreds of thousands of currently exempt physicians will be required to meet quality metrics, such as MIPS. (Answer at 16:45.)
5:52 – Dr. Barbe's mention of physician burnout and physician suicide is a precursor to an upcoming episode focusing exclusively on this tragic and uncomfortable, but need-to-talk-about topic.
Our guest, Dr. Barbe, has a long history of service to organized medicine. See his full bio here. He has been a member of the AMA, the Missouri State Medical Association (MSMA) and the American Academy of Family Physicians for 30 years. He has served on the MSMA board continuously for more than 25 years, serving as chair in 2003 and president in 2005. He was a delegate from Missouri to the AMA from 1997 to 2009 and is past chair of the delegation.
6:13 – "This is David Barbe." He gets right into the mechanics and development of MACRA, along with MIPS/QPP. MIPS is a combination of the former PQRS, HIT/MU/EHR and value-based modifier programs, which all started as bonus opportunity programs, but "eventually matured into penalty programs." (That's a lot of alphabet soup). Physicians could lose up to 10 percent or more of Medicare reimbursements as penalties, with no upside for additional reimbursement.
8:45 – The benefit of MIPS is an opportunity for "an upside bonus, as well as a penalty, which we didn't have in the old programs."
4 Tips to Get an Early Start on 2018 MIPS Reporting
10:22 – There are changes from Year 1 to Year 2 in the Quality Payment Program (QPP). "MIPS is clearly an improvement over what we had. Does that mean physicians are eager to participate in it and find it's easy to participate? Not necessarily." It's still difficult for small practices to participate, mainly due to the cost of technology (electronic medical records/|EHR) and adequate staffing to handle quality data/reporting duties.
"In a small practice, the cost exceeds that potential financial benefit."
More about MIPS and QPP changes for the 2018 reporting year: because the participation threshold was increased to fewer than 200 patients and less than $90,000 in Medicare allowable charges, "a very significant number of small practices will be exempt from the program." Even more than in 2017.
The good news for those smaller practices that are "ready to go," with assistance from "Primaris or other organizations," is that Year 2 will allow them to pool resources and form a virtual group. "That should make it easier for them to participate successfully."
13:35 – The move from fee-for-service to value-based care seems like a seismic shift. "It is indeed a seismic shift, but it's a shift that the AMA thinks is important and necessary."
But is MIPS the way to go?
"We don't have it right yet." The "cost" category of MIPS scoring, which was weighted at zero in 2017, will account for 10 percent of the score in 2018 and 30 percent in subsequent years. "We don't think that's ready for prime time yet … Having that as a component of this is premature." But, "conceptually, we believe we're going in the right direction."
Cost will count: MIPS changes coming in the Year 2 QPP rule
14:30 – MedPAC has voted to scrap MIPSand move to all group reporting. The AMA has not taken a strong position on that recommendation.
16:21 – What about practices that are exempt now and will be in 2018?
16:45 – "What I tell physicians around the country is, 'You can run, but you can't hide.'" They will eventually have to comply.
18:35 - AMA continues to work with CMS to make the data gathering automated. AMA has a suite of products and materials for physicians when it comes to improving efficiency of office functions and MIPS compliance.
20:06 – There are a lot of mergers on the horizon. How is all this activity ultimately going to affect patient care and what we pay for that care? (This was also the focus of Episode 17). "The most direct and honest answer is, 'We don't know yet.'" In the past, AMA has advocated against mega-mergers horizontally; for instance, insurance companies merging. "The AMA fought that. We fought it successfully."
Disrupted: American healthcare has reached its tipping point
AMA views "vertical mergers" differently, such as health systems and insurance companies. AMA also is keeping tabs on the Amazon/Berkshire Hathaway/JPMorgan consortium working together to reduce healthcare costs for employees.
"We simply don't know how those efforts are likely to play out. … We will be monitoring those very closely."
23:00 – Dr. Barbe also addressed the opioid epidemic at the Million Hearts Conference. "AMA has been very involved, particularly on the physician side with addressing the opioid epidemic in this country." (AMA has a website dedicated to its efforts, https://www.end-opioid-epidemic.org/)
"From a clinical standpoint, this is an epidemic."
AMA is looking at the science and evidence-based research for answers. "It's clear that physicians over the last 20 years or so, have prescribed high levels of opioids, probably more than is justified by the current evidence. There were multiple things that drove that rapid rise." AMA is reeducating physicians on opioid management and non-opioid pain med. The result has been an up to 20 percent decrease in opioid prescribing. "Unfortunately, Missouri is still the only state without a good, functioning prescription drug monitoring program. (See this Springfield News-Leader story for more details. And more from the AMA about PDMPs.)
25:17 – The number of deaths from prescription opioids have leveled off. The death rate for heroin and synthetics, like Fentanyl, is still rising. (Fentanyl is similar to morphine but is 50 to 100 times more potent. Heroin is often laced with the substance, which is a schedule II prescription drug.)
25:45 - Make substance abuse treatment, mental health treatment more available, and better insurance coverage. "If we expect to get our arms around the opioid death rate, we have to have coverage for those known, effective treatments."
There's still a stigma among some physicians against individuals with substance abuse disorder or mental health conditions.
Other topics – "The issue of physician burnout is another epidemic in this country." It's rising across all specialties. "We know when physicians experience burnout, the care they give is not as good … the quality they give is not as good, medical errors occur at a greater rate, and physicians drop out of medical practice … The greatest tragedy of all is that some physicians commit suicide."
The AMA "has taken this on very seriously," and is also advocating to reduce regulatory burdens on practices, such as the need for prior authorizations from insurance companies to treat common conditions. The paperwork "delays patient care and produces a tremendous amount of burden on physician offices." (See the AMA's white paper, Physicians, payers collaborate on prior-authorization relief, and the video, The Prior Authorization Burden.
AMA has numerous resources on its website, as well as initiatives for physician wellness programs.