Right now, a lot of nursing homes are entering a "planning" stage where they are trying to map out how they will apply QAPI inside of their organization. Facilities may also be starting to write their QAPI plans. This planning stage is critical because it lays the groundwork for all future quality improvement efforts. Of course, as important as this early planning period is, the next phase – rolling out QAPI across an entire organization – is where real quality improvement begins to happen. But, that is only if you've taken the right steps and have effective quality assurance and performance improvement strategies in place. So, how can you make sure your planning is on track and your facility is set to succeed as it takes on large-scale quality improvement? The best solution is to find a knowledgeable consultant to support and guide your QAPI efforts.
At Primaris, we work with nursing homes and help guide teams through a QAPI planning and implementation process that involves:
Performing a quality assessment .
A comprehensive quality assessment is important – and a good first step – because it helps you identify opportunities a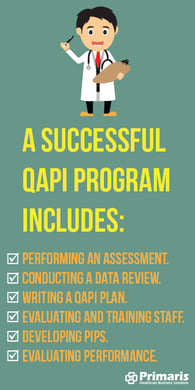 nd determine what parts of your organization's care to focus on most.
Conducting a data review.
Quality improvement must be driven by data. By performing a diligent data review, you can learn about the challenges that impact your facility and residents, and also uncover opportunities that should be QAPI focal points. Nursing homes should not only review their actual data, but also take time to look at how they collect data from different sources – since maintaining data integrity is essential for quality improvement.
Writing a QAPI plan.
Your QAPI plan should be unique to your organization. It should be based on the specialized services you provide and the needs of your residents.
Read, "5 Reasons to Choose Primaris for Help with QAPI," to learn five quick ways we can help your nursing home with QAPI.
Evaluating and training staff.
Every person working inside a nursing home – from owners to direct care staff – needs to buy into QAPI efforts. Therefore, it is necessary to determine what knowledge and experience gaps there are, and also what training your staff needs in order to implement new processes and procedures.
Developing PIPS.
Performance Improvement Projects (or PIPS) are very specific plans that target precise issues nursing homes want to improve. Facilities need to use data strategically to develop solutions to issues that impact portions of care or the entire nursing home.
Evaluating performance.
Regular performance evaluations are important for understanding how well your QAPI planning and execution is working.
*Some services under this arrangement may not be available in Missouri. Contact us today for more detail.
Nursing homes can perform the above actions on their own, but many find they need support to help them through the process. There are a lot of advantages to partnering with a quality improvement consultant. If your organization wants to truly see the benefits of strategic, ongoing quality improvement, contact Primaris to learn more about our QAPI services.