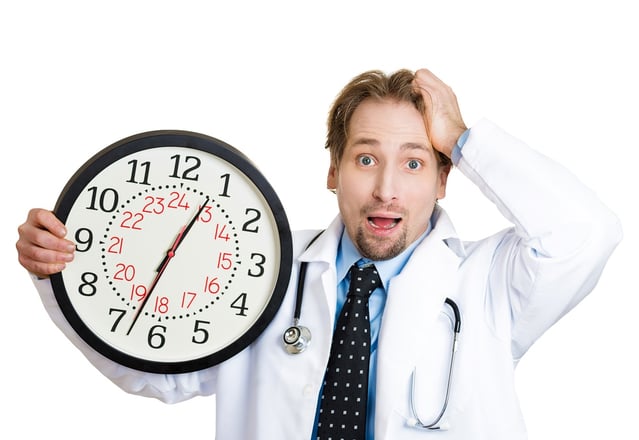 The clock ticking towards the March 31 data submission deadline for the Merit-based Incentive Payment System (MIPS) is probably starting to sound like a thunderous drum beat for practices and Accountable Care Organizations that are trying or preparing to submit data.
And when it comes to submitting Advancing Care Information (ACI) – one of the three peaks of MIPS for 2018 reporting – the data cannot be submitted without an Enterprise Identity Management account (EIDM). Primaris data abstraction and MIPS consulting team members have been in the field working with thousands of clinicians and practice managers, and large ACO groups as the MIPS deadline approaches. The need for an EIDM account is causing quite a stir for physicians and ACOs that have not yet established an EIDM.
RELATED: ACOs find unique spot in MIPS reporting equation.
As the MIPS reporting window starts closing tight, the pinch on many practices and ACOs is real, because it's taking up to eight days for EIDM account approval, due to the large number of applicants. If the EIDM application requires manual verification, the approval process can take an additional two days.
Primaris consultants said CMS assumed most practices had an EIDM account, but that was not the case. CMS is aware of the time crunch facing those without or still waiting for an EIDM account, and there is ongoing discussion about the situation. So far, however, CMS has not provided an extension date or other alternatives. Before beginning the EIDM application process, CMS requests clinicians and practice managers refer to the user guide found on the Quality Payment Program resource library. Click here.
Download our ebook: Climbing Mount MIPS
Our notes from the field have helped create a handy how-to list of tips and reminders for EIDM account application.
1 – Use Internet Explorer. All CMS interactive sites are developed for use with IE; not Google Chrome, Firefox, Safari, or other browsers. MAC does not have IE, unless it is partitioned. The EIDM application also does not run on a Smartphone or iPhone.
2 – There are two parts to the application. One is the individual personal information of the person applying for an EIDM account, the second part is the individual provider verification – not the practice. The individual provider information (PTAN, NPI, TIN) is verified against PECO (CMS billing). Using the practice NPI will create an error.
Use only the legal address of the practice, the legal CMS/PECOS billing address.
If the PTAN has letters, enter them as uppercase.
If the TIN has a dash after the first two numbers, include the dash as it is shown when entering it into the EIDM application.
3 – If you receive an error, keep clicking if you are sure the numbers are correct. The system has a glitch. Continue to the screen with the submit button.
There is a problem with the verification between PECOS and EIDM application. The person applying will receive an error message. Click through and ignore the errors if you are sure everything entered is correct and click "submit."
The error messages between PECOS and the EIDM application are likely also due in part to unexpected large numbers of applications being submitted.
We also recommend taking a scree shot before submitting.
Remember: the application is connected to your personal Experian account.
For more information, don't hesitate to contact Primaris for support. Additional assistance also is available from the EIDM Support Center at 1-866-288-8292.
RELATED: 5 keys to understanding MIPS Improvement Activities
CMS has also issued a last-minute reminder about submitting 2017 MIPS data for the Improvement Activities category with these resources:
1 - MIPS Improvement Activities Fact Sheet: Provides an overview on the Improvement Activities performance category, including information about choosing and submitting activities, reporting criteria, and scoring.
2 - QPP 2017 MIPS Improvement Activities Performance Category CME course: Offers a detailed overview of the Improvement Activities requirements in 2017. Register through the Medicare Learning Network® (MLN) Learning Management System (LMS) to receive CME credit.
3 - Scores for Improvement Activities for MIPS APMs fact sheet: Defines and details the Improvement Activities performance category score CMS will assign participants in each MIPS APM for the 2017 performance period.
4 - Visit qpp.cms.gov to check your participation status, explore measures, and to review guidance on MIPS, APMs, what to report, and more.
5 - Go to the Quality Payment Program Resource Library on CMS.gov to review new and existing Quality Payment Program resources.