The healthcare quality professionals at Primaris proudly join the National Association for Healthcare Quality (NAHQ) and quality improvement partners around the country in celebrating Healthcare Quality Week, Oct. 21-27.
The week brings greater recognition for the healthcare quality profession and the contributions and influence these professionals make in their organizations.
"At Primaris, 'quality' is at the core of who we are and what we do," said Richard A. Royer, Primaris CEO. "In the chaos that is healthcare today it's easy to be distracted from our core mission – advancing the care of patients. But it's our job to have a steady hand and help physicians and health systems identify opportunities for improvement, and to point out the many success stories they have."
Royer added, "Our partners can count on us, because that's what we've been doing for 35 years."

At Primaris, several events and developments have highlighted healthcare quality excellence in 2018, including: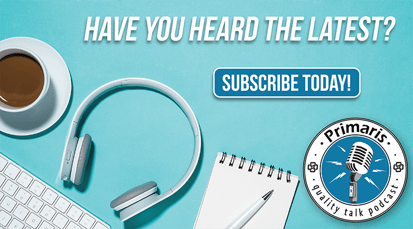 ---
Quality Talk podcast - Primaris teams with Healthmonix to tame MIPS
---
More resources and highlights.
- Quick Reference for Signs of Sepsis
- CathPCI Key Data Elements
- CMS Web Interface
The growing list of Quality Talk podcast episodes included:
And don't forget to check out the Primaris YouTube channel.
Finally, visit nahq.org/hqw to learn about ways you can help promote Healthcare Quality Week.
---
About NAHQ
NAHQ defines the standard of excellence for the healthcare quality profession and equips professionals and organizations to meet these standards. NAHQ offers the only accredited certification in healthcare quality—the CPHQ—held by more than 11,000 professionals across the continuum of healthcare. With over 40 years of experience, NAHQ has turn-key solutions to train your quality team saving you valuable time and resources. NAHQ's programs and products provide beginner, intermediate and seasoned professionals with the training needed to drive organizational improvement and deliver quality. To learn more, visit www.nahq.org.

About Primaris
Primaris is a healthcare consulting and services firm that works with hospitals, physicians, and nursing homes to drive better health outcomes, improved patient experiences, and reduced costs. Primaris takes healthcare data and translates it into actionable quality improvement initiatives that create the foundation for highly reliable healthcare organizations. For more information, visit www.primaris.org and follow @primaris_health.