I have been on one of two sides of quality improvement almost my entire adult life, yet I continue to try to piece together the quality improvement puzzle.
One side is the review side. We are the side that helps organizations show their quality progress, and gives feedback to improve their quality. We dig and dig to find that little piece of information that will change a negative to a positive. We try to piece the puzzle together, sometimes flipping and turning those pieces to find ways to present a positive outcome for our clients.
The other side of the puzzle is the need for quality improvement. It is the side with a direct financial impact if quality is not good enough - the side that threatens employment if quality does not improve enough. It's the side that is desperate to piece the puzzle together, finding each piece for the final completion.
I know this side as well. It is the side that must think outside the proverbial box. It is where healthcare meets creativity in fostering methods within the day-to-day operations of an organization to improve healthcare, one tiny, little bitty step at a time.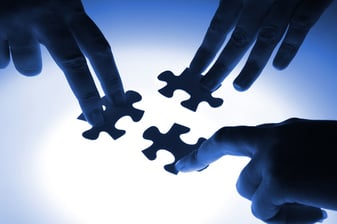 How little things can slow progress.
When we finally start to understand what is expected for our quality improvement efforts, sometimes it is the little things you discover that can really slow progress. One approach to breaking out and accelerating progress is using the rapid change cycle process. The rapid change cycle is a Plan-Do-Study-Act process that includes identifying an opportunity to improve and plan a change, to carry out the plan on a small number of patients, study the results, and use the results to make a decision and incorporate change.
Here is an example of the rapid change cycle from my personal experience:
Management identified one measure in which we were not seeing improvement A small group of "on the ground" healthcare employees was organized (one each from management, front office, provider, nurse, IT staff, etc.) and had a 30-minute meeting (yes, we actually blocked the provider schedule!) Each person had 5 to 10 minutes to discuss what they felt the problem was, and why the measure could not be improved easily.
Information was compiled and a plan was created.
We presented the plan to the group for approval.
Next we implemented the approved plan. Since we had key personnel involved, they were able to share the new process easily with their coworkers and get buy in.
The "plan" was kept at a four-hour interval. It was started and had an outcome in four hours (yes, half of a shift).
There was a brief meeting immediately after the implementation of the plan.
We made immediate changes to help improve and refine the process.
Next we re-assessed and re-evaluated.
When done well, we re-wrote policies to harden the process.
Seems pretty easy, right? It actually was! The person implementing the plan must have the authority to make some rapid changes to the process, even if just temporary. This cycle cannot get hung up in red tape. The on-the-ground staff has to understand that change is mandatory if improvement is to happen, and it may take some trial and error to get it right. They need to be flexible, positive, and joyful. That is part of the game.
Case in point: Rapid change, simple step.
Here is a measure-specific example of one improvement that we were able to change fairly quickly, regarding 2013 Meaningful Use Measure to record and chart changes in vitals, including height.
We needed our staff to measure each person's height. We were hovering at 70 percent or so. We had policies in place. We spoke of it at staff meetings. We reprimanded. We just could not get our numbers much higher.

We implemented the rapid change cycle and found that the height stick was not working correctly. Maintenance had tried to fix it multiple times. Some staff was able to jiggle it around to pull it up, but shorter employees had more difficulty with it. In our four-hour window, we were able to identify this issue. We took the height stick out and taped it to the wall.
We monitored height progress in the second four-hour window. Wow, what a change. We found our problem!

Next, management made some quick decisions. We did not have it in our budget to buy a new scale/height stick (we had no money in our budget back then) and apparently it could not be fixed. This is when creativity-meets-healthcare comes in. Over the next few days, we had an artistic employee paint a height stick on the wall. It was perfect! The children loved it. The staff loved it.

Our numbers improved almost overnight to 85 percent.
Know that every process cannot happen this quickly. But, if you start small and let your on-the-ground staff be involved, you can make a huge impact on your quality improvement process. Let them be creative and work outside the box. When you involve all affected parties and listen to them, they could be the one that puts the last puzzle piece in.
Remember, Primaris is right here to help you. We can help you gather and record your data, and find the puzzle pieces, so you can keep working on those day to day improvements.