Since care coordination runs through every part of a healthcare organization, and it impacts patient safety and the quality of care patients receive, it needs to work. Unfortunately, a lot of times it doesn't – or at least not as well as it should. Well, what better way to learn than from your mistakes?
The 2015 Annual Patient Safety Organization (PSO) Report from the Center for Patient Safety (CPS) summarizes events reported to the organization throughout the year, so that healthcare organizations can learn from each other and improve patient safety as a community.
Before you dive into the report, you may wonder what exactly is a PSO? A Patient Safety Organization (PSO) provides an opportunity to report near misses and unsafe conditions, as well as an opportunity to evaluate and learn from adverse events across healthcare organizations, differentiating the work form most regulatory and mandatory reporting programs. By reinforcing a safety culture that allows healthcare providers to safely report and share information about vulnerabilities within the healthcare system, a PSO is pivotal in the crusade to prevent medical errors and patient harm.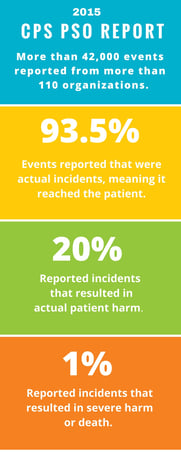 Based on the eight recommendations provided in a National Patient Safety Foundation report, Free from Harm, published earlier this year, the Annual PSO report focuses on the importance of patient safety across the entire continuum of care. The report includes events submitted from hospitals, long-term care facilities, emergency medical services, and home health and hospice settings.
Here are some examples of the wide array of events addressed:
Medication errors associated with prescribing, dispensing, administering and monitoring incorrectly.
Incorrect patient information entered into wrong medical records due to selecting incorrect name.
A pressure ulcer that was not present upon admission or worsened during patient's stay.
Pediatrics cardiac arrest upon arrival of EMS.
Falls, both assisted and unassisted.
Complications involving stretchers--whether not working properly, having missing parts or dropping of patients due to miscommunications or improper lifting.
It is the goal of CPS through sharing the findings in this report to raise awareness about the need to have important discussions between caregivers across healthcare settings. CPS is dedicated to helping address patient safety through protecting, learning and preventing. For more information, click here.


Is patient safety a priority for your organization? It should be. Take the time and review CPS's 2015 Annual PSO Report.

A critical step towards less medical errors and better safety for your patients is developing a care coordination plan. Download our whitepaper, "Care Coordination: A Critical Need" to get you started.

What about patient safety keeps you up night? Leave your comments below.