This week is Patient Safety Awareness Week. Patient safety should be a top priority 24 hours a day, 7 days a week, 366 days a year. In other words, everyday is patient safety day. Is it in your organization? Leap into this year's Patient Safety Awareness Week and take the patient safety pledge today! After all, we are all patients.
According to the National Patient Safety Foundation, one in ten patients develop a health care acquired condition during hospitalization. Medical error causes the death of 44,000 to 98,000 hospital patients a year. Check out their latest report, "Free from Harm: Accelerating Patient Safety Improvement Fifteen Years after To Err is Human" where they provide eight recommendations for achieving total systems safety.
Join Center for Patient Safety (CPS) and thousands of other healthcare professionals in raising patient safety awareness by taking an active role in the United for Patient Safety campaign. The ultimate goal is to keep patients and those who care for them free from harm. Everyone plays a role in delivering safe care, so what is your team doing?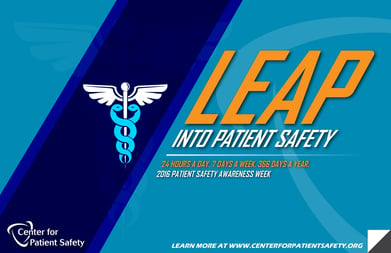 There are a number of ways you can participate in #PSAW2016. Here are few tactics to get you started: