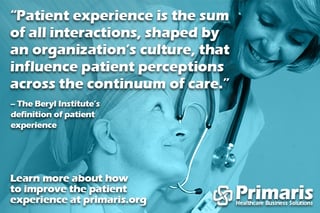 Ever since the healthcare industry began giving more attention to patient satisfaction and the overall patient experience, some have made it a point to call attention to the fact that those two things – patient satisfaction and patient experience – are not the same thing. Others continue to refer to them as a singular concept. So, which side is right and why does it matter?
Patient satisfaction and patient experience are not the same thing, although the terms are often confused. Understanding the nuances between the two is an important part of identifying how people feel about you and the care you provide. It also allows you to be able to create organizational processes and promote behaviors that turn patients into loyal ambassadors.
At Primaris, we like to point to The Beryl Institute's definition of patient experience. It states:
"Patient experience is the sum of all interactions, shaped by an organization's culture, that influence patient perceptions across the continuum of care."
Beryl's definition is spot on because it addresses these points:
The sum of all interactions – Patient experience is not just about one instance or aspect of care. It isn't only whether your receptionist offers a friendly greeting that leaves people satisfied with how they are welcomed. Patient experience is the broad picture made from the different puzzle pieces of care. Every phone call, office visit, and other encounter contributes to the overall patient experience.

Culture – Your healthcare organization's internal culture is the largest driver behind its patient experience. All departments, all staff, and all physicians have a role in shaping patient experience.

Perceptions – When evaluating the experience your organization offers, you have to look at it from the perspective of a patient. Patients generally are not familiar with care quality measures. They don't typically know if protocols were followed or whether evidence-based practices were used. What they do know is how they feel about the people caring for them and the facilities where they receive care. Your perspective, and patient perceptions, are different things.
Patient satisfaction refers to the level of contentment patients have for one or more aspects of care. You can ask a patient whether they were satisfied or dissatisfied with their hospital room. Maybe they loved the room. That's great. But that bit of feedback only speaks to one tiny part of what you provide your patient.
The patient experience begins with the very first touchpoint between a patient (or family) and caregivers. This might be a phone call, access to your website, your parking lot, signage for facilities, or something else. The sum of all of these things and many others, how they fit together, this is the patient experience. By listening to patients and working to deliver an experience that matches their wants and needs, you can positively impact patient satisfaction levels.
What do you think is the biggest differentiator between patient satisfaction and patient experience?

Download our white paper, "A Commitment to Care" How to deliver a superior patient experience" to learn more about how a better patient experience makes all the difference.