For organizations that provide healthcare services to patients, a large part of embracing value-based care involves putting together a healthcare team that supports the overall mission of the value model. A main part of that mission – and a primary driver behind the move from volume to value – is patient experience.
Therefore, it is essential for healthcare providers to have someone in charge of overseeing this important aspect of care. In other words, it is essential for organizations to have a patient experience leader. As a greater number of healthcare organizations recognize this, the roles, responsibilities, and priorities of patient experience leaders are being more clearly defined.
Research from the Beryl Institute found that in 2015 more than half of healthcare providers in every category (hospitals, physician practices, long-term care, and other providers) had "a senior leader for patient experience, someone with accountability or primary responsibility for leading experience efforts."
The size and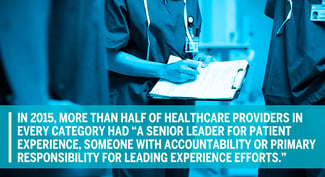 makeup of each organization determines who is tasked with carrying the weight of patient experience. Experience leaders at small practices may be a physician or team member. Larger hospitals or health systems are likely to have a CXO or Director of Experience in place. The point is, healthcare providers (both small and large) are responding to the demand for a dedicated person or team to guide patient experience efforts.
Download our checklist, Making the Leap: An Eight-point Checklist to Help Create an Evidence-Based Practice, to begin your transition to value-based care today.
Below is a brief look at some of the primary responsibilities of experience leaders, and an overview of the top strategies being used to drive improvements.
Job Description
Patient experience leaders are charged with improving patient satisfaction scores and the overall patient experience. They develop and administer policies and procedures that provide a high level of quality care and services for patients and their families. They also act as liaisons between patients and other healthcare service providers.
Feedback from various experience leaders suggests that one of the most pressing duties they are tasked with is creating accountability throughout provider organizations for following through with improvement efforts.
Priorities and Strategies
The Beryl Institute's report "State of Patient Experience 2015: A Global Perspective on the Patient Experience Movement" highlights some of the areas patient experience leaders intend to focus on in the next few years. A top priority is engaging patients, employees, and physicians. Bettering communication and working for more involvement of the patient voice were also cited as being very important.
An interesting study finding was that priorities have shifted some in recent years. Many experience leaders have moved from simply trying to meet mandates (HCAHPS) to developing their own internal standards that will have an even greater impact on clinical outcomes. As the report suggests, this has likely happened because organizations have learned that the benefits of improving patient experience go beyond reimbursement incentives.
Finally, the report shows that experience leaders are turning to patient and family advisory committees as a way to gain feedback and measure their patient experience performance.
There is no doubt that patient experience leaders are becoming more prominent across various types of healthcare provider organizations. And that is a good thing. Because these individuals and teams are necessary for developing and executing strategies that lead to positive outcomes for both patients and providers.