A recent article from Fierce Healthcare shares a new market report that discusses the very hot topic of transitioning to value-based healthcare.
The 2016 Strategic Insights Report, "Performance Redefined: As Health Care Moves from Volume to Value, the Streams of Quality are Coming Together", echoes the importance of two key determinants when i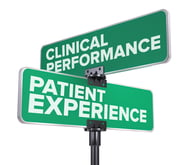 t comes to quality improvement in healthcare: the patient experience and clinical performance.
By implementing policies and procedures based on the intersection of these two, healthcare organizations can make performance improvements in a consumer-driven environment. The report reads, "Competition on value is beginning to drive this evolving marketplace, and performance is being redefined with an eye toward what matters to patients, both financially and in terms of quality."
Download our whitepaper, "Making the Leap: Value-Based Care Best Practices for Hospitals and Physicians", that will help you jump into value-based care today!
Here's a shortened list from the article to help redefine performance goals based on value:
Put patients at the center of care and make the reduction of suffering top priority
Commit to a goal of zero harm
Recognize the interdependency of safety, quality and patient experience
Adopt an integrated balanced scorecard
Transform culture and leadership
Enhance accountability and execution
The new measurements of performance are focused on one simple, yet strong, factor—patients matter!
Identifying clinical and nonclinical factors that influence patient satisfaction, as well researching how patients respond to specific measures and factors, are two ways healthcare professionals can pinpoint areas of improvement.
We know healthcare providers are standing at these crossroads, and it is our mission at Primaris to help you succeed.