Whether you're throwing a party or working to improve care coordination in a long-term care facility, your mantra should be the same: The more the merrier. So, if either one of these things is on your to-do list, remember, involve more people and the outcome will be better.
Who should you invite?
If you're planning a party you'll have to come up with your own guest list. But, if you're trying to work toward more effective care coordination, here's who you need to invite to the table:
Residents – Patient-centered care requires input from residents. When developing care plans residents should be involved as much as possible. That way their wishes are known, they understand their treatment plans, and they are empowered to self-manage their care whenever possible.
Families – It is extremely important to bring families into the picture, too. Invite them to participate in resident care team meetings. If a resident is transitioning to a higher level of care keep the family informed about the person's acute health changes. If a resident is transitioning down to home health care, work with family members to educate them on how to support the patient at home. Family members are often primary caregivers, so they need to understand things like how to administer medication and when to follow-up with a primary care physician.
Direct-Care Nursing Staff – The people who have the most direct interaction with residents can offer valuable insights about their needs.
Primary Care Physicians – It should go without saying, but primary care physicians need to be involved in care planning and they need to be notified of changes in a resident's health. Too often a resident is admitted to the hospital, treated and released without the primary care doctor's knowledge. This makes it hard for residents to receive high-quality care because the people treating them don't have complete information.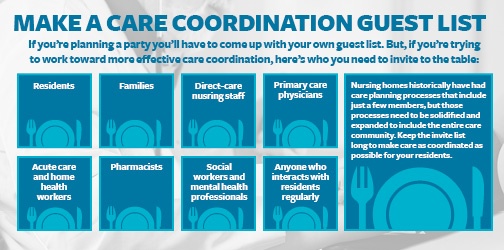 Acute Care and Home Health Workers - Almost half of all healthcare-related communication errors occur during handoffs between care providers. Transitions up to acute care and down to home healthcare are opportunities for communication breakdowns and mistakes. Working with these healthcare providers to improve communication is essential to being able to keep patients safe.
Pharmacists – Pharmacists are slowly starting to be included more and more in coordination of care efforts. This is good news because they can help manage medication prescriptions from different caregivers. Nursing home residents, and older adults in general, are often prescribed medication by a number of different physicians and specialists. If those doctors are not vigilant, the patient's safety is at risk. Pharmacists can advise doctors and patients on the best medication course.
Social Workers and Mental Health Professionals – Special attention should be given to the mental and emotional health of residents. Ongoing illness, loss of independence, transfers in and out of hospitals – these things can all be very emotionally taxing. To give residents the best quality of life, it is important to make social workers and mental health professionals part of care planning.
Anyone Else Residents Interact With Regularly – All specialists and other healthcare providers that residents come into contact with need to be part of care coordination efforts as well.
Nursing homes historically have had care planning processes that include just a few members, but those processes need to be solidified and expanded to include the entire care community. Keep the invite list long to make care as coordinated as possible for your residents.