A recent survey of U.S. physicians revealed that many small practices across the country are not yet prepared for The Medicare Access and CHIP Reauthorization Act of 2015 (MACRA), even though the program kicked off on January 1 of this year. Months and months of discussion prior to the launch of MACRA's Quality Payment Program (QPP) revolved around concerns about the impact of MACRA on small practices. Data collected from 2,045 physicians in various specialties signals that many of those concerns and worries about small providers having a particularly difficult time adapting to MACRA may have been correct.
According to survey results, only one in five practices (20 percent) with 15 physicians or fewer report that they are ready to meet the core requirements under MACRA. A slightly higher number of practices with 16 to 50 physicians feel prepared for MACRA. One in four (28 percent) of physicians in practices that size say they are ready to meet core MACRA requirements.
The survey conducted by Healthcare Informatics and SERMO also found:
Irrespective to practice size, 70 percent of respondents said they either needed help with MACRA, or that they were not prepared at all.
Source: MACRA: How Ready Are U.S. Physicians?
80 percent of participants from practices with 15 or fewer physicians said they are either aware of MACRA but need help, or they are entirely unprepared.
72 percent participants from practices with 16 to 50 physicians said they are either aware of MACRA but need help, or they are entirely unprepared.
Nearly half (46 percent) of practices with more than 100 physicians said they are fully ready to meet MACRA requirements. Only 16 percent of practices in this size range reported that they were not at all prepared for MACRA.
Responses revealed more readiness when physicians were asked specifically about reporting data to the Merit-Based Incentive Payment System (MIPS) – 66 percent of all surveyed physicians said they were either "somewhat prepared" or "very prepared" in being able to submit data to the MIPS program, and to use data and analytics to improve their clinical performance under the program.
13 percent of all respondents said that they are currently only operating in a value-based care/alternative payment model setting, while 52 percent said fee-for-service, and 35 percent said a mix of both.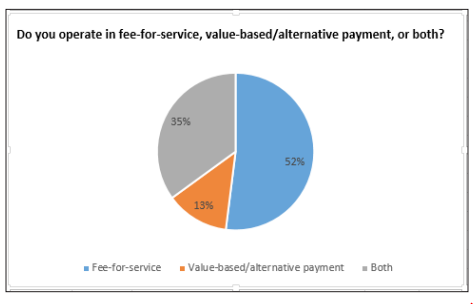 Source: MACRA: How Ready Are U.S. Physicians?
Primaris has been subcontracted by TMF Health Quality Institute (TMF) and will be working to help small medical practices in generally underserved areas prepare for and participate in MACRA's Quality Payment Program. As part of the TMF team, Primaris will provide customized technical assistance to MIPS-eligible clinicians, which may include, but is not limited to, the following:
Evaluating practice readiness for participating in a new payment model
Engaging practices in continuous quality improvement
Assessing and optimizing Health Information Technology
Supporting change management and strategic planning
Developing and disseminating education and training materials
Enabling peer-to-peer learning and local partnership
More information about Primaris' efforts to help rural healthcare providers navigate the Quality Payment Program can be found here in the Primaris Press Room.
You should also check out our previous blog, "Essential MACRA Resources for Physicians," additional information about some of the other resources available to help healthcare providers learn about MACRA, the QPP and MIPS.