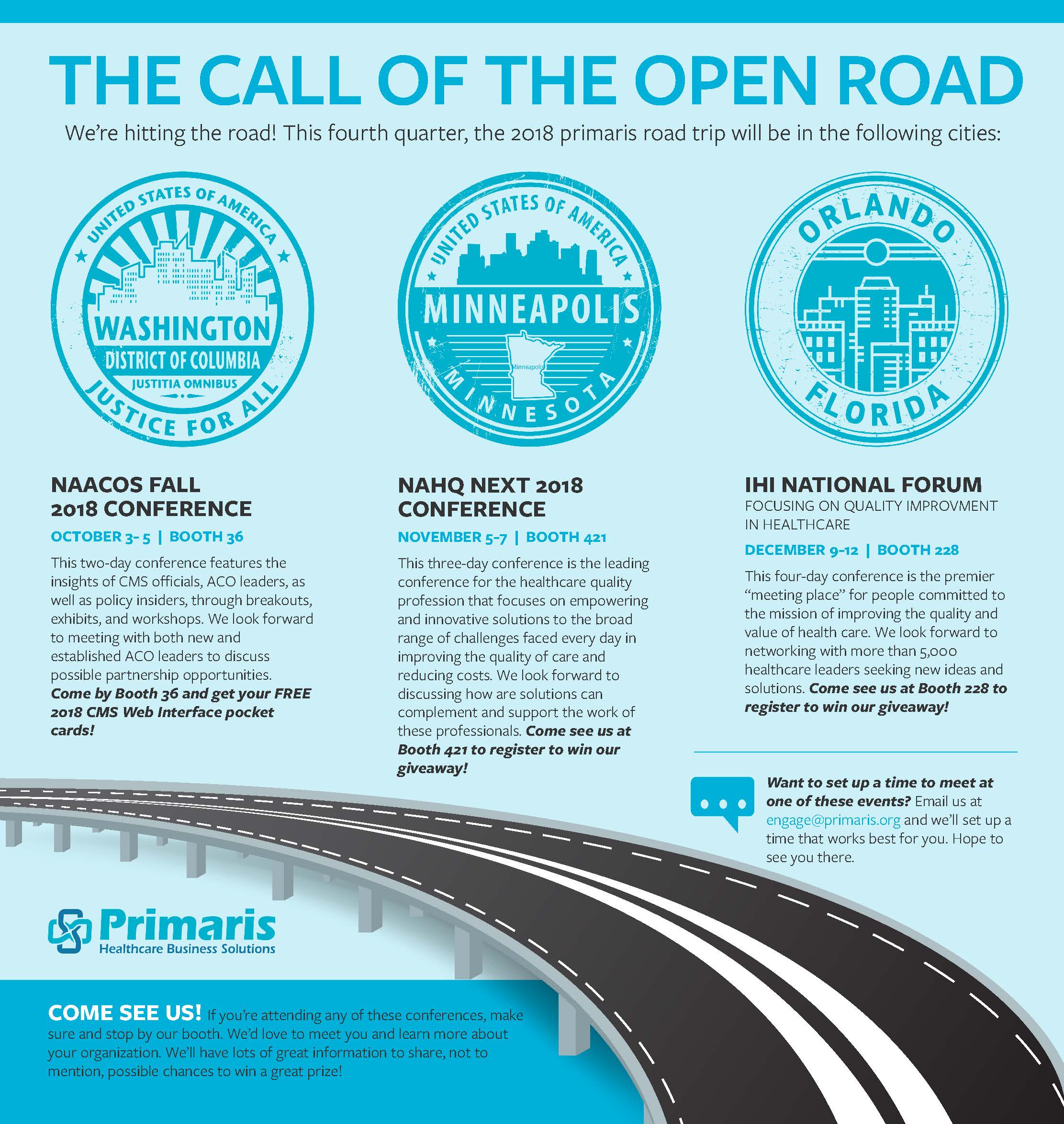 At Primaris, our mission is to drive the best quality results in healthcare. We work diligently to improve clinical outcomes and optimize quality data reporting —which ultimately means maximizing reimbursements—and enhancing the patient experience.
As we all determine new ways to fulfill our missions and share our expertise, we look to network and compare knowledge with other top leaders in the healthcare industry. It's important that we never stop learning, and that we share the difference we are making in healthcare, learn from other top leaders in the industry, and most importantly, network with potential partners.
We are with you on the road to value-based care. In fact, Primaris has been part of this journey for more than 30 years. You can say we are a pioneer in the nation's shift from fee-for-service to value-based care. (Check out our ebook, The Primaris Story).
That's why we're hitting the road. We're looking forward to learning and networking with the best in the industry at three upcoming conferences, one focused on accountable care organizations (ACOs), and the other two geared toward healthcare quality professionals. These conferences provide an interactive learning environment full of industry experts. You don't want to miss out!
Here's where we're headed:
NAACOS Fall 2018 Conference: Oct. 3-5, Capital Hilton, Washington, D.C.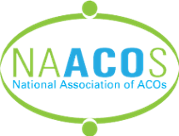 NAACOS conferences are packed with critical insights, strategies and perspectives from national Accountable Care Organizations (ACO) experts, plus case studies, valuable data, and lessons learned from leading ACOs around the country. The 2018 Fall Conference will be a unique opportunity to network with more than 600 fellow ACO stakeholders and establish relationships that will advance your organization along the path forward.
NAACOS conferences are the only events organized exclusively by ACOs with more than 70 percent of attendees employed by an ACO.
Learn more about NAACOS, the National Association of ACOs, and their mission.
Primaris will be located at Booth 36.
---
NAHQ Next 2018 Conference: Nov. 5-7, Minneapolis
Enhance your knowledge, expand your network, and explore new solutions. NAHQ Next 2018 is the healthcare quality conference where you can share insights and build connections with healthcare quality professionals working in all areas of quality from a variety of environments and levels of experience.

This year's conference will prepare healthcare quality professionals to drive performance improvement amid the increasing focus on value-based care. Another great reason to attend--you can earn up to 18 CPHQ and nursing contact hours through session participation and poster viewing!
Learn more about NAHQ, the National Association for Healthcare Quality, and all that they provide for healthcare quality professionals.
Primaris will be located at Booth 421.
---
IHI National Forum on Quality Improvement in Health Care: Dec. 9-12, Orlando

For the past 30 years, the IHI National Forum has been at the center of quality improvement in health care. Those who attend — from health care visionaries to improvement professionals and world leaders to industry newcomers — explore how improvement science methodologies can be used to effect real change in patient safety and care. The focus of this year's four-day conference is to make health care better for all.
Learn more about IHI, the Institute for Healthcare Improvement, and how they are improving health care worldwide.
Primaris will be located at Booth 228.
---
Come see us! If you are attending any of these conferences, make sure and stop by our booth. We'd love to meet you and learn more about your organization. We'll have lots of great information to share not to mention, some cool giveaways.
Even better, want to set up a time to meet? Email us and we'll schedule a time that works best for you. Hope to see you there.