How can primary care be more efficient? As the healthcare industry pushes to improve efficiency across the entire care continuum, this question is top of mind for many primary care physicians and their teams. In response to heavy workloads, mounting financial pressure from new payment models, and growing patient expectations and consumerism, physicians are exploring many proven and experimental ways to improve efficiency in primary care, including:
Automating between-visit communications.
On average, about one-third of employees in a physician's office are responsible for handling administrative functions. Finding ways to make administrative tasks more efficient can save a significant amount of time and resources. One area that typically offers potential for improving efficiency in primary care is patient outreach. From appointment reminders to notifications that encourage patients to schedule health screenings or make payments, a lot of the outreach that admin teams perform prior to and between visits can easily be automated. Automating communications frees administrative staff to work on other tasks, so more is accomplished with less effort.
Advancing the use of electronic health records.

Paper records are less efficient than electronic health records (EHR), plain and simple. It takes more time to physically run around the office and track down paper records. Plus, sharing information with specialists or other external providers is not as easy with paper charts as it is with electronic records. For these reasons (and many others) putting in place a customized EHR system can make a big impact on efficiency. But it is important to realize that off-the-shelf EHR software is not necessarily the solution to primary care's efficiency problems. EHR technology needs to match the processes and workflows that have already been established in a practice – which means software needs to be customized. To avoid frustration, primary care providers should make sure that their EHR system is tailored to match the needs of their practice.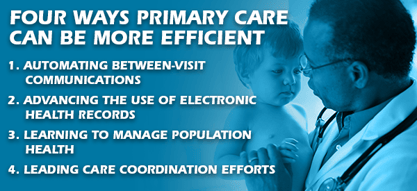 Learning to manage population health.
Primary care physicians that use patient data to manage population health can better understand the needs of patients, provide more proactive and effective care, and ultimately reduce some of the need for acute care across their patient population. This means chronic care patients are less likely to lapse into acute conditions and healthy patients are more likely to remain healthy. To enhance the quality, cost, safety and efficiency of care at the individual level as well as across subpopulations, primary care teams need to use data to assess their patient population and stratify risk. This step helps providers understand whether patients fall into high or low risk categories and what approach to patient care individuals and groups require.
Leading care coordination efforts.
Primary care is the central point of contact for most patients, so primary care physicians need to lead care coordination efforts. By coordinating care across multiple settings, primary care providers can help eliminate duplicate tests, information gaps, medical errors and other potentially harmful or costly issues.
These are some of the many ways primary care can impact efficiency across the care continuum.
What is your practice doing to drive efficiency? Share below.